Unique used car photography guide for sale is here to take pictures of used cars for sale & promotion.
The online marketplace nowadays has become a great place to sell your cars. In this digital age, everyone loves to get the product at their doorstep.
A good car's pictures are the key to selling your car in an online marketplace. Used Car Photography Guide is important to know how to take pictures of used cars for sale & generate engagement.
However, in this article, we will explore the best ways to take car photographs that sold like crazy. Here, I will guide you to take a car photo that helps to promote sales by attracting customers.
Best Ways to Take Pictures Of a Used Car For Sale
Do you want to know what is the secret behind amazing professional car photography that attracts buyers at first glance?
Here is a complete guideline for you to take pictures of a car that surely helps you to bring sales while maximizing the transaction price.
The aim is to attract buyers at first glance.
So, the challenge is to create your first impression in a way so that you can grab the buyer's attention. Otherwise, it won't be fruitful for your automotive business even if you offer reasonable prices & good quality cars.
You will be amazed to learn that it is really fun to take car pictures. You can take standard car pictures if you follow my guidelines & do a few practices.
Used car photography guide shows you the processes to take used car photos like a pro.
1. No Need for Expensive Gadgets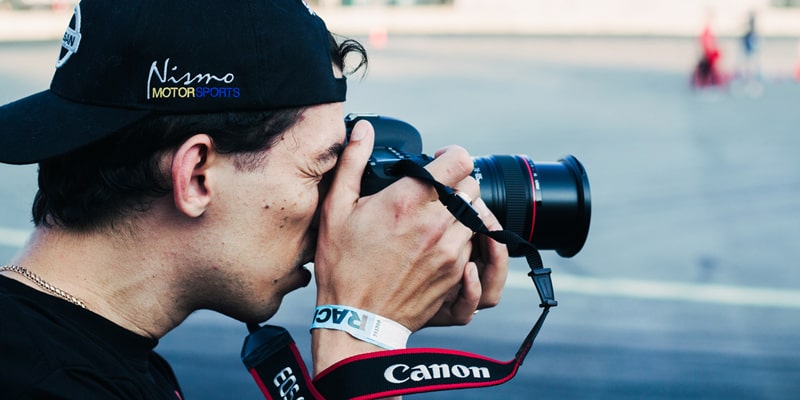 Many people have a misconception about taking car pictures that they need too much expensive camera, tripod, a reflector to capture standard car photos.
Guess what it is not about the expensive gadgets, it's all about your effort & tricks to come out with a fantastic click.
Here in the used car photography guide, I will discuss all the secret tips to generate eye catchy car photos that bring a huge sale.
In this digital world, your smartphone is enough to take a high-quality car picture. Smartphones nowadays use high-quality cameras & include many advanced features like triple lenses, dynamic range, autofocus & many more.
So, your smartphone has all the features that you need to take car pictures for sale.
If you don't have a good smartphone or you don't like to take pictures using a mobile you can go for a DSLR. A single-lens DSLR allows flexibility of exposure & depth of field that is the key to bringing professional shots.
But, keep your photo simple because the photo is for sale. If you try to use the advanced filter that can make the buyers suspicious about your product. It is wise to go for a simple & realistic photo that is the secret trick to bring a sale.
2. Lighting is the Game Changer
Lighting is the main factor to make your car's photo standard & eye-grabbing. If your car's photo looks dull or darker it will distract the buyers.
The client won't get attracted to your photo rather they are bored of a dull image. Proper lighting is the magic to transform your dull photo into an eye-catchy one. A vivid photo can generate a million sales.
So, don't skip the lighting setup.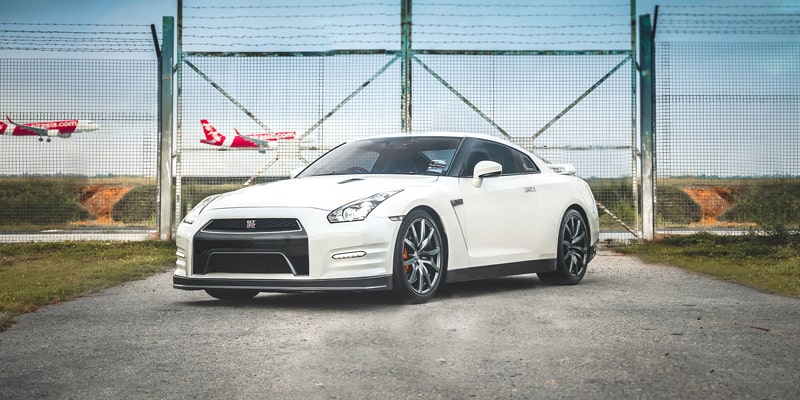 To get proper lighting you need to pick the right time of day for taking car pictures. Sunlight is amazing to enhance your car's beauty if you can pick the right time.
But if you choose the wrong timing for taking the car's pictures, it can burn your car's natural color & details. That generates a poor image.
The golden time for taking car pictures is half an hour after sunrise & half an hour before sunset. This time the light is more gentle & bouncy that ensuring a crisper & cool image. You can jumble with nature. The natural beauty will enhance the beauty of your car. You can mix up each other to generate an outstanding shot.
Besides, the golden hour helps to get rid of shadows that make the difference between good and bad photos.
Also, a cloudy day is a blessing of taking car pictures. A cloud covers the light & ensures even distribution of gentle sunlight that is amazing for car photography. The low light car photos are full of reflections & glare that are totally distractive & a waste of time. So, never take photos in low light.
3. Try Every Angle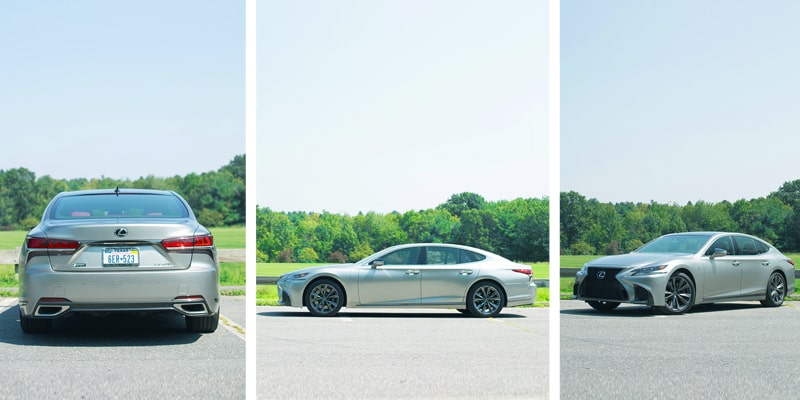 When it comes to online shopping the buyers are fully dependent on the car's image. They don't have any physical interaction with your product.
Focus on the details, don't just settle with the exterior, show them the inside, wheel, back part, headlight.
So, they love to find out each detail of your car to remove their confusion & take the decision with confidence.
Consequently, you must try every possible angle to display each detail of your car that ensures each unique feature of your car crucially.
When you try a straight shot that derives a different look than the side shot. Similarly, the beauty of your car from the back or corner is exclusive to each other.
Remarkably, it is mandatory to attach different angle shots to display the overall beauty of your cars. so that the client can visualize how their car will be like.
A better trick is to try every 45-degree angle shot of each side.
Besides, it is important to capture the inner view of the cars. Get in touch with tires, wheel & seat.
Besides you can try some shots after opening the car door that helps to derive a better view of the car's interior that is important for the buyers.
4. Keep Transparency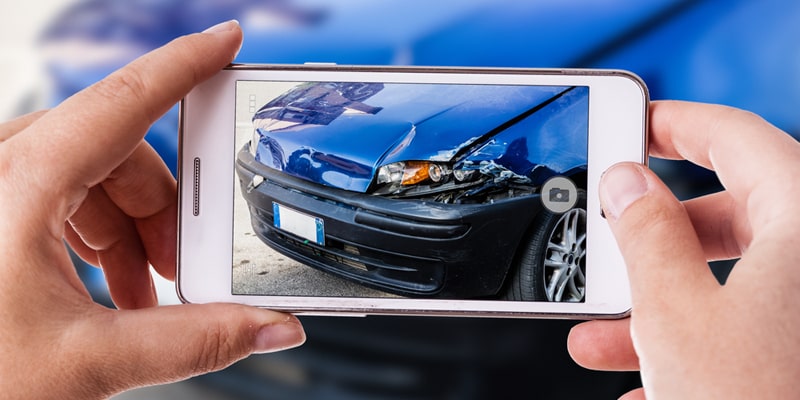 To sell your car the important factor is maintaining transparency with your client. Don't mislead your client by falsely editing pictures.
Yes, you can filter or edit your photo but make sure that your cars look realistic & natural.
Your target is to represent the original beauty accurately. Don't try to add any artificial features or enhance color that is not genuine. If you maintain transparency about your car's quality, features & design the potential client should be impressed & rely on you to buy cars.
5. Discover the Shadows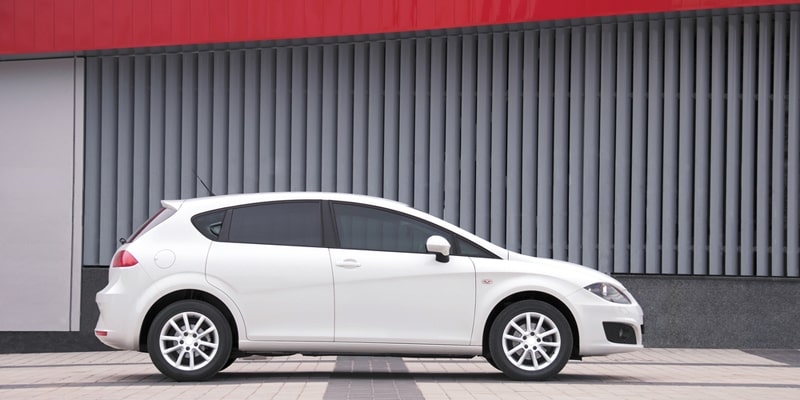 Sometimes a simple stylish shadow can enhance the beauty of your car. You can park the car & take a picture with a mild shadow that can give a good shot of your car.
You can use a photo editing service to remove unnecessary elements & create a proper mild shadow that is engaging but Don't mislead the buyer by adding or taking any artificial details.
6. Enjoy Reflections
To bring vivid car photos often reflection works marvelously. Try to capture the glass reflection to bring a realistic & natural look. This type of natural shot makes the buyer tempted to buy your car.
Through the reflection of the sky in a car's glass is amazing yet your own reflection or other car reflection is totally distracting your vehicle. It produces low quality & poor pictures of your vehicle like the below images.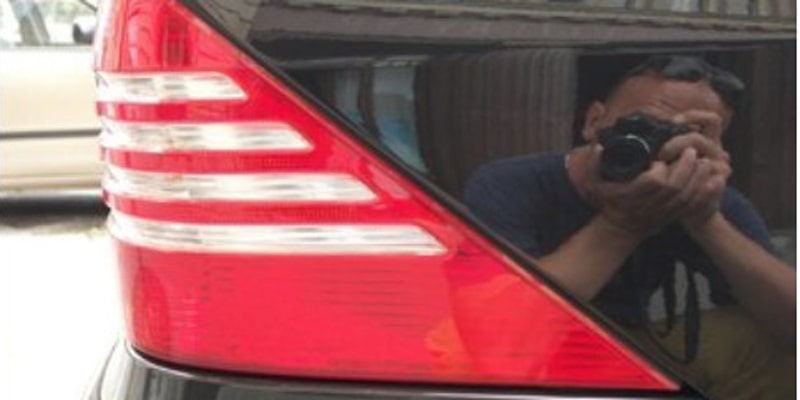 Hence, you must avoid your own reflection while taking images.
If your photo contains unwanted reflection you must outsource a photo editing service to remove reflection & glass glare otherwise it will be embarrassing for your automotive businesses & bring a bad reputation.
7. Closure Shots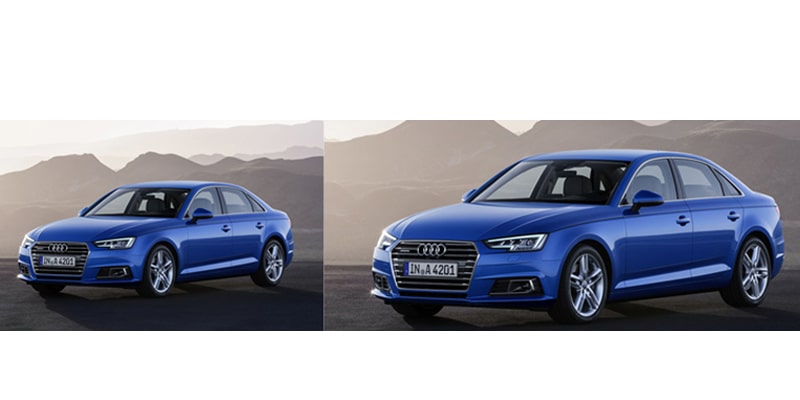 It is important to display the whole vehicle but focusing on each detail is also important.
Accordingly, you must take some closure shots to display the car with details that fill your frame perfectly.
Besides, you can outsource photo editing services to crop unnecessary pixels to make the car closure in a focal point.
8. Focus Details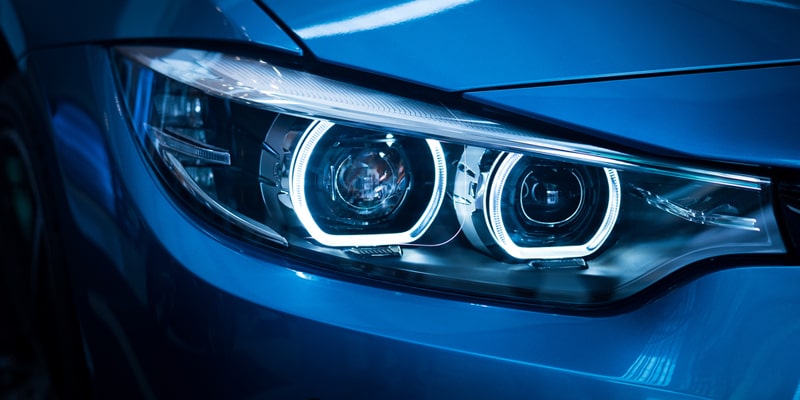 Detailing is important to generate a quick sale. If you can display each detail clearly & closely it helps the clients trust you & convince them easily to buy your cars.
Therefore, take close-up shots of each detail element & feature of your car including seat, trunk, dashboard, odometer, engine, any advanced features or performance summary & many more.
You know one single picture is enough to represent thousands of information that derives huge sales.
9. Cleaning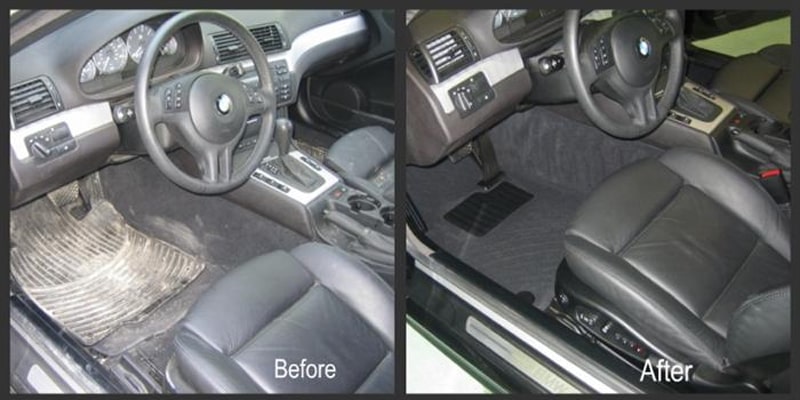 If you take your car's picture & that contains dust, sand, or unwanted scratches it will create a bad impression on buyers.
Consequently, before taking car pictures, it is important to clean your cars carefully. No matter whether it's old, used, or brand new you should clean the car.
Because your latest car can also get dust from the contaminated environment.
A vivid car's pictures can lose their attraction for unwanted dust. So, you must clean your vehicle before taking car pictures.
If you do have not enough time to clean your cars you can outsource automotive photo editing services. They will remove the unwanted dust from your cars & make them look vibrant & cool.
10. Test Shots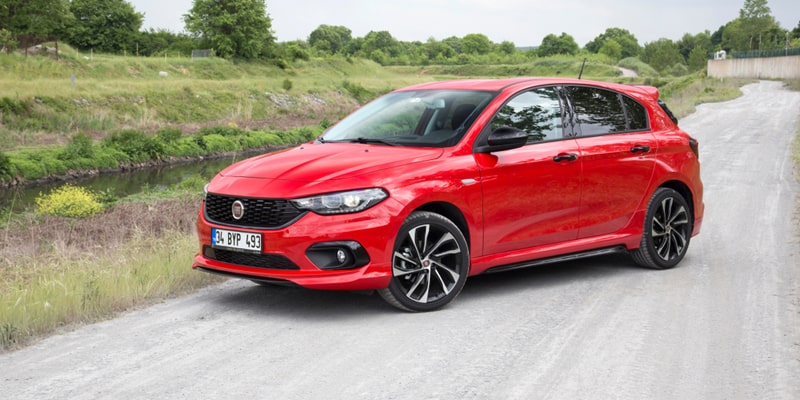 Before starting your final shots it is important to take a test shot.
So that you can check whether the lighting is ok & the reflection, shadow everything is controlled & the color comes out perfectly.
If you wish to display multiple colors of a car so that it can attract people with different tastes You can use photoshop to change the car color.
When all the requirements find good you can start taking your car pictures. If you don't take a test shot it will bring a wasting photo shot that can ruin your business.
Advanced Photography Tips to Get Quick Sell and Attract More Buyers
People buy things online, but when it comes to products like cars, it depends on the different things. I have found people are unsuccessful to close the deal for funny photography mistakes.
In most of the common scenarios, an unclear image leads to bad responses from the client.
But here are certain tips that can improve your skills. Here, I will try to explain it.
Photography That Tells a Story: Have a Concept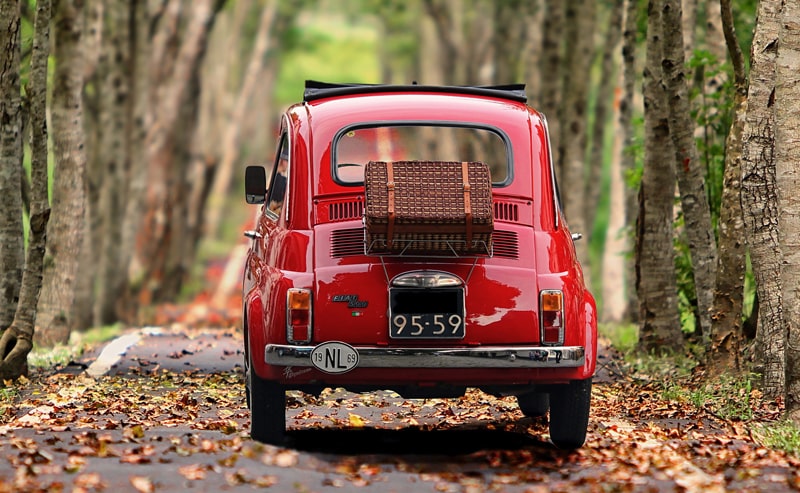 When you are willing to sell things, that should attract the targeted audiences. If not, what's the point of wasting your time on photography?
Embed a story! Here is a list of 20 Car Dealership Promotion Ideas and Advanced Marketing Strategies.
Don't Upload Just Because it is Mandatory
Often people don't care about the image quality, background. It just wastes your time!
There are various ways to car photography ideas online. We have previously published an article with a comprehensive list of Professionals Car Photography Tips & Photoshoot Ideas.
Impacts of Photo Editing on Sell
A professional & experienced car photo editing service provider is the best partner to bring quick car sales. The challenge of taking car pictures is keeping it natural but representing the beauty, features & exact color perfectly.
Though you follow my tricks there is a chance of getting car pictures that lack proper lighting, contain dust, reflection, glare, or image size is not perfect. In that case, you need good photo editing services.
The skilled car photo editors can fix all types of problems & bring perfection to your photo but maintain the natural look. That can save your time, energy & also it's a budget-friendly service.
The graphics expert International is a reliable & professional automotive photo editing service provider. The skilled & experienced team transforms your car's photo but never looks like edited cars.
GEI assured you to provide realistic car photos without any simple imperfections. You can enjoy our free trial feature to check the quality of our editing.
A little investment in car photo editing can do magic in your car's business. The automotive specialized editors know the tricks on how to present the cars accurately to generate sales & engagement. So, pick the specialized automotive service provider GEI & enjoy the massive sale. Your best partner to help you to achieve the target sale & create your own identity.
Conclusion On Used Car Photography Guide
The practice is the heart to improve your photography skill that is vital to attract buyers. A standard car image is the main factor to make your car business stand out from the crowd & enhance your automotive business quickly.
So, follow my tricks & start taking pictures of your car. Your dedication, practice & hard work bring huge sales & make you a successful automotive dealer.
This is just a basic used car photography guide for taking car photos like a pro. Invest your time & effort to derive a vivid car photo that can bring a sale. Keep in mind that you will sell the car so keep focusing on the car, not the background.
I hope my tips & tricks will help you to take pictures of your car & enjoy the sale throughout the globe.
Along with a used car photography guide, You may also read:
How to Edit Car Photos in Photoshop: Car Image Retouching Process
How to Edit Car Photos Like a Pro Using Lightroom