Graphic Experts International, an expert cars photo editor ready to help dealers, photographers, and vehicle agencies. Our car photo Editing magic in Photoshop can make a huge difference between raw and done images.
GEI, the best offshore HQ Photoshop editing & retouching house, launched in June 2010. Provide car photo editing, retouching, clipping, cropping, resizing, Etc. Our corporate office is in Canada, but the production office is in Bangladesh.
Editing the car images will make them look perfect and a whole lot better than the raw images. After clicking the picture, the photographer may not be satisfied with the photos, and there is also no chance of clicking them twice. Any vehicle agency and car dealers also require editing their car images for business purposes.
That's when a cars photo editor plays a vital role in providing a stunning look to the raw car images. Our creative editor team deals with all these problems and brings out the perfect output.
Why are Graphic Experts Bd's Cars Photo Editors the Best?
We use the best technology and software to edit the car images. Our team works very hard by putting their best effort into every project. All the car image editing projects get the touch of excellence and uniqueness. The main goal of our car image editing team is to make every image look glorious and attractive.
Our editors use the updated editing method to make the car image catchier. From the car background to the car body, all the sections will look attractive. The benefits of using our cars photo editor are:
Our editing team ensures your raw car image looks much catchier and attractive.
The affordable price ranges open up the opportunity for every client to take our car image editing service.
Your car image will remain highly secured when at our hands because of the SSL secured image transfer protocol.
Our team ensures the quickest project completion without compromising the image quality and editing process.
By taking our car image editing service, you can grow your business rapidly.
All your viewers and clients will be delighted with your car image.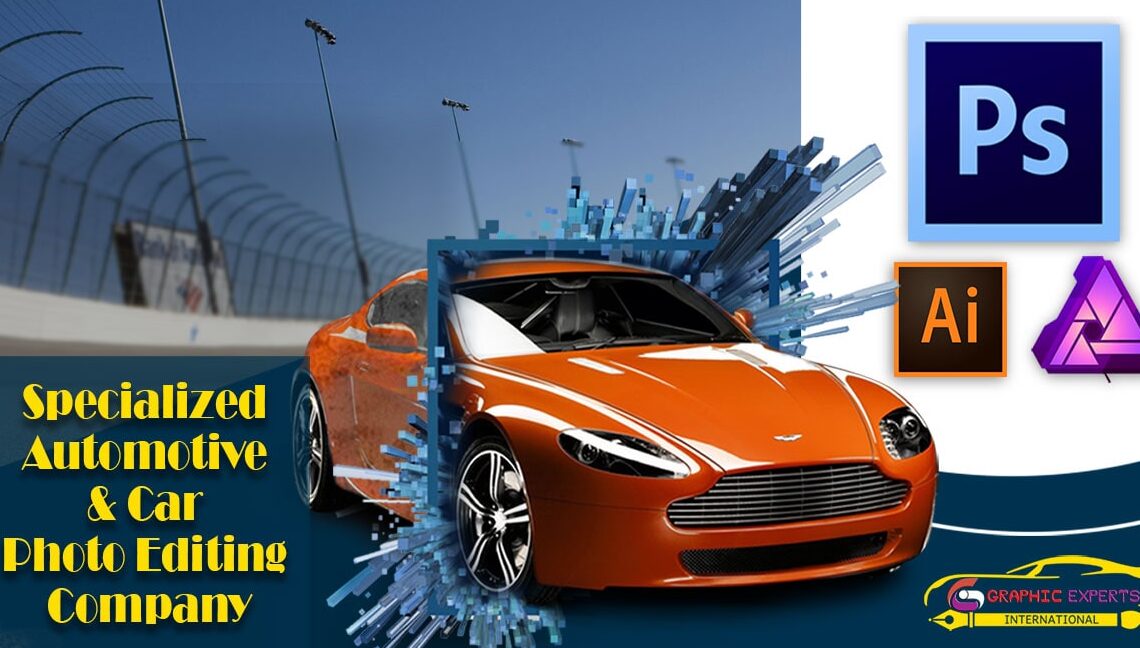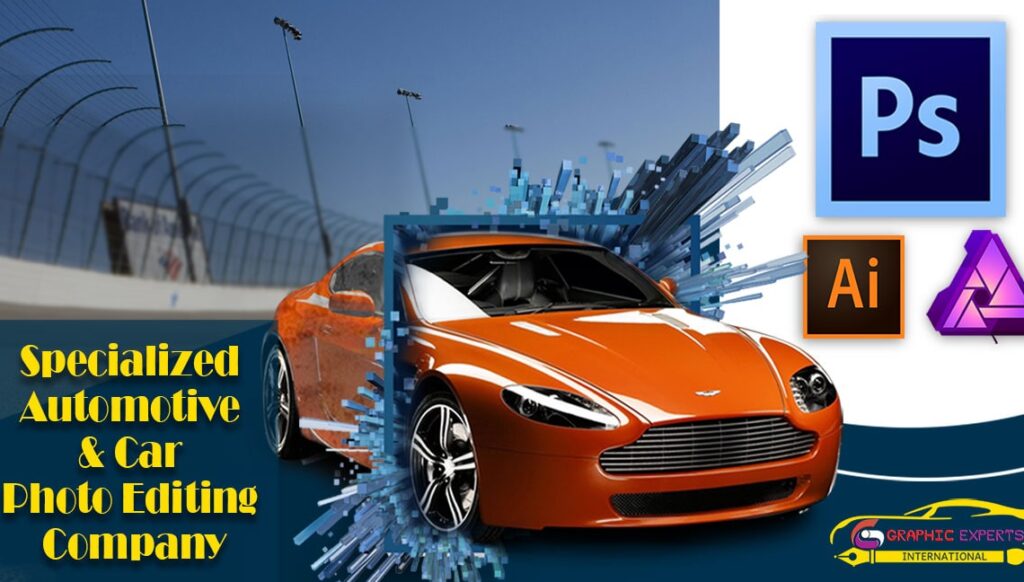 Key Features to Get Car Edit from Our Editors
Creative Team
Our creative team comes with years of experience in the graphics design and car photo editing sectors. Our clients' review about the editor has always been at the highest peak.
Quickest Project Completion
Our skillful and experienced team completes every project within the shortest period. We do all the projects carefully by doing our best from the bottom of our hearts.
Quality Services
We always try to complete every car project containing the top-most quality. After project completion, our quality control department triple-checks the project quality.
Pricing
Our car photo editing in Photoshop starts at US $0.20 only. Hardly any companies except us are providing these editing services at this reasonable cost.
Security
Client privacy and security stand on top of our priority list. Your car images are safe and secure as we never use, share or sell your images under any circumstances.
Customer Satisfaction
We believe in customer satisfaction. Thus our editor gives priority to providing the best possible service on time. And never compromise with the service quality.
Popular Services By Our Cars Photo Editor
Our cars photo editors are experts in Adobe Photoshop. And provide car image editing services for photographers, dealers, and car agencies. Our self-motivated & skilled editors edit images in Photoshop, Illustrator, or Lightroom and fulfill any image editing needs. Here are the most popular services:
The clipping path method is for removing the background from an image, which is pretty effective. To apply the clipping path in a car image, at first, it is necessary to access the "Pen Tool" from Photoshop "Toolbar." This method is pretty useful when the car from the image has sharp and smooth edges.
Our experienced team uses this method for removing dull backgrounds from the car images. It is necessary to make the car images prepared for use in online marketplaces. You can also use the transparent car images in a flyer or brochure for your car agency. The perfect application of Clipping Path will make the car image look stand out.
Clipping the path is the best way to deal with the dull and gloomy backgrounds of the car images. The editor needs to draw the clipping path to remove the car background; otherwise, it will make the car look tarnished. Proper usage of the clipping path will help to attach a new and catchy background behind the car.
Advantages:
For making the car background transparent
Opens up the opportunity to add attractive backgrounds behind the car
It helps to set the different background-color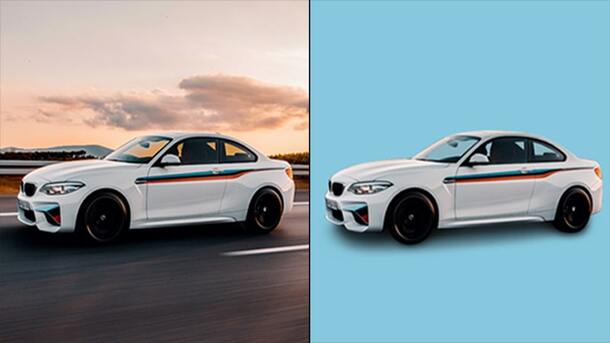 Background removal of a car image is necessary for making the car transparent or adding another background. After removing the background, it is possible to either use a solid color or even keep it transparent. Both the clipping path method or image masking method can use for car image background removal.
Professional background removal of a car image is essential to fulfilling the client and audience requirements. When you want to use the car image for your car dealership business, background removal is mandatory. It is crucial for online car image exhibition, selling cars online, or even creating a leaflet, flyer, or brochure.
Removing the dull background and adding solid color or keeping it transparent is essential for a car image. You can get rid of shaky and blurry backgrounds that can make the car unattractive with this service. It is also necessary to make the background color suitable for the car.
Advantages:
To fix the blurry and shaky car backgrounds
Background removal makes the car image ready for use in both online and offline commercial purposes
It makes the car look more relevant and authentic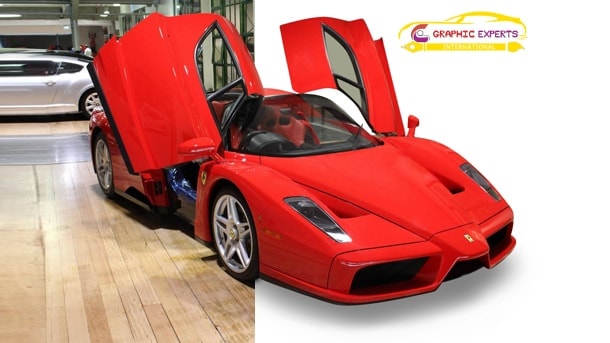 Car image retouching is a must when you will use that image for any commercial purposes. This is an easy method to beautify your car no matter how it looks in the raw image. Our team uses various tools like "Clone Stamp Tool", "Healing Brush Tool" and "Spot Healing Brush Tool" for the retouching process.
All the spots and unwanted parts from your car's body will be eliminated using this method. It is mainly necessary for any online car image exhibition for selling or other purposes. The viewers and the customers will get a better view of the car through a clean and spotless retouched image.
By retouching your car photos, we will bring a touch of uniqueness to your car, and it will look more polished and more professional. When the car from the image is retouched correctly, it will better impress the car brand and owner company. The brand reputation and business credibility will enhance as well.
Advantages:
The customers will get a better overview of the car specifications
You will get polished and professional car images
Brand value and business will improve because of the perfect and shiny looking car
Car Color Correction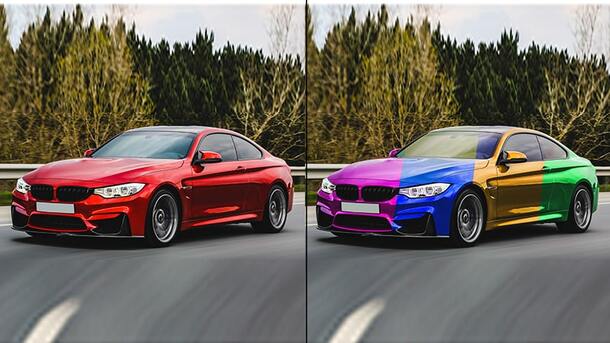 Color correction of your car image ensures a consistent and standard appearance of the car. All the car's prominent colors and the background will look adequately, and the true colors will show. Our team uses Photoshop and its color grading tools for the process.
Via color correction, our team provides a vibrant look to the car and ensures the actual colors. We always ensure your car retains its actual color, along with making it shinier. If you make an exhibition of your car image online or offline, it will catch the viewers' eyes at a glance for sure.
Especially when the car appears with true and vibrant colors, the customers and viewers will get a better overview. If you are a car photographer, we will provide you with the best possible color correction to your car image.
With our color correction, your clients will be happier and more satisfied with your car image
Advantages:
Shows the true colors of cars to the viewers
Color correction will make the car and background color vibrant
Our professional touch in your car image will increase your sales and publicity
Car Shadow Creation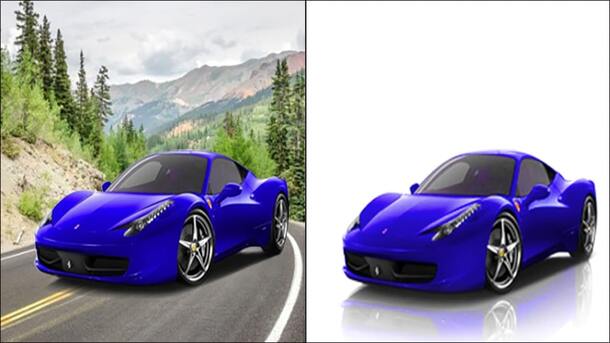 Creating the shadow of the car is another crucial task after removing the background. Adding car shadow is accessible through the "Drop Shadow" section and duplicates the main image layer. It helps your car to look natural and realistic by applying a real-looking shadow.
Our well-experienced team can create original shadow, drop shadow, and reflection shadow to make the image look real. All these shadows need to be applied based on different car angles. You'll add a suitable background after removing the original car background, but no proper shadow will be there.
That's why we will create a perfect car shadow in your car image that properly suits the car body and background. As you create the shadow, make sure it suits the main object. This 3D effect of the main object will make the image quality premium. The shadow will hide distractions along with making the image subject more appealing.
Advantages:
Creates a natural-looking image to use in the eCommerce sites
You will get a more appealing image by creating shadows
It will hide all the distractions by creating the 3D effect of the objects
Car Photo Resize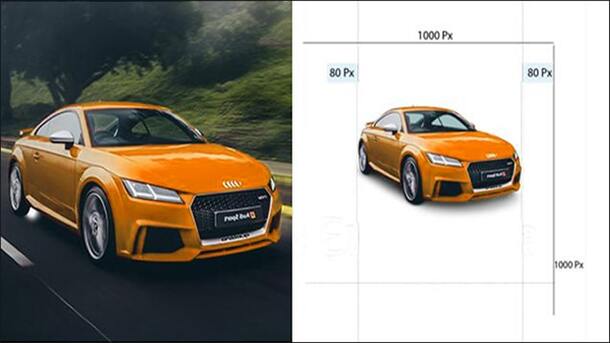 Resizing the car image is necessary to take it to the perfect shape. In Photoshop, accessing the "Crop Tool" is essential for eliminating the unwanted parts of the car in the image. Then press "CTRL + T" and bring handles for further re-shaping. Resizing the pixels from any car image is also possible from the "Image" section.
Our team changes the car image dimensions as per the client's necessity. Along with that, they change the height, weight, and resolution of that car image to provide the perfect shape and size. After resizing, you can use that car image for online and offline marketing for your Photography business or a vehicle agency.
As the height and weight of the car image will be perfect, the viewers will get an excellent view of it both online and offline. It will be easier for the viewers and the customers to load a resized car image in online car exhibitions and marketplaces. Customers will attract to the car by seeing its perfectly resized and angled image.
Advantages:
It takes less time and data to load on websites
Perfect angle view of the car
Add or Remove Lens Glare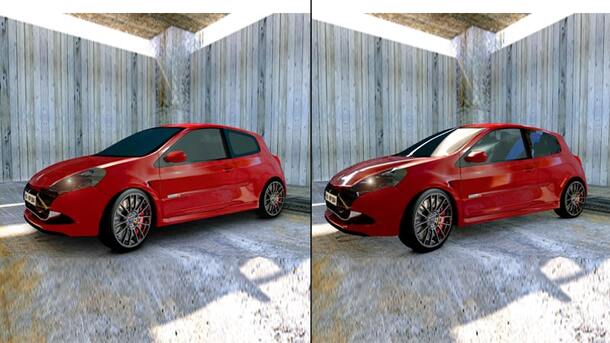 Adding and removing lens glare for a car image to eliminate the car glass reflection. To do this, you will require the "Dodge Tool" and the "Burn Tool" the most. Our team uses those two tools along with "Curves" while dealing with lens flare. It is crucial to deal with those lens glares to eliminate reflections.
When you ask us about this, the image needs to be a higher resolution one. On that higher resolution image, our team applies the dodging and burning tool and the curves. The lens glare-free car image will look fresher and catchier. But sometimes, adding the glare is also necessary if you are going with a blurring-the-light source theme.
By removing the lens glare, our team will eliminate the windshield and car window reflections. So, the inner objects of the car will look clear. As our team will remove the lens glare, you can use it on different platforms, and the same goes for adding lens glare.
Advantages
Windshield and car-window reflection will be no more
The inner car objects will look clear
Car Image in Banner Ads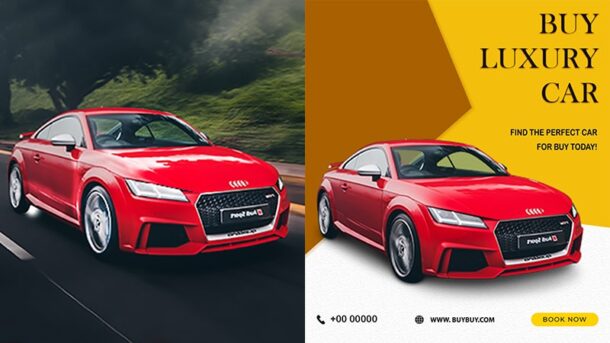 Putting the car images in the banner ads is for catching the customer's attention. The car image needs to look shiny and visible on a banner ad, along with car specifications. And these banners creating tasks should be done by Photoshop. As a car dealer or a car photographer, making a banner containing the car image will grow your reach.
Our team will create a perfect banner containing your car image. Before putting the image on the banner, our cars photo editors will do all kinds of editing, from background replacing to color correction. Then they will create a banner with proper dimensions and put the car image on it along with providing specifications.
A perfect car image banner will catch the customer's eyes within no time. As a result, your car-dealing business will increase. The customers will get a better overview of the car specifications and a clear image of the car and be satisfied.
Advantages:
Proper overview of the car image and specifications
A quicker customer reach and response
Automotive Dealer Photo Editing Service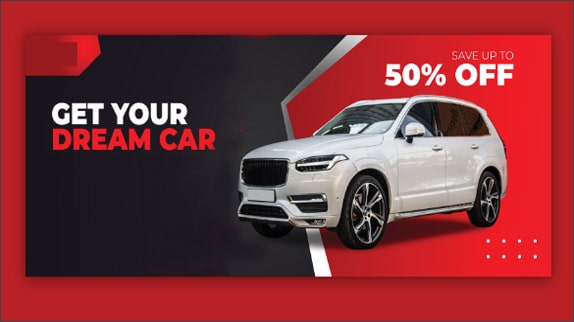 The automotive dealer photo editing service consists of several kinds of car image editing procedures. From attaching the dealership template to the car image to background replacing, all come under this section. Using all the necessary tools, our cars photo editors edit the car image and prepare for the automotive dealers.
You can contact our team if you are a car dealer. Our team members can play the role of car dealership photo editor if it is required for your project. We can do easy customizations and resize the car images to use for banners. It will play a vital role in selling the cars by preparing the car images for advertisements.
Cars photo editor for automotive dealers can help in the growth of their dealership branches. You will be highly beneficial in spreading your car dealing business by taking automotive dealer photo editing services from us.
Advantages:
Easy Customization and template creating for your dealership
Your car dealership business will increase rapidly
Increasing customer attraction
Lighting Improvement on Car Images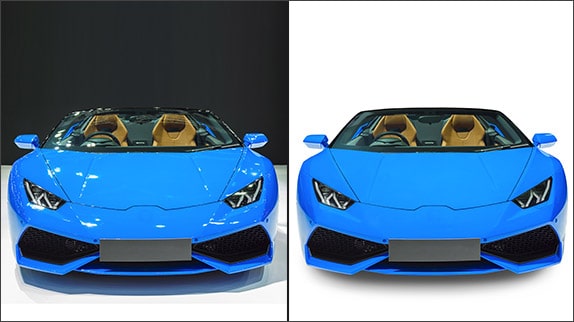 When clicking in the dark, the car headlights can overexpose the image lighting. That's when lighting improvement comes into the game. Our experts create the perfect combination of exposure, highlights, and white balance to reduce that over-exposure from your car image. Lighting improvement will help to fix the overexposure issue created by the car headlights.
By reducing the exposure created by the headlights, the car image becomes much clearer and more visible. The other darker and exposed areas will adjust as well. Then other adjustments will make if you make any requirements to use for online or offline exhibition and marketing.
Your clients and audiences will like the perfectly balanced lighting in your car image. The viewers will have a better and clearer overview of the car's interior. Your car-selling business will also spread as the customers will be attracted by seeing the attractive pictures.
Advantages:
Proper lighting, exposure, highlights, and white balance in the car image
Correction of overexposure issue
A better view of the car interior
Car Photo Restoration
To revive your damaged car photos, we offer you the restoration of those images. By using the most advanced technology, we make your older and damaged car images look like new. Our highly skillful and experienced team applied a bunch of methods for car photo fix.
If you restore the vintage car image through us, we can ensure the car image will get better and look older. The viewers will have a huge attraction to the vintage restored car photos. Whether you exhibit that vintage car image online or offline will both attract customers and new clients.
All the dirt spots, stains, and dark spots will eliminate from the older car image. The faded yellow tone will be no more as well. Our expert team is also capable of coloring your black and white vintage car image. Adding computer graphics in the old car images and making them astonishing will attract the viewers.
Advantages:
With a restored car image, your memories of that car will restore as well
The old black and white car image will get a whole new look
You will be able to showcase a vintage car image
Car Image Cut out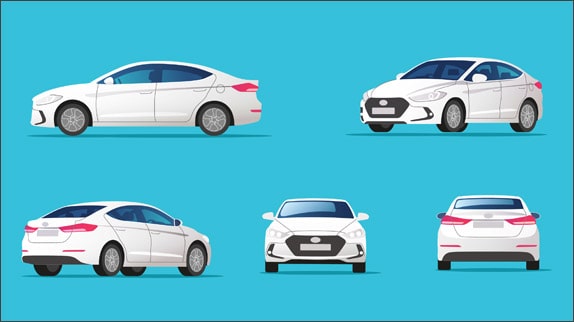 To make a car image cut-out, you need to provide car images from 4-5 different angles. Then, our team will remove the background from all those images and put them in the same picture. As a result, the viewer can see that particular car from 4-5 different angles. The car image cut-out process is also known as Deep Etching.
Among the four different image cut-out types, car image cut-out is a medium and complex cut-out process based on difficulty. This process makes the car's background solid, and the car becomes the main focus of your image. Our skilled team applies this method carefully to make the image suitable for use on online platforms.
The major benefit of image cut-out is the customer will get an overall look at that car. Thus, the viewer will get to know better about that car by seeing a single image. You can also use a properly cut-out car image for offline exhibitions.
Advantages:
It makes the car more focused on the viewers
All-around view of the car in a single image
The car image becomes suitable for using is online platforms
Who Needs Car Photo Editing Service?
Car photo editing is necessary for many people. For business and exhibition, editing a car photo and making it attractive is highly necessary. The people who can take car photo editing services from use are:
Professional Automobile Photographers
Our biggest clients are professional car photographers. The photographers try to give their full attention to clicking car images. If they also need to edit those photos by themselves, they won't focus on car image capturing entirely.
That's why we are offering the car photo editing service at an affordable rate for photographers.
Automobile Agencies and Dealers
There are many automobile agencies and their branches all around the world. For selling those cars online, they need to exhibit the cars on different websites. Our service is to polish those images and make necessary changes to prepare those car images for the exhibition. The car agencies also make leaflets and brochures containing their car images.
For both cases, our car image editing team is ready to serve with their best.
General People
Don't hesitate to contact us if you are a commoner and need a car image editing service. You may have a damaged car image with which you have a bunch of memories. In that case, we will be glad to serve by restoring that damaged image at a cheap rate.
Along with that, you can contact us for any kind of car image editing service, and that will be our pleasure.
FAQ on Cars Photo Editing
What Is Car Photo Editing?
Car photo editing mainly stands for enhancing the look of the car image by making it attractive to the viewers. Photoshop is the major way of editing car images, and it has several branches for the editing process. Resizing the image, making the color correction, background replacement, many more come under this sector.
All the tools and methods are for enhancing the look of your raw car images
How can I edit my car pictures?
You can edit your car pictures with Photoshop software and several other tools. By knowing the basics of Photoshop, you can start editing your car images by yourself. There are several tools and methods in Photoshop that you can use to edit your car pictures. Perfect application of those tools and methods will make your car image more attractive.
But it will be better to choose someone professional to get the job done for you.
How can I make my car look good in pictures?
There are a bunch of tools and methods that you can use to make your car look good in pictures. You can replace the background of the car with a catchier one, and apply color correction to enhance the look. Removing the lens glare from the image, and lighting improvement will also be necessary for the process.
Then Why don't you try our Cars Photo Editor?
Our editor team is highly experienced and has the skill of every section of car image editing. You can contact us for vehicle agency editing, car dealership image editing, and even if you are a professional car photographer. No matter how purpose you require the picture, we will edit and prepare it in the way you want. 
By taking service from our cars photo editor, you can take your business to the highest peak. We will be glad to help you grow your vehicle agency, car dealership, and professional car photography business. All of our services are available for you at an affordable rate.
While you are taking professional car photo editing services, you will be able to create an exclusive automotive brand. Professional & masterpiece car images increase business revenue & help to expand your business. A little step can do a miracle in your automotive dealership.