Nowadays, people value their time. Instead of going to a shopping mall, they are like to buy everything online, including cars. With the customers' demand, every car dealer tries to provide online selling services. But this field is now competitive too. Moreover, With the customers' demand, the dealer also increased.
So, car photo editing service helps a lot in this competitive world. Graphic Expert International is the world's best & largest car photo editing provider.
We understand that a high-quality car image is essential to grab customer attention. Besides, if you have no idea about photo editing & retouching, do not worry; GEI is here to help. Moreover, If the car is on sale or wants to offer, photo editing is the only way to represent the offer & sale update.
GEI always values customers' time, so an expert photo editor delivers quality service. The client will get a full package for the business. Suppose, you have a red ford ranger photo but want to see it in black color without going to the workshop. The simple solution is an image editor. You do not need to call the photographer again & again. GEI is ready to give the best image editing service.
An ordinary image fails to grab customers' attention. To increase engagement, you need to organize a website with an iconic image. GEI provides that perfect image at the lowest cost ever. Photo editing service brings the appealing look of the car image. Likewise, retouching is so essential to give the car a vibrant live look.
"A good photo is worth thousands of sentences."
Car Photo Editing Services in GEI
Our strength is our quality services. We provide exclusive image editing & retouching services. Within a second, our team can turn an ordinary car image into an amazing one. Photoshop experts know how to edit an image.
Online car dealers visualize the importance of a perfect car picture & its demand to a buyer. Photo Editing Services in GEI can give an eye-grabbing image by photo editors.
In a word, when a dull photo turns into a unique, attractive image, call car photo editing services. Sometimes the car picture color is not perfect due to sunlight or other reason. Car photo editing service can give you the proper bright color solution. Photographers are experts in photography, not in photo editing. Sometimes they are not happy with the outlook of the car's image. GEI has the best car photo editors who work with care & concern.
Moreover, this helps the car dealer to display their product in the best possible way. Car photo editing brings a positive impression to business. To edit car images in GEI uses the latest technology & tools. Our expert team always provides the best pictures.
"Efficiency is the motto of our expert team."
Expert photo editor always provides an efficient service. Your satisfaction is our achievement. We always give value to customer satisfaction. They get unlimited revision until satisfaction.
Each part of the car is necessary, so focusing on each part is essential. Car editing is so much complex, so it needs new technical knowledge & expert service. GEI is the only car photo editing service providing company. Provide high-quality car photo editing & retouching services.
Our Popular Car Photo Editing and Retouching Services
If you are looking for the best service at an affordable price, there is no alternative to GEI. Grab the fantastic benefits which will help to grow your business. This small investment will bring a flow of success. GEI is saving your time & energy. Within a click, you can avail of the services. Our photo editor is ensuring a perfect car photo editing service. All types of car editing include in-car editing services. Details about types of Car editing services are below. You will be impressed to know how depth work will get from us.
"A simple editing can bring a huge appeal to your image."
Want to focus on car beauty? Don't worry; GEI has the best expert team to do the task. Our retoucher team knows, how to focus speed in static images. It is not possible to take the perfect snap always. A photo can be wrong or worse, but you don't need to waste time. We have the best car retouching service, which ensures the image's perfectness.
It is important how you represent the car. The proper style & perfect appearance is essential to success in the car's business. —no idea about the style & appearance. Don't worry; our photo editor gives a guaranty of perfect Car retouching services.
Photo retouch means airbrushing, retouch up in Photoshop in a perfect way. Meanwhile, the expert retoucher will bring a glamorous look to the car. The photo editor does detailed editing to get the glow of the vehicle. Car image needs to focus on quality but which is complex enough. But, our expert retoucher team can process it faster. Editing experts provide the fastest, efficient service.
Car Image Background Replacement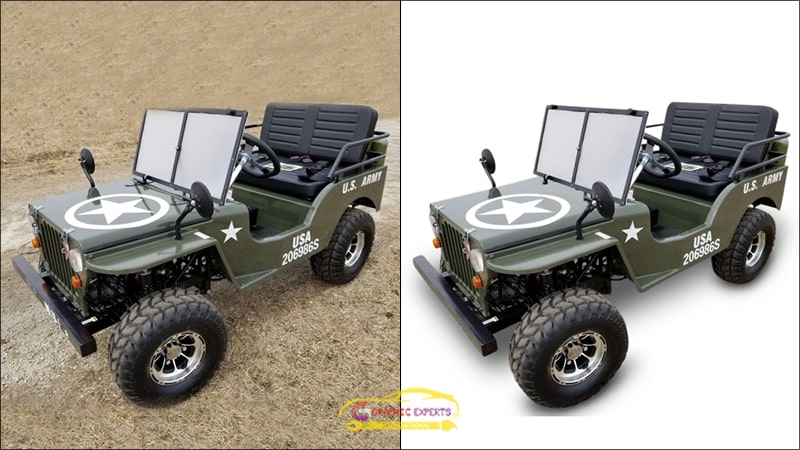 The essential car image editing is car image background replacement. Suppose you are not happy with the background or want to isolate the car from the ugly background. Like to separate the background from the vehicle? Our image editor gives excellent background replacement services. You will get a separate file for background & car. Our car editor will also replace the background with a new one. As well as, they can reflect the sky on the car's window that bringing an alive vibe to your product. If any unwanted spot or object appears photo editor can erase it. They isolated the vehicle from the background. So, you can hide the ugly workshop & arrange a fantastic look at background replacement. Or, you can composite car images into a new background.
GEI uses the best editing software, adobe photoshop to fix, assemble, cut & edit car images. Meanwhile, our expert editor focuses on every detail. And make the idea more valuable for business. Focus fixing, masking is also included in background elimination. For any critical & complex background removing our expert team is ready. They will give a smooth service.
Car Photo Shadow Creation Service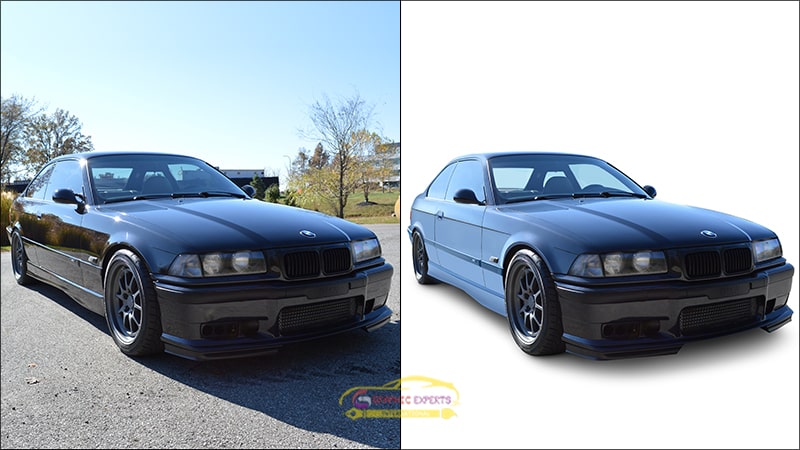 Every customer wants to look alive vibe in their car to feel the real beauty. Shadow creation is an essential part of bringing live vibes to the car. Car shadow creation service is one of the vital & necessary photo editing services. You need to create a shadow of the car. The photo editor focuses on the car's shadow to bring the car's real beauty. GEI has the best image editor team for perfect shadow creation.
Our editing expert offers shadow creating. Shadow can be three types like drop shadow, reflection shadow & natural shade. They can apply any shadow according to demand & choice. We combine the car clipping path to create a perfect shadow. You never find a fantastic shadow creation service at a cheap rate without GEI. Our team creates a perfectness in the photo, which never looks artificial. Suppose you are looking for a perfect car shadow creation service.
GEI is the one & only the best service provider. You must impress with the quality of our services.
Color Correction Car Images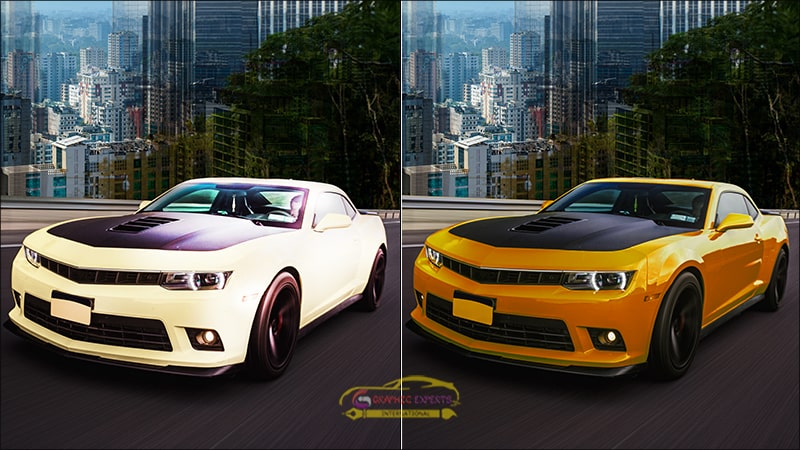 A color correction is a helpful editing service to look at car images, an eye-grabbing one. The color is the life of a photo. Without a perfect color, an image is dull & dead. Without sunlight, an image looks darker. So, color contrast is the main task for making a picture catchy. You can change the car color in Photoshop.
Our well-trained experts give care & an effort to correct the image. They do not click a quick balance button in photoshop. They are doing detailing work to make the photo organic, rectify its inner beauty. We accept any image format. Our expert team can handle every type of photo. We are conscious of increasing contrast, color mapping, and fixing the lighting. The expert photo editor never provides an artificial or fake look image. They give the best natural look that impresses your heart. Quality work is the strength of our company.
Car Enhancement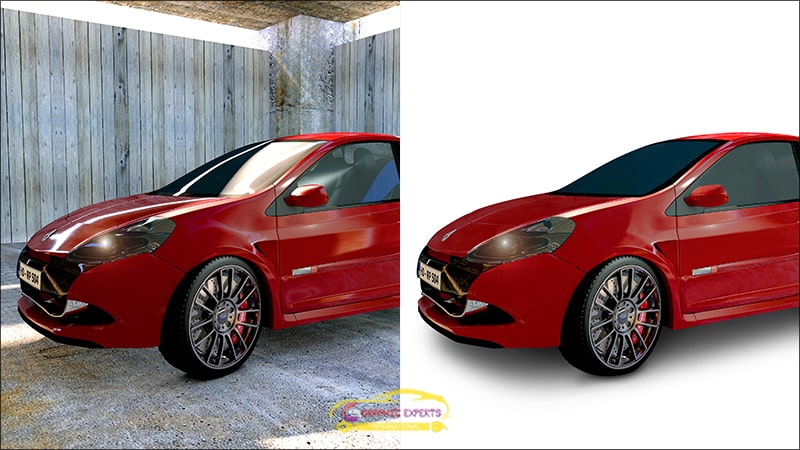 If you have a car image that looks dull, that will bring a bad business reputation. For solving this problem, GEI is getting a car enhancement service. Our technical team provides HDR effects to enhance the car. Moreover, an editor contrasts color depending on the light effect. Without a proper color combination or enhancement, an image fails to attract customers.
The photo editor does the task with care & concern. That brings a natural glowing look. Our car enhancement service gives the perfect photo enhancement. We do each detail change to meet your needs. We provide exclusive best car enhancement. If you need the best service, pick the GEI. Our graphics expert will value your trust meet you with the working quality. The brightness & the vividness of the edited image must win your heart.
Car Text Up & Banner Adding
In your image, you need to focus on the model & car name. It's necessary to add some text in the photo at car shows. Moreover, make some banners there also need text up & photo editing. So, car text up & banner adding is also essential.
You can inform the necessary information to your client using the text. You can focus on the discount, sale offer using text. It is also helpful to get customers' attention. Moreover, when customers see some discount occurs, they feel tempted to buy. The banner is essential for marketing. Likewise, a unique banner helps to spread fame & to bring new customers. GEI provides the perfect car text-up & banner adding service according to demand. Further, our creative team can create an exclusive banner design. The expert creative designer gives the care to order. Give a chance to our expert cars photo editor for the automotive dealer.
Importance of Car Photo Editing & Retouching
The importance of quality image is increasing day by day in online shopping. For getting the right quality image, there is no alternative to car photo editing. Only car photo editing in Photoshop can give the perfect, eye-grabbing photos.
So, car photo retouching is so much demanding nowadays. Here I have noted some importance of car photo editing & retouching.
Showcase Product:
Car dealers can show their photos. They are beautifully arranging the car. That increases their sale and enrich beauty.
Impress Customer:
Outstanding editing grabs the customer's eye. It helps to bring a positive impression on your business.
Magazines Marketing:
When you like to advertise your car in a magazine, you need an iconic image. Thus, a perfect photo retouching only can provide that.
Banner Marketing:
Making an attractive banner is helpful to reach more people—both online & offline. Only a photo editing service can provide you with an exclusive banner.
Billboard Marketing:
Billboard marketing is essential to grab customer attention. In their daily life routine, they can watch billboards. If you offer billboard marketing, you need photos. That will be the outcome of photo editing.
Television Advertisement:
If you want to make an advertisement on television, you need to edit. Every single person has a television nowadays. So, it brings enormous positive impressions to your business.
Social Media Marketing:
In this modern age, using social media is increasing day by day. Everyone loves to use social media. Using social media platform marketing is becoming popular. Further, to do marketing on Facebook, Youtube, and Instagram, you also need editing. Only a perfect photo editing service can provide the best images. Now realize the importance of car photo editing & retouching for business. GEI has the best retoucher offering the best service ever. Do not waste your time. Meanwhile, grab the best service soon
Google Ad:
If you think of giving an ad on google, an edited image can bring more engagement.
Why We are the Best Cars Photo Editor
GEI is the best car photo editor for outstanding quality services.
Our quality of services is always best which is incomparable. To clarify, here are our exclusive feature list.
24/7 customer service.
Delivery Within 24 hours.
3000+ daily image production.
Weekly/monthly invoice production.
Three steps of quality control before delivery.
Unlimited image editing revisions.
Free trial opportunity.
Affordable cost.
For bulk orders up to 50% discount.
For availing of the best car photo editing services, try GEI now.
FAQ about Car Photo Editing
What is a Car Photo Editing Service?
When an ordinary image turn into a perfect image calls a photo editing service.
What is Color Correction on a Car?
Sometimes the car color is looking dull or ugly. But, When the editors bring the perfect color calls color correction on a car.
Why is a Car Image Editing Service Needed?
Because of online & offline engagement, you need a car image editing service. To cope up in a competitive market, it's a must to give the best service. Without a car image editing service, you can not provide a perfect service.
Who is The Best Vehicle Background Removal Service Provider?
GEI is the best vehicle background removal service provider. Most importantly, they have an experience skill team with exclusive features.
Who is The Best Vehicle Background Replacement Service Provider?
GEI is the best vehicle background replacement service provider. That helps you to be successful in your business. It brings a positive impression to your business.
Final Verdict on Car Photo Editing
Car photo editing & retouching service is the key to success in business. But, do not harm businesses to choose an ordinary service provider. Choose the best one, GEI Photoshop expert is ready for every person in the world.
We ensure the best quality service. Editing experts ensure customer satisfaction.
"Your trust is our achievement."
Get the best service at the best affordable price. You can choose GEI. Moreover, there is no alternative to GEI. Thus, try our free trial if you have any confusion.