Are you looking for Professional bike photo editing services? Or worry about the quality image for your business? Graphic Experts International is the only answer. With a dedicated team of Photoshop experts, GEI is ready to deliver quality image editing. We are the best bike image editing service providing company. The goal of bike photo editing is to improve the bike image look.
Thus, take a free trial from our skilled bike and cars photo editors.
Bike photo Editing Services in Graphic Experts International
Online bike photo editing denotes the professional fixing process by photoshop experts. Photo editing is essential to upload the bike photo on a website. The bike photo editors use photoshop to edit bikes' images. This online photoshop service includes lots of miscellaneous tasks. The editing task like bike background removal, bike dust clean up and fixing the color. Each part of the motorcycle is essential to focus on. Thus, our motorcycle photo editing online services include every service for dealers.
By using bike image editing, the photographers can get relief from editing problems. In short, a dealer can increase customer engagement. An individual can get their dreamiest look. We use photoshop for editing the background. Our skilled photo editors use the pen tool to create a clipping path. That helps bike background removal and replacing.
Post-processing is essential for an upcoming motorcycle demo. Meanwhile, GEI provides the perfect post-processing of an image.
Categories of Bike Image Editing in Photoshop
Motorcycle editing services can be of different types, based on demand. Moreover, It helps to focus on each part of the bike. Only a skilled photo editor knows how to bring beauty to images. Thus, base on the editing pattern, motorcycle photo fixing services are of various types. Each detailing is focused here.
Bike Clipping Path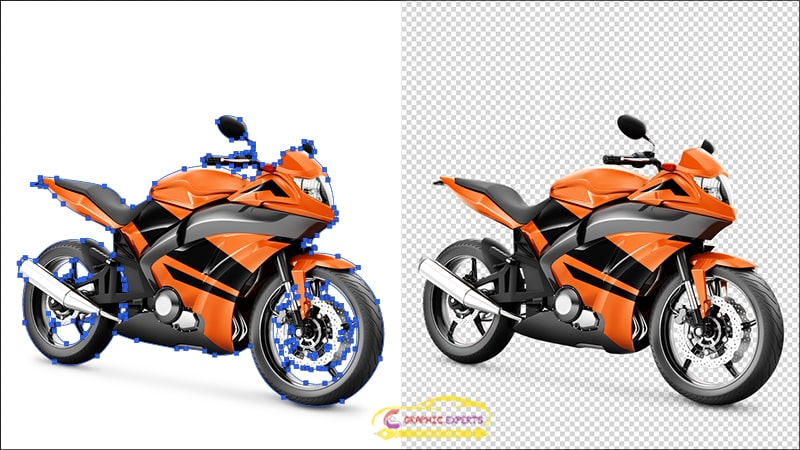 A bike clipping path is mandatory for bike dealers. Moreover, they always need the perfect high-quality image. Bike clipping path service ensures a high-quality image. An unattractive background can spoil the image quality. Hence, GEI provides a clipping path service to ensure high-quality images. Moreover, when you need bike background removal, you need a bike clipping service.
In GEI — the photo editor uses the pen tool to create a clipping path. It helps to make white background and to create a realistic shadow. According to the need, our image editors provide car clipping path services also.
Bike Background Removal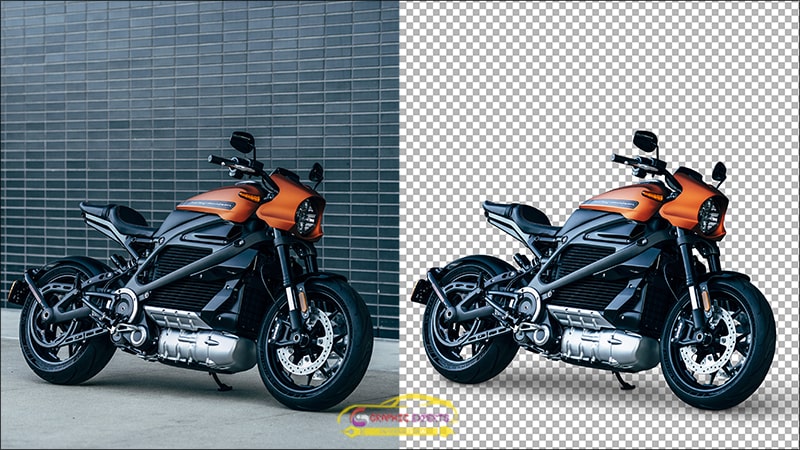 Bike background removal is a basic need for bike photographers. Moreover, motorcycle dealers want to bring an appeal to the product. So, they need to remove the unwanted background.
An exclusive background helps to bring focus to the bike. Meanwhile, It brings an appealing look to the product. Ugly background fails to attract the client. Moreover, you can composite bike/ car images into a new background. Our expert photo editor team uses a pen tool for the clipping path. We remove the ugly background without a single-pixel loss. For some advanced fixing, apply image masking. According to the need, we use a clipping path to bring out a perfect image.
Bike Photo Retouching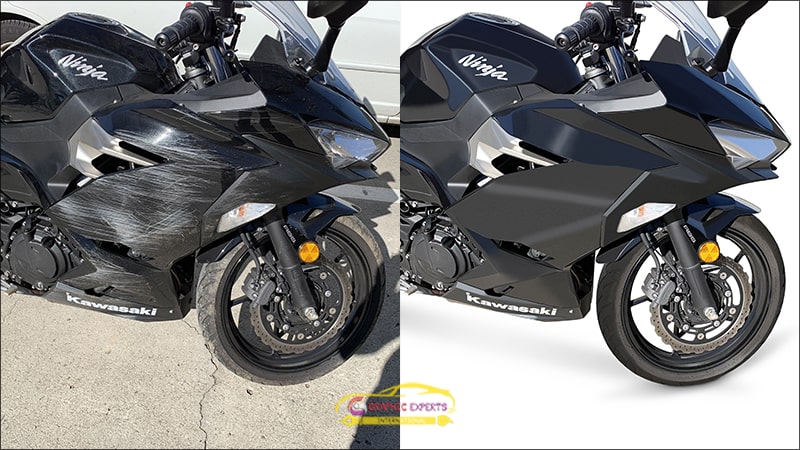 Bike photo retouching is a mind-blowing image editing service. Moreover, photographers feel the pain of poor snaps. A bad shot can occur due to a lack of light or anything else. Within a moment, an expert photo editor makes an ordinary snap to a perfect. The photoshop expert removes noise, dust, camera reflection from bike images. GEI provides bike retouching, detailing, glare adding, shadow creation, and many more. Moreover, these services help to increase sales & bring engagement.
Bike Color Change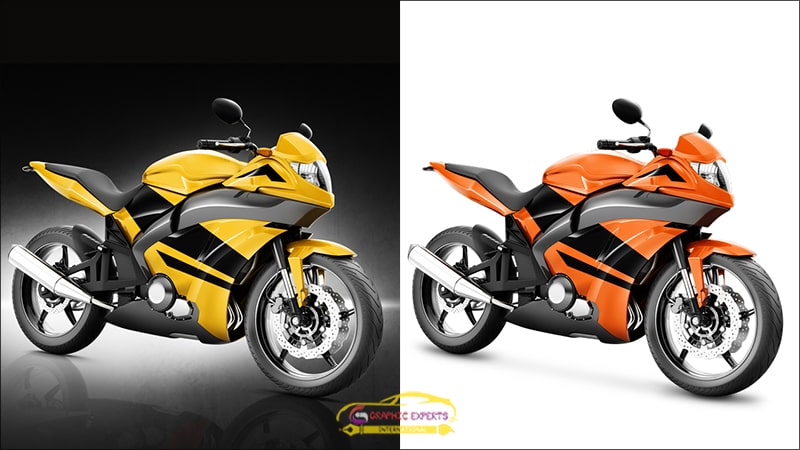 Color is the most famous & essential thing to grab customers' attention. Without good color contrast, the image looks dull & ordinary. That causes harm to the business. Further, the photographer, are so busy handling orders, customers, & shoots. Why do you take the risk of a bad reputation for a dull image? The bike retoucher ensures the perfection of the color. They never provide low-standard color correction. The photo retoucher balances the motorcycle color to catch the focus. Color is the key to bringing success to the business. Try high-quality bike editing services.
Benefits of Our Photo Editing Services
Customers have a world of product images available at their doorstep. Make sure the high-quality bike photo reflects excellence. GEI always ensures the standard of work. Bike stunt is the craze of a young, energetic generation. They also love to get an eye-grabbing photo. Moreover, they need motorcycle stunt image editing. Our professional motorcycle photo editor edits motorcycle photos.
Adobe Photoshop software is the best for photo editing. To ensure the best service, GEI uses photoshop for editing.
There are a lot of photographers who work from morning to night. They don't have time to edit the photo. Also, they do not know how to edit the image using photoshop. Outsource your services to us for any editing needs.
Photographers, Ad-agencies, eCommerce, vehicle dealers need to customize motorcycle photos. There is no alternative to the image editing service. We give care, effort to maintain the best quality bike image.
Who Needs Photo Editing Services
Online Vehicle Dealer
The motorcycle or car dealer needs to organize his website. A vehicle dealer needs a photo editing service from GEI. That helps to grow the business, and increase sales. Moreover, this service is essential for old bike or car selling strategies.
E-commerce Entrepreneur
E-commerce business holders always worry about product images. Image editing service helps to get the best images. The photo editor in GEI provides the perfect photo. A good photo makes the client confident about buying a product.
Individual photographer
Some people have a passion for photography. They take a snap to collect memory. They like to develop their portfolios to show their talent. Their favorite click needs to change to get the perfect quality image. So they need an image editing service.
Professional Photographers
Professional photographers are always too busy with their work. Further, they need post-processing work. They can photograph well but are not experts at image editing. Our bike image editor in GEI provides the best service.
Fashion Institute
The fashion industry arranges motorcycle races or shows telecasting online. Sometimes, modeling with the motorcycle. Each case creates a massive engagement of clients. But to succeed, we need a mind-blowing bike image.
Racing lover
Some people have a craze for the motorcycle. They love bike stunting photos. So, they take editing services to make their image perfect. Sharing their editing picture on social media.
Ad-agency
An advertisement agency needs a perfect quality image to make an ad. GEI only provides a high-quality image. It often needs complex editing to focus on a motorcycle Image.
Magazines Publishers
When a new bike comes, magazines publish an offer to increase sales. If the image is not beautiful, it fails to grab the user's attention. So, pick the right choice GEI.
Increase Your Sales By Edit Bike Photos For Your Website
The motorcycle photo editing services help to increase the sale. Further, a well-organized site with quality images always wins customers. Grabbing the attention of customers helps to increase sale.
Some mind-blowing images can take the focus of clients' eyes. And, they can't tempt themselves from buying. However, a perfect image can create engaging google ads. E-commerce editing is crucial. The perfect color combination satisfies the client. Thus, GEI ensures perfect fixing.
Why are We the Best?
GEI is the best motorcycle photo editing service provider. Best unique features include:
Photoshop expert provides efficient motorcycle photos.
Delivery within 24hour,
Dedicated photoshop expert,
Three-step quality control by the expert team.
Grab the best service 24/7.
Maintain high privacy of clients' picture.
Free trial feature.
Ready to re-edit the final image.
Discounts for bulk orders.
To clarify, the best bike image editor in GEI does realistic editing.
Why Choose Our Company
GEI is the best photo editing service provider. Within the budget, GEI provides all services. Above all, we are the best because:
Photoshop experts edit the photo.
The quality control team checks the standard of editing.
Used best editing software Adobe Photoshop.
Give the highest priority to customer satisfaction.
The lowest price compares to the quality service.
So, GEI is the right choice for perfect bike image fixing services.
Hire Us for Bike Photo Editing Services
The term bike relates to the words passion, emotion & love. Our photoshop expert knows how to edit motorcycle images.
Besides, the budget is essential to afford the best service. GEI provides the best quality services at the lowest price. That helps to get a reasonable budget for the business. That is to say, our photoshop editor ensures quality editing.
GEI has years of experience in bike image editing services. Thus, take quality service from GEI and enrich car dealership marketing.
FAQ on Bike Image Editing
What Services does GEI offer?
GEI offers bike photo retouching, clipping path, background removal, Etc. Moreover, color-changing, shadow creation, manipulation, resizing are also available here.
What is the privacy policy?
GEI maintains your privacy. Most importantly, we never use, share, or sell a single image of our customer.
What is the specialty of GEI?
Quality editing at the lowest price is the specialty of GEI.
Who is the Fastest Editing Service Provider?
GEI is the fastest bike image editing service provider. Moreover, you will get your images back within 2 to 24 hours. Even, rush delivery system is also available here. And, it is open 24*7.