Are you looking for how to change the color of a car? Car Color Change in Photoshop is tricky but easy if you follow some strategy.
Here I am sharing the step-by-step guideline on how to change the color of your car in photoshop. Photoshop is the leading & giant photo editing software. So, I pick the best software to make the process easier but efficient.
Color changing is one of the essential tasks for advertising, marketing, or wedding photo editing. Automotive car dealers badly need color changing of a car for advertising.
When you come up with any automotive campaign ideas but don't have the eye-catchy color cars that match with the idea the best option for you is to change the color. That helps you to make the campaign fruitful & lucrative. Let's learn how you can change the color of a car in photoshop.
Why Do Car Color Change?
Changing car colors is time-consuming & a perfect color change needs labor & dedication. But there are thousands of reasons behind changing the color of your car. Here I mentioned all the major reasons for you needing to change your car's color.
Enhance the car's beauty
Color is the key to grabbing the audience's attention. It reflects your taste & choices. The taste can vary from person to person. So, as an automotive dealer, you need to change the color of your car is an easy way to cope-up with the latest style, taste & trends.
Suppose the red color car is highly trendy in January but in September the trend can convert into having a black color.
So, you should modify the color to adjust to the latest color trends that are profitable for your business. If you are waiting to paint or import that trendy color you need to wait for days or months & at that time you can lose lots of customers. So, It is better to keep your collections up to date.
A cool color can enhance the car's beauty & brings a huge sale.
Transformation
When you are planning to arrange advertisements for your car but the vehicle is old or the color mismatch with the concepts you can transform the car's look by changing the color. It also helps you to hide scratches, dust, etc on your car.
Color change brings a new look to your vehicle. That increases the probability of making your advertisements successful & popular.
Money-Worthy Investments
The time or money you invest to change the car's color helps you to bring more profit than the investments.
You will be able to display various looks without changing the car's appearance. The various colors of the car collection give you an opportunity to reach more people & bring more customers.
Personal Benefits
If your wedding car's color does not look marvelous or does not highlight your day you can simply change the color of your car & make your special day more special. Sometimes you love car photography but don't want to share your old car's pictures on the social platform.
So, you can re-apply an eye-catchy color & share the fantastic photos to show your skill & creativity.
When You Need To Change Color
You need to change a car's color for marketing, advertising, promotional campaigns, beauty-enhancing, Google ads, e-commerce product photography, automotive dealer's photography & many more.
Besides, Color change brings uniqueness to your collection. It is a good way to offer multiple color choices to customers without availing themselves of physical cars. In this competitive car's business field color changing is an amazing way to grab customers.
Who Needs Color Change
Basically, an automotive dealer feels the urgency of changing the car's color. Because it helps them to grow their business without huge investments. They actually don't need to buy multiple colors of vehicles but with this technique, they can represent all the colors on their website.
According to customer choices, they can make their investments fruitful & secure. It is also necessary for a car photographer, wedding photographer, marketing agency, E-commerce dealer, Ad agency & many more.
In short, lots of people need to change the color of their cars for different purposes. Though the purpose is different the output is always positive. It is always beneficial. 
How to Change Car Color in Photoshop
After opening your car's image in photoshop the first task is to make a perfect selection. There are so many methods to make a selection. Here I will go for the easier method but it gives a comparatively good output.
The most important thing is you will change the car's color without harming other elements of the car. The easiest way is to use the Quick Selection Tool to make your selection. Though it's easy, it will result in poor artificial looks. It can't crucially select the edges. Besides, It is time-consuming because you need to select each detail separately.
As this article is also for beginners to the pro designer I will go for the Color Range Method. It is easy & provides comparatively better output but not the best.
Now, let's start our car color-changing project.
Step1: Select the Area of the Car You Want to Change
From the menu bar choose Select> Color Range & you will get a pop-up window like the below images.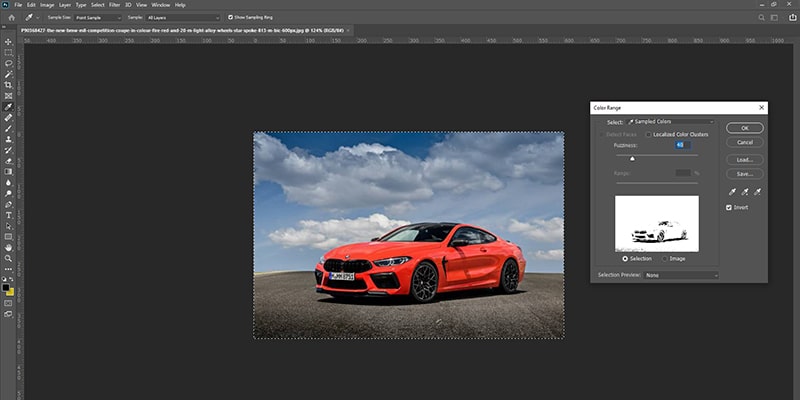 Now you need to select the base color to create a sample of your car. For that click on the base color & press shift to make a sample car in the preview window. Then click on the "Localized Color Clusters" so that you can strictly control the selected hue in the sample.
Besides you can modify the sample size using Fuzziness. Now press OK.
Now you can see the selected areas on the monitor like the below images.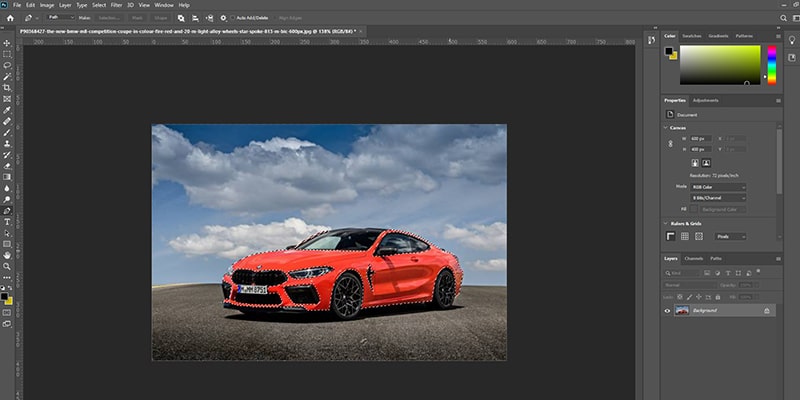 Step2: Replace the Original Color of Your Car
From the right side of your photoshop, you will get an Adjustments button. Click on adjustments then select Hue/Saturation, you will find a new pop-up window like the below images.
You need to make a Hue/Saturation layer to replace the original color of your car. Now choose the Hue & saturation slider color until your target color is achieved.
Step3: Select the Area of the Car You don't Want to Change
Now from the toolbar select the brush tool & set the foreground color as black & paint the portions where you don't want to apply the hues.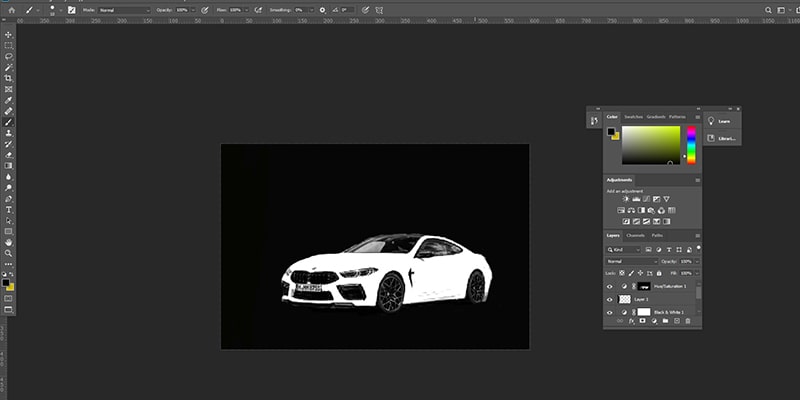 Step4: Final Output
Here is our Final Output.
The output is really cool & this method gains so much popularity for giving marvelous output within a few minutes. To do creative editing or remaining any portions with the previous color you can simply use the Marquee tool or lasso tool & make a selection of your desired area that doesn't need any change.
Now brush the area with black color. You should keep the Opacity 100% otherwise It won't be able to reflect the original layer's hue. You can derive this stylish outlook like the below images.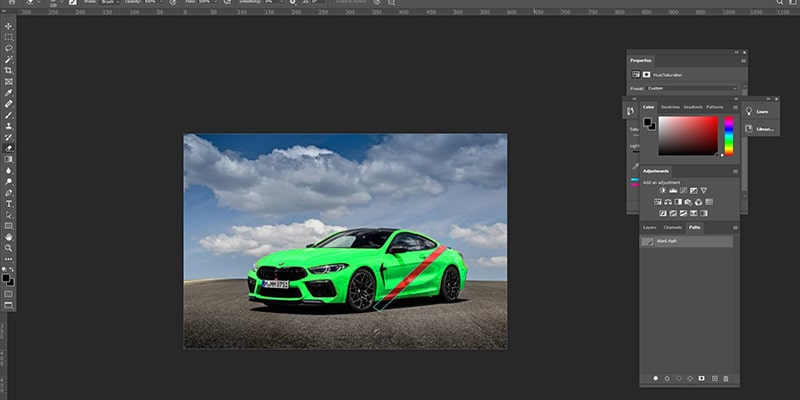 If you are still not happy with the output & want to improve the quality you need to follow the advanced method selection with the pen tool. The expert & pro designer uses the pen tool method to make a hand-drawn depth-control selection of your car.
But this method needs practice & experience to draw the path crucially & efficiently. The target is to make the final output look 100% natural & real. So, work until you can gain perfection. I don't start with the hard method because that can frustrate you. So, I bring an easy alternative that gives you similar results.
The best photoshop services provider will go for the pen tool method to give highly professional & standard work. If you want highly professional efficient work & you don't know how to control the pen tool perfectly you should outsource a photoshop service provider to change the color.
Demand analysis of Color Changing
People always love variations. So, always try to apply more than 5 colors in your car. Selecting the color actually depends on competitors' analysis, customer demand research, trend analysis, and frequently selling cars.
When you do the above research & analysis you will find out some most demanding & lucrative colors that people love. Pick those demanding colors & try to add cool colors to make your collection unbeatable. I can assure you that if you follow this strategy to change your car's color it will create your own identity & make your brand stand out from the crowd.
You will be successful to grab the customer's emotions, demands, taste & choice sense. That is the key to increasing your car's sales.
Final Verdict
This is a complete guideline to change your car's color in Photoshop. Here I mention all the methods you can apply in changing the car's color with its pros & cons. So, according to your needs & wishes, you can pick the best method for you. To derive the efficient color of your car you need dedication, practice & a keen eye.
So, let's start your work & enjoy the transformation of your favorite cars. Color changing is one of the popular Photo Retouching services. So, if you can learn it efficiently you will be able to earn good money by giving this service.
You may read: