Car motion blur photoshop is a blessing when you want to make your car photo realistic. Well, it is a fantastic technique to bring life into static images. It's a trick to hold the target audience's eyes.
Here in this article how to create moving car motion blur effects in Photoshop CC?
I will share a step by step guide on creating perfect moving car motion blur effects in Photoshop. These simple effects bring speed & a dynamic vibe into a static shot. Surprisingly, these little effects can bring massive changes. Guess what, it will increase your automotive sales or turn your sports automotive photos stand out on the web. Let's learn this simple effect & make blast automotive shots.
Why Moving Car Motion Blur Effects Essential?
Well, you must notice sports photography & automotive business becoming so popular throughout the globe. It is challenging to bring high speed in a static shot in sports photography.
Are you wondering how the professional photographer represents the live speed in a static image? Yes, Motion blur effects are the secret behind those masterpiece shots. It helps you to make your automotive photos extraordinary.
Simultaneously, it is essential to create your own identity. If you find this method complicated or busy with a hectic work schedule, then tale professional automotive editors help. A little investment can help to make a double the return. Besides, it helps to sustain in the market competition.
The automotive market is becoming too competitive with huge market demand. It is key to reach target audiences & make them tempted to buy your car. When you are capable of representing the speed in your shots, it will attract potential clients. So sports photographers, product photographers, or e-commerce businesses must need to learn these useful effects. Let's grow your business with this simple technique.
Overview to Create Moving Car Motion Blur Effects in Photoshop CC
There are so many techniques used to create motion blur effects. After doing an intense analysis, I will share the best two effective moving car motion blur effects methods. The best part is you will get the most straightforward technique here. But it will provide the best output. 
Let's start the first technique.
Method 1: How to Create Moving Car Motion Blur Effects in Photoshop CC
To implement this method, we are choosing the below images. Open your Photoshop now choose file-> Open the image.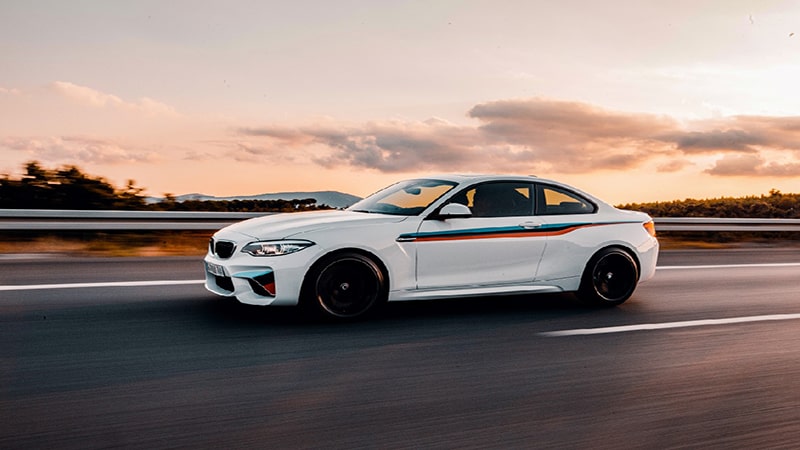 Step 1- Object Selection for Car Motion Blur Photoshop
Motion blur effects are here to enhance your original car image beauty. But it is not acceptable to harm/reduce image quality instead of improving. 
So the first step is to make your original image secure. You need to apply effects on a duplicate layer to avoid any unwanted mistakes. In the motion blur technique, you may skip it as we are significantly changing a specific area.
We are aiming to create moving car motion blur effects. Here, our subject is the moving car & we need to cut out the issue from the environment. Now,  I am going to make a selection around the moving vehicle from the images.
From the toolbar, choose any selection tool, including Lasso, Pen tool, etc. Now right click on the car & create a selection around the vehicle. If you select the pen tool, you need to draw the path accurately. Zoom in on the photo. 
Then right-click on the mouse & make multiple anchor points according to the car's edges. After covering the whole vehicle, you need to end the path by clicking on the initial point. 
The pen tool provides depth control to create a perfect selection. But it needs dedication & experienced hands because a wrong click may lose valuable pixels. The more accurate you can make the selection, the more fantastic blur effects you can derive. So, I will suggest using the Pen tool.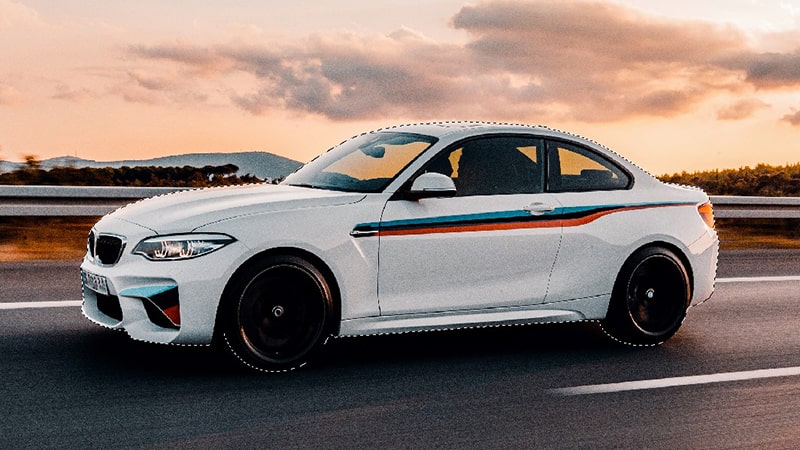 Step 2- Copy The Path
Now you are done with path selection. In this step, you need to copy the selection area to a new layer. It is effortless. 
From the top Option, Bar chooses On Layer- New- Layer Via Copy. 
Now your selection area is successfully copied into the new layer.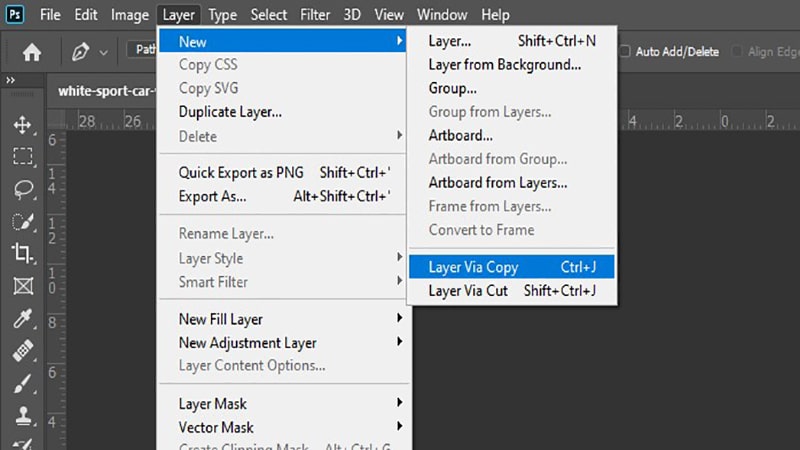 Well, if you want to do it faster, then enter Ctrl+J. It will also copy the selection. Now check the layer panel from the right side of photoshop. You will find a new 'layer 1' with the selected area only. The best thing about this layer is the background is transparent. It only contains your selection portion to make your blur task efficiently.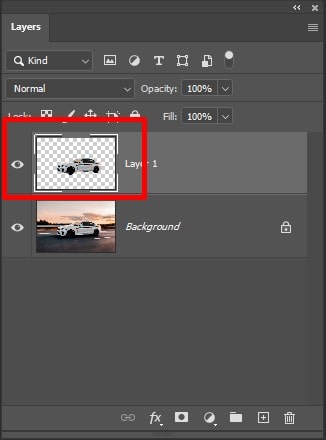 Step 3- Create Motion Blur Effects
Now, we are done with the subject cut out from the background. So, the image is ready for creating motion blur effects. Follow the below steps
From the option bar, choose Filter- Blur-Motion Blur.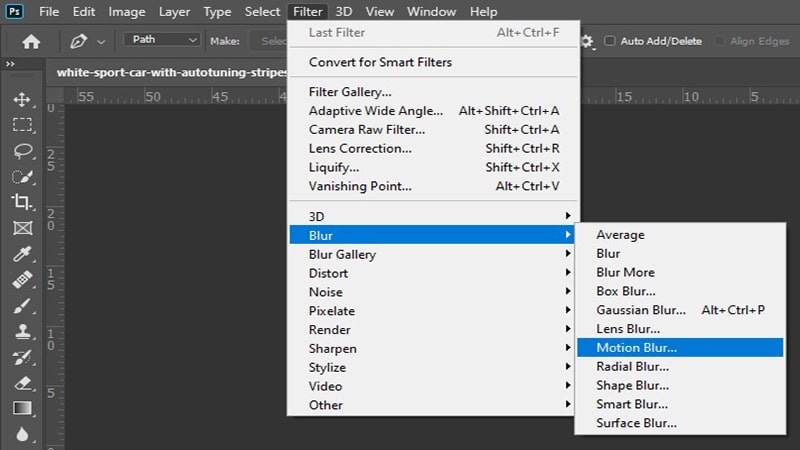 You will get a new pop up of motion Blur effects. First, fix the angle of the motion blur from the dialog box. You need to fix the angle in a way that can bring matching direction with your car movement. The car direction works horizontally or left to right or vice-versa. So you can try 0° & then increase it to see the preview & appliance. In my shots, the cars need to move slightly uphill. So, I set the angle 2° & see it brings a perfect matching direction.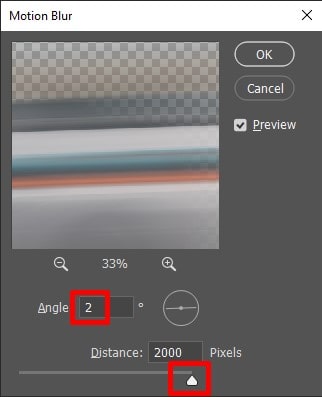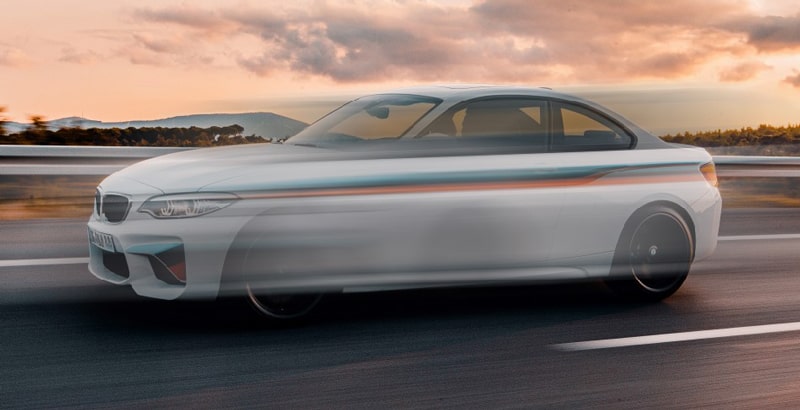 Moreover, in the dialog box, you will find an angle control wheel. You can move it up or down to bring the perfect direction. You need to click on the preview, then drag the wheel & see changes on the preview window. It is a too simple way to set the appropriate angle. It is your choice to enter the value manually or adjust the control wheel to fix the angle. Both methods are easy. You need to find the right angles based on your subject's needs.
Now it's time to adjust the distance slider. Drag the slider right or left to set the length of the motion blur effects. It would help if you tried all possible ways to find out the best view. It is better to bring the longest blur streaks to get the best blur effects.
At this step, give some dedication & effort to check the changes with the slider dragging carefully. Don't miss a perfect preview due to an eye glimpse. Now Select OK to come out from this Motion Blur window. After doing the above steps, the images look like the below images.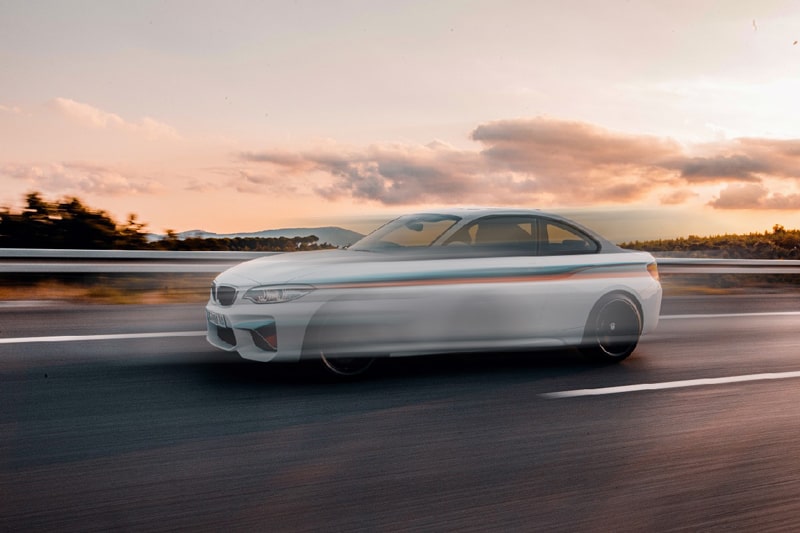 Step 4- Copy Motion Blur Layer
It is time to create the Motion blur effects. You can notice that the previous motion streaks look too feeble. It needs to improve density to make the effects perfect. Do you want to know how? It's effortless.
You need to copy the motion blur layer that is your layer 1. Guess what? Duplicating the layer will enlarge the blur streaks & make it denser. As a result, you will derive visible & vivid blur effects. Well, copying layer copy the blur streaks so it makes it stronger.
I guess a 4-5 copy of the layer is enough to create a perfect blur effect. Yet it depends on your image angle & requirements. You can try more or less.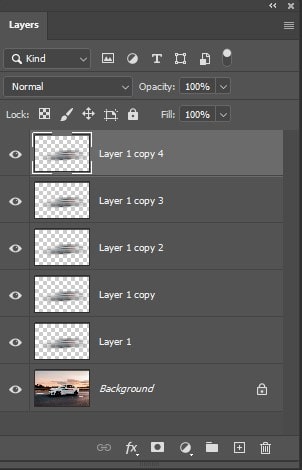 Just enter Ctrl+ J to make a quick copy of the layer.  After making a copy layer check the blur streak intensity in the images. It helps to decide whether you need to copy more or you are done with perfect effects. I make four copies of layer 1 for my pictures. Check the below images you can see the copy layer from the layer panel.
Finally, the copy layer improves my blur streak intensity. Check the after-effects images & feel the improvement. Isn't it amazing?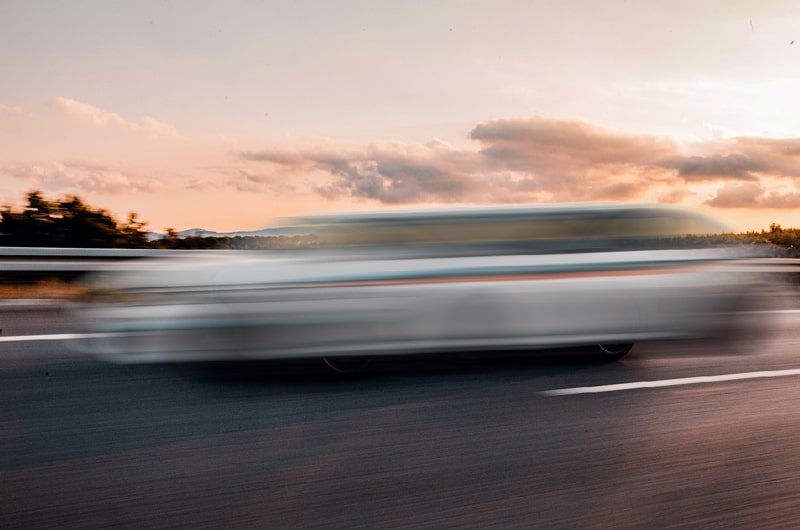 Step 5: Select all Blur Layers
Now it's time to merge all the copy blur layers into an individual layer. It makes your blurring task easier. 
Now hold Shift & click on all the copy layer 1, including the main layer 1. It will select all the copy layer 1, including the original layer one together. Check the below images. It will make the layered blue in the layer panel.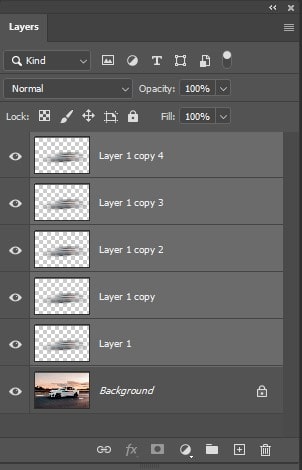 Step 6: Merging
You are done selecting all the layers. Now it is time to merge the layers into a new layer. 
From the Options Bar, click on Layer- Merge layers. 
Now in the layer panel, you can find only two layers with our existing layer effects.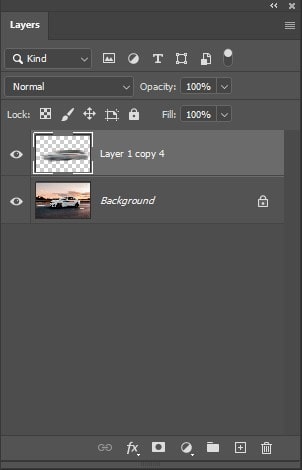 Step 7- Masking
Now the blurry effects have only problems because the blurry effects are not positioned correctly. You don't want to create blurry effects over the whole area. It needs to be made in any particular portion. To solve this problem, you need to hide the blur streaks you don't want blur effects. It is a layer mask that can hide blur streaks & give you the perfect effects. An ideal car blur appears behind the car & the blur blends with the vehicle. 
To hide unnecessary blur streams, select the motion blur layer & then select the layer mask from the right-bottom of photoshop. It will make a layer mask thumbnail to the right of your original layer.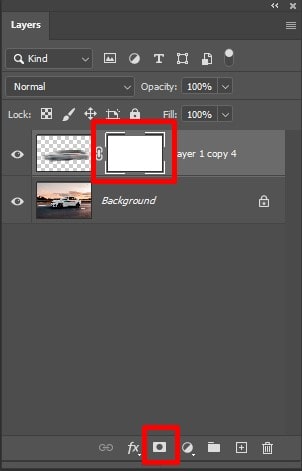 Step 8- Choose Gradient
Now from the toolbar, choose the Gradient Tool, or to apply the shortcut, enter G. 

Step 9- Apply Gradient to create Car Motion Blur Photoshop
After choosing gradient tools, check the top options bar & change the screens to apply it accurately. You will find a down arrow beside the screen. Click on the arrow. Then you will find the multiple gradients option. You need to select the black to white gradient.
Step 10- Apply Gradient on Layer Mask
Check your layer panel. If your layer mask is a highlight with a white border, that means you are selecting the layer mask. If you don't find the border on the mask thumbnail, then take your mouse on it to fix it.
Now, it's time to say goodbye to the unwanted blur streaks & create an appealing illusion. Here your target is to focus on the car emerging from the blurry effects. It would help if you found where you want to remove the blur streaks & click on that area.
 After that, drag out the little transition area. As a result, it will fade the blur streaks. Keep in mind where you release the mouse pointer in that area, the blur streaks will be 100% visible.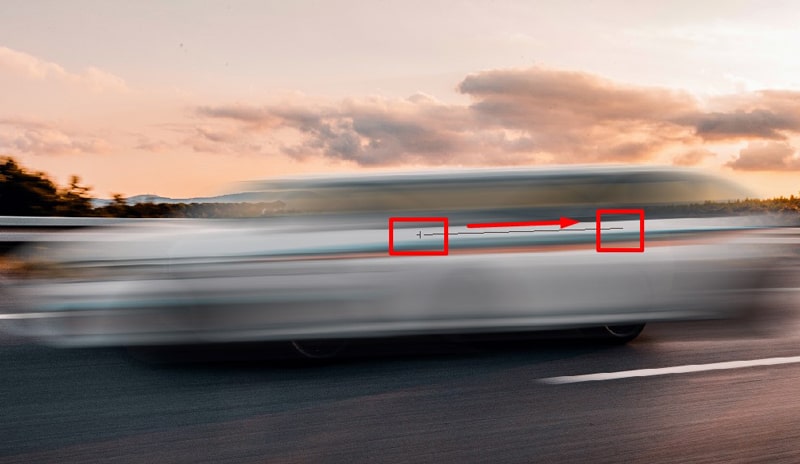 In our image, I want to begin with the car's driver & drag it backward of the car to make a short transition. I release my mouse behind the driver. So the blur streaks faded behind the driver. Also, it is essential to maintain a similar angle both for blur streaks & gradient drag out.
After releasing the mouse, check the layer panel in photoshop. 
You will find the gradient in the layer mask thumbnail. The black portion is indicated blur streaks are hidden in this area & white suggests that the blur streaks are visible in this area. The best part is the middle portion of this gradient, where blur streaks blend or fade to create an illusion.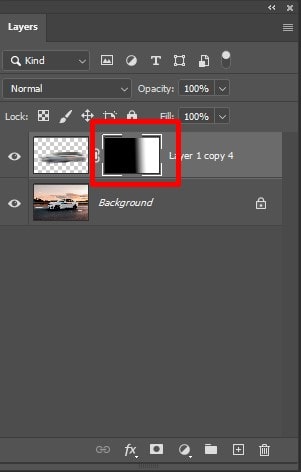 Now, Our moving car motion blur effects are entirely done. Check the below image. After apply gradient on the layer mask, it makes a moving motion blur behind the car. See, it makes a high-speed car's photo that can grab the audience's attention.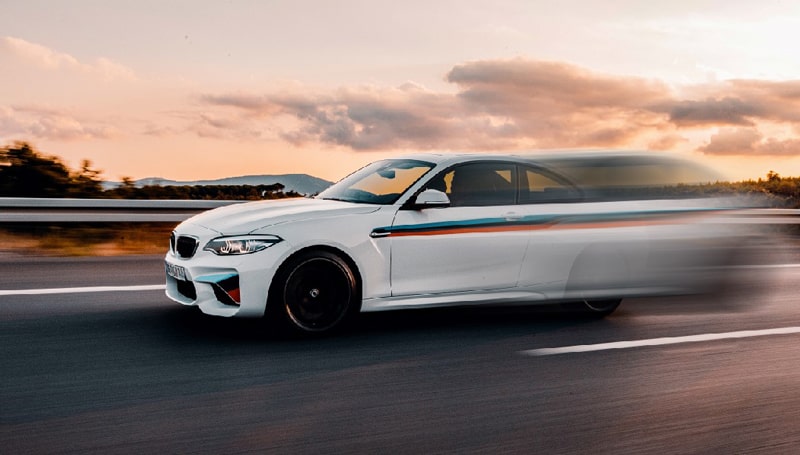 Read More:
How to Composite Car Images into a New Background
How to Edit Car Photos in Photoshop: Car Image Retouching Process
Method 2: Create Car Motion Blur Effects in Photoshop
In this method, we are taking two different files. One is for the subject that contains the car with transparent background & the other one is the background file. We are compositing the vehicle into the background & making it moving by creating motion blur effects.  This two different layer makes the technique more convenient. Let's start the method.
Step 1- Resize the Car
Car resizing is important to create perfect motion blur effects. It helps to create an infusing view into a high-speed static car picture. 
Actually, it is a one-click task. Enter Cmd/Ctrl+T, then resize your car according to your needs.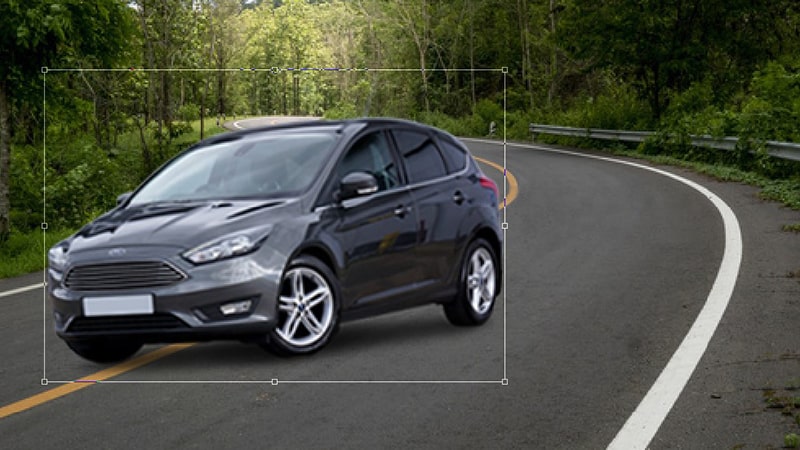 Step 2- Background Extending
To create an eye-catchy motion blur illusion, it is essential. I am extending the car's photo side to side. Select Image- Canvas Size & then increase 1000 px to the right of the image & then enter Ctrl+ T to extend the original image & fit it on the extended area.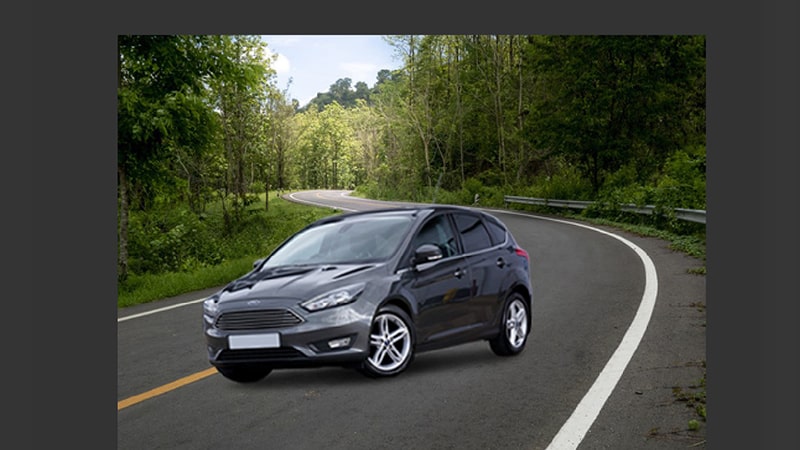 Step 3- Background Blur Phase 1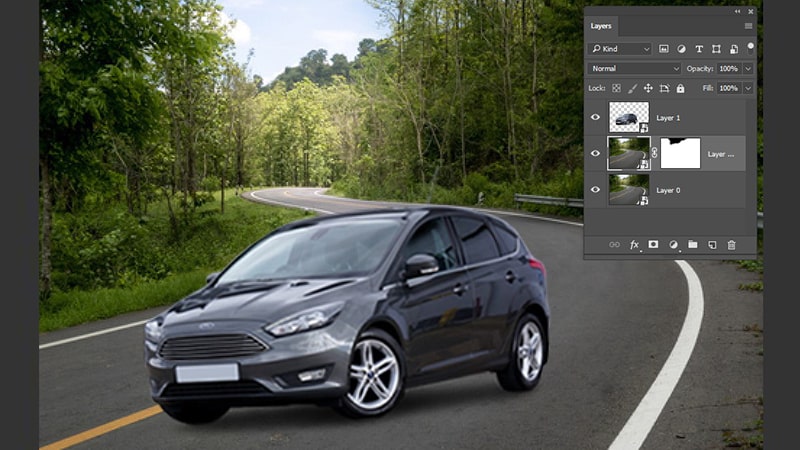 To create blur effects on the background, you need to convert the background to a smart object. From the Layer Panel, choose the background & right-click on it, then select Smart Object. Now make a duplicate layer by entering Ctrl+J. It would help if you created a layer mask on the duplicate layer. 
From the layer panel, select the duplicate layer, then choose Layer- Layer Mask- Reveal All. Now from the toolbar, pick the Brush tool or enter "B" & then start dragging over the sky area. Make sure you are selecting the foreground color as black. 
While you cover the sky with a black brush, it protects the sky from blur effects while working on the background. The portions you don't want to attach motion blur needs to paint with black color.
Step 4- Background Blur Phase 2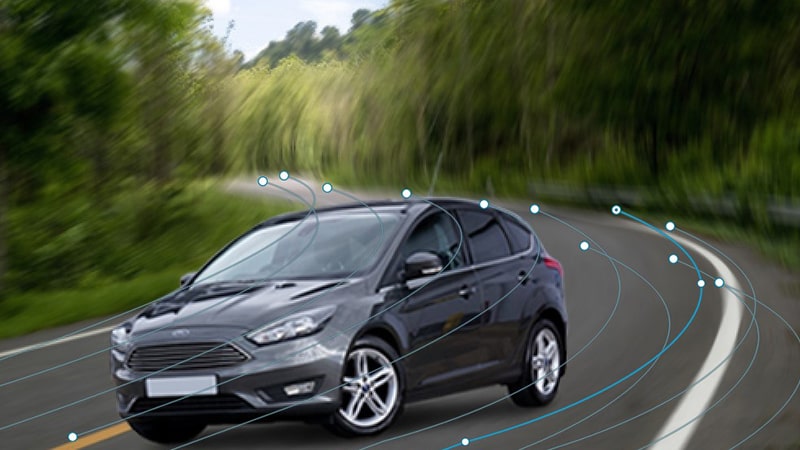 Now it's time to create blur effects in the background. Select Filter- Blur Gallery- Path Blur & drag with your mouse to make some paths. It would help if you drew the path where you want to attach the motion blur. 
Our target is to make a backswing" blur illusion that covers the whole car to show high speed. In this method, I follow the line of the road to creating my blur streaks direction. And see, that makes the car live. 
Here we aim to represent speeds, so check the blur settings. The gallery adjusts blur settings to bring accurate blur effects to describe the car's motion from the filter. Play with the different filter settings & slider until it looks perfect with your vehicle.
Step 5- Background Blur Phase 3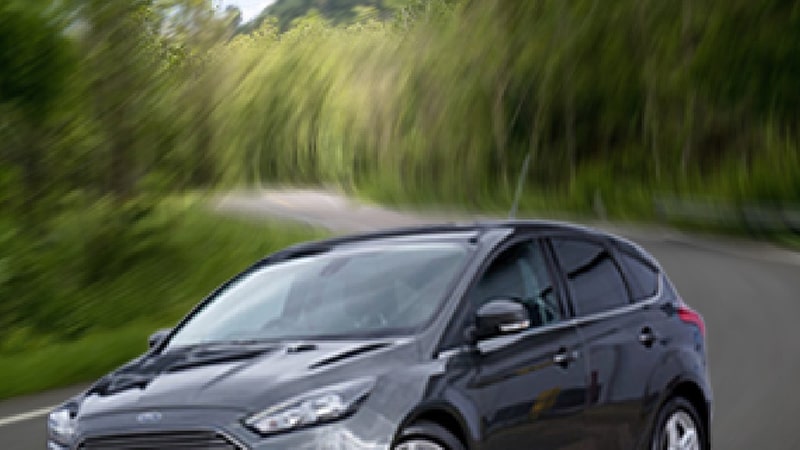 Now finish the path blur effects & then pick the brush tool to paint with black in the mask. As a result, the sky remains the same. No blur effects harm the sky. It is important to paint over the sky from a bit of an over-blown area.  That makes blur effects perfectly merged & blended. It helps to make the effects realistic.
Step 6- Wheels Blur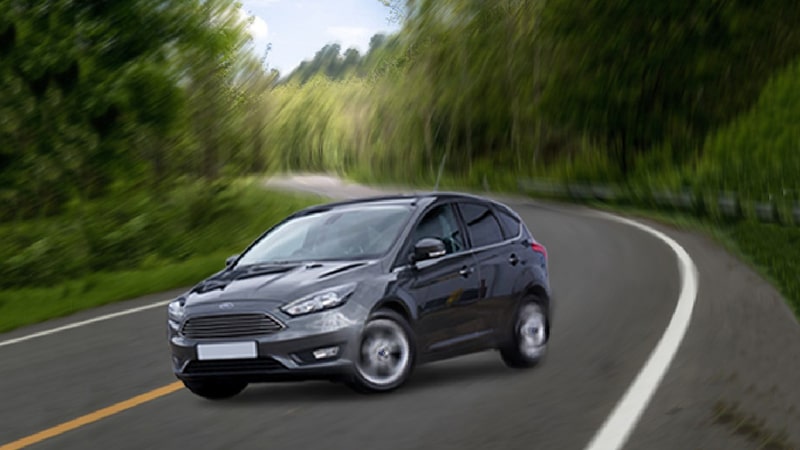 Now select the car layer. Then choose Filter- Blur Gallery- Spin Blur. Now right click on a wheel to create a blur effect. You can select any wheels according to your wish. Pick the anchor handles & start moving spin blur over the particular wheels. 
You can adjust the wheel speed by balancing the angle of the blur from the slider. From the blur filter panel, moves the slider to get the best rate. Repeat the same process for other wheels if you want to drop blur effects. If you're going to erase any effects, paint it with the brush tool. 
Step 7-Finishing Car Motion Blur Photoshop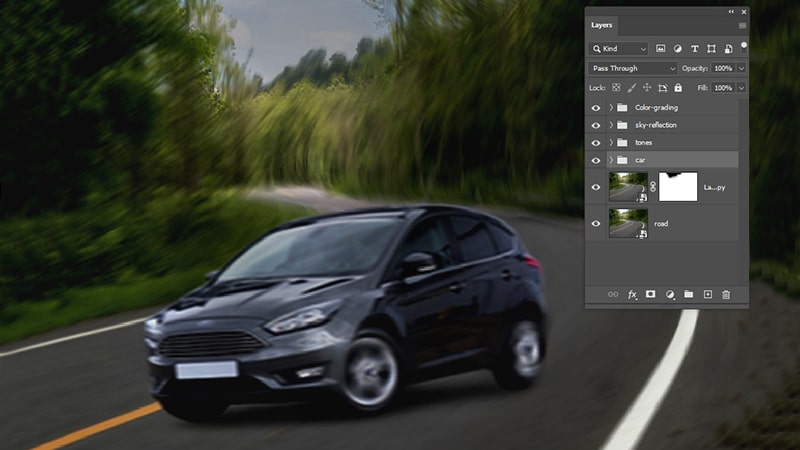 Now you are almost done with the blur effects. I guess adding some blur effects on the glass of the car will make the shots outstanding. In these pictures, the clouds are going through the glass. We add blurry cloud effects on the window to enhance the beauty of the car.
Select Filter- Blur- Motion Blur. Now you will get a new dialog box. Drag the blur control wheel & angle to derive a perfect blurry cloud view through the glass. Then click, OK.  You can also drag the slider left or right to make the distance value accurate. It is essential to create a realistic blur effect. Check the preview carefully & choose the precise distance for perfect output.
Conclusion on Car Motion Blur Photoshop:
In sports or automotive photographs, the most challenging phase is to display the significant speed of the car. 
It is essential to make proper composition & appeal of the shots. We are bringing an easy solution for this challenging task. You can try the above two methods to derive significant moving car motion blur effects in Photoshop CC.
This article covers step by step to make the motion blur effects realistic & eye-catchy. It will help to enhance the beauty of your automotive shots. If you are a newbie photographer, try this trick. It will help to create your own identity.
You may also read:
Cars Photo Editor for Automotive Dealer Marketing
How to Edit Car Photos Like a Pro Using Lightroom
20 Car Dealership Promotion Ideas and Marketing Strategies 2020
Are you unhappy with your car background? An ugly background makes your masterpiece shot distractive. Composite car images into a new background can solve all those background issues. It is fun to transform existing shots into an eye-catchy automotive portrait.
Automotive dealers are looking for this opportunity to fix their valuable shots. I will share a complete guide on how to composite car images into a new background in Photoshop. You will get the whole transforming process in Photoshop, including blending the car with its new transparent environment to make it realistic.
An appealing background can enhance the beauty of your car. The best part is it can grab the client's attention. Compositing cars into an attractive background ultimately increase your sales & brings new clients. Let's learn how to do it.
Overview of Composite Car Images into a New Background like a Pro
Compositing a car background is an advanced photo editing trick, a combination of several photoshop techniques. This includes a car clipping path to make the background transparent and then replacing the background with a more suitable one. 
Moreover, car photo retouching techniques such as clean up the dust, glass reflection, glare removing, blurring, color adjustment, and others are required. The goal is to create a beautiful & attractive image that sells. 
As a result, you will be surprised to know an appealing car composition can make your automotive photo stand out on the town. It can create a huge difference with competitors. It allows playing with reflections & fixing all types of imperfection to deliver a perfect automotive photo. This is the secret of successful automotive dealer Marketing.
Composite Car Images into a New Background is Challenging
Compositing a car into a new background is challenging. Firstly, car edges are not smooth or straight. It contains curves & uneven edges. That needs manual selection with the pen tool. Expert photo editors have depth control on drawing path & give an efficient path without losing a single pixel. Unfortunately, newbie editors can harm your valuable pixel & spoil your shots. Experience can make a difference.
Well, it's not all about making a path & clips it from the original background.  Another critical task is to visualize an appealing composition for the car. Then evaluate your imagination in reality by compositing a new background. You must need proper blending to adjust the car with this new background. 
Here your priority is to make the image both focusing & realistic. Transforming should contain a perfect background that is capable of grabbing attention. Otherwise, it will be a wastage of time & dedication. It's fun to convert ugly images into an attractive ones. You can do it if you follow the below steps accurately. But the practice is a must if you aim for perfection.  
You can be surprised to know an appealing car composition can make your automotive photo stand out on the town. It can create a huge difference with competitors. It allows playing with reflections & fixing all types of imperfection to deliver a perfect automotive photo. This is the secret of a successful automotive dealer.
Benefits of Composite Car Images into a New Background
While you are doing a Photoshoot, it's impossible to find out an appealing background for all individual cars. Besides, it's natural to get some color issues due to lighting. Sometimes direct sunlight can burn the original color. Moreover, there is a chance of getting unwanted objects in your frame. Aside from all of these, the shots can contain dirt, dust, or any other scratch that can decrease the car's beauty.
In automotive photography, reflection & shadow is the life of the picture. It can bring a dynamic vibe in a static shot. Unfortunately, while you are using a circular polarizing filter in a camera that harms your reflections & derives a poor picture. Photo editors can solve this type of problem & enhance the beauty of your car. Image Post-processing helps to bring perfection to your photo.
Why Use Composite Photos?
In the automotive business, the composite image is robustly essential to bring focus on cars. Composite images are providing an impossible combination. For example, you live in a small city but want to reflect a mountain or eye-fell tower. Composite photos are the only solution to attach your original photos to a suitable one.
Moreover, sometimes it is difficult to capture the expected moments. Besides, bringing a proper composition for each shot is time-consuming & difficult for a photographer. Compositing is a solution to reduce photography costs. You don't need to worry about the background. 
Composite car images offer to blend several backgrounds with balance lighting to deliver a masterpiece shot. Frankly speaking, it's quite impossible to bring those stunning shots due to light, nature & environmental issues.
It's a great way to convert focus on the main subject. Automotive business can grow rapidly with those focusing shots.  However, eye-grabbing composite images are a mixture of static car & dynamic elements.
Step By Step Tutorial to Composite Car Images into a New Background
To composite car images into a new background, we will use the below image and composite it to another background.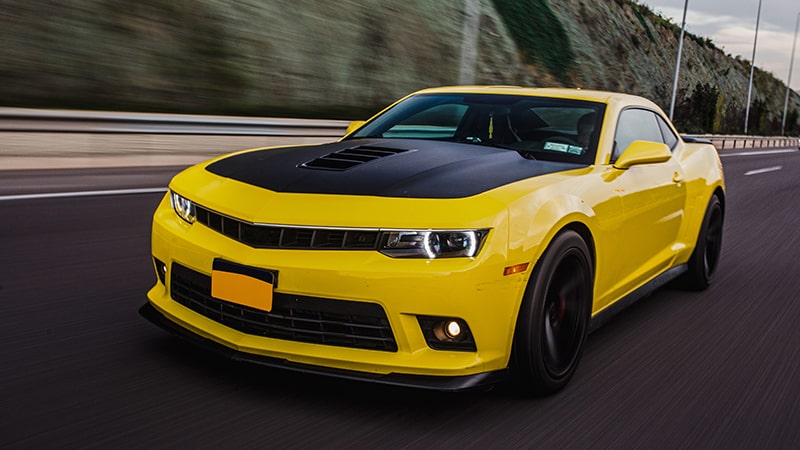 Here is the before-after example of it.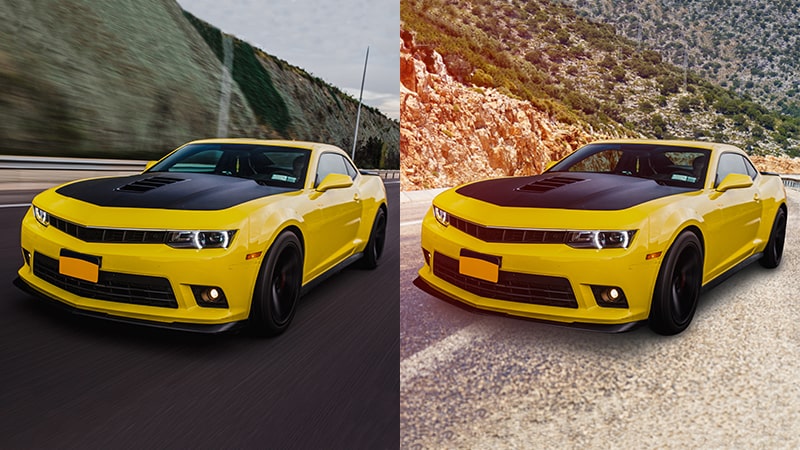 The first step is to clip the car from the original background. Photoshop has a magical weapon pen tool to do this task correctly. Any other tools are unable to provide such flexibility & depth control to make an accurate cutout. If you don't want to lose image quality, then a pen tool is a must. 
Step 1: Extracting The Car From the Background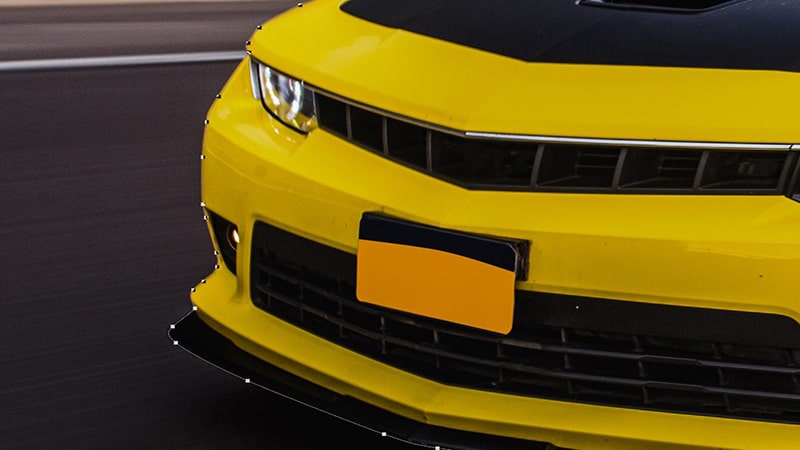 Zoom in the photo 200%. Then draw the outline path carefully. Here, I will suggest keeping a couple of pixels. Now, making the outline away from that to create a safe cutout. At first, you can draw the path roughly. In this step, you don't need to worry about perfection. It will fix gradually in the next steps. You need to end the path by clicking on your starting point.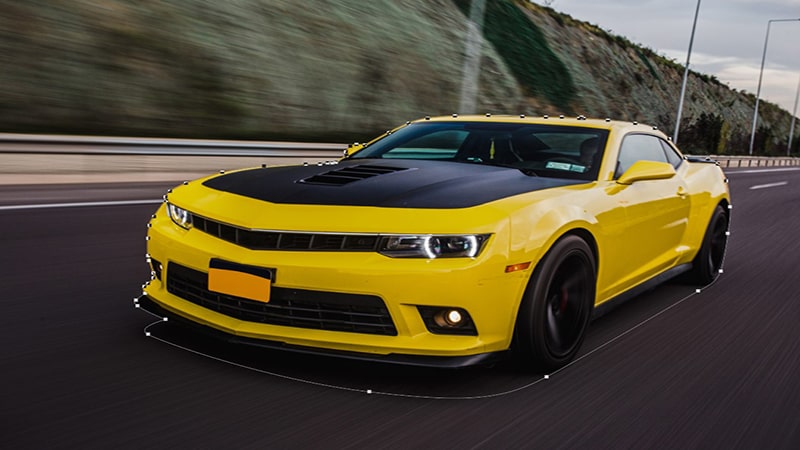 After that, right-click on your mouse & select, Make Selection. Then choose a new selection & press, OK. It will create a new layer.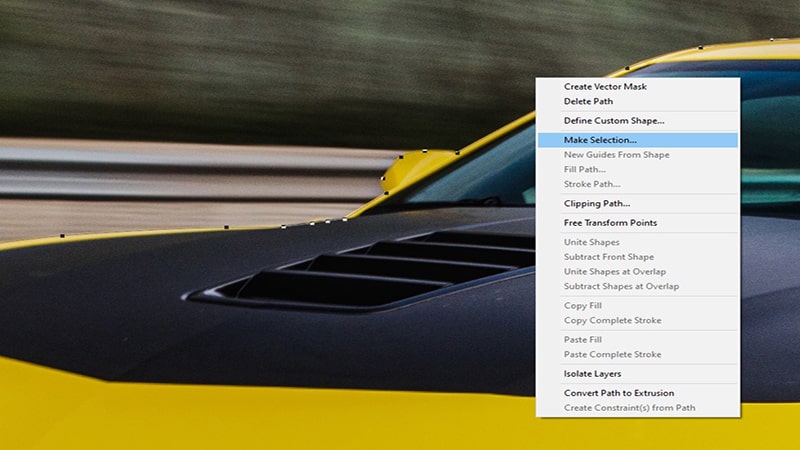 Step 2: Removing and Replacing Background
Now it's ready to paste a new background between the original photo & the created clipping layer.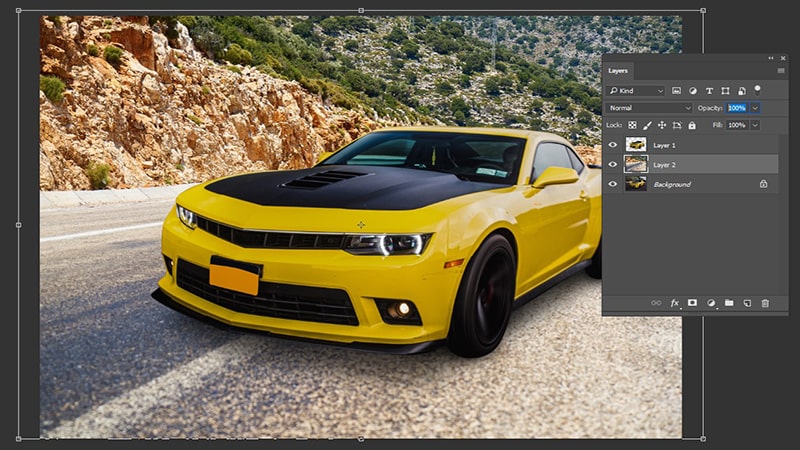 While you are choosing the background, you must choose a similar angle & balance lighting photos. The new background should be free of any imperfections.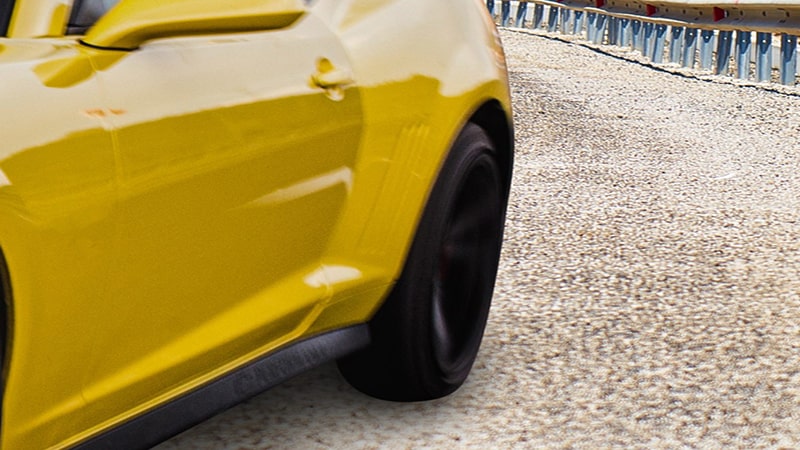 Step 3: Compositing into New Background
It's better to decrease the new layer's opacity to match the angle of the scenes accurately. You can move the new background-position to bring the perfect angle.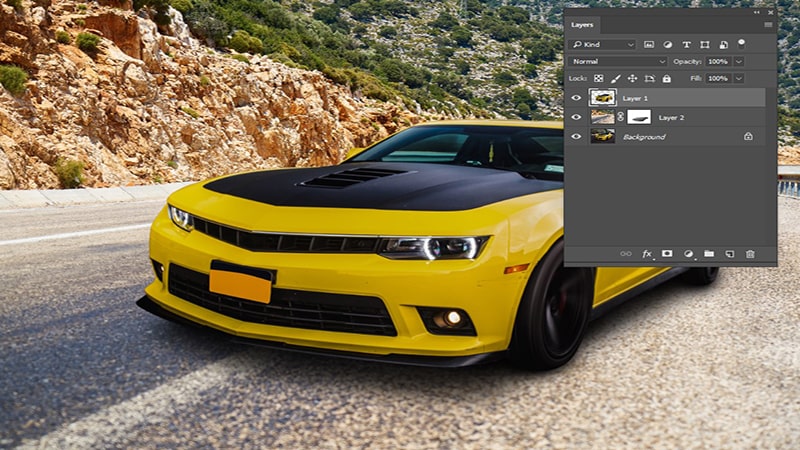 If you want to remain a basement road then the compositing will be much easier. As it is already positioned in a realistic way with proper shadow & angle. You don't need to attach additional shadows.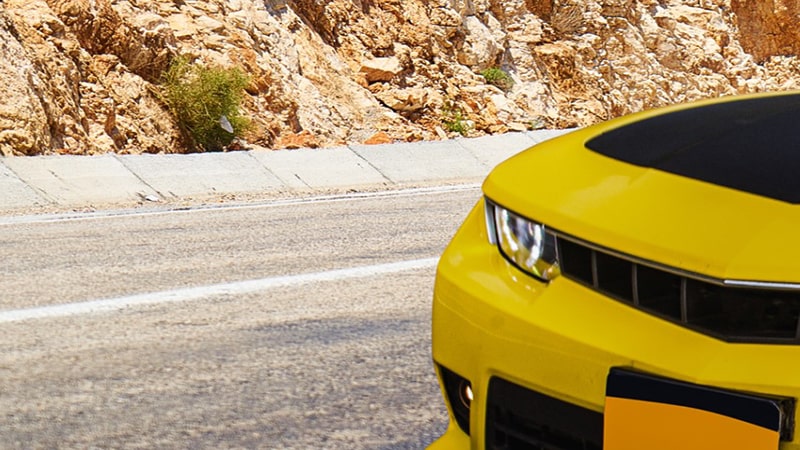 To include the base road now, from the right bottom of the photoshop add a layer mask to the middle background layer. Then choose a soft brush tool from the toolbar. You need to paint the mask with this brush. As a result, it will erase the foreground & return the original basement of the car.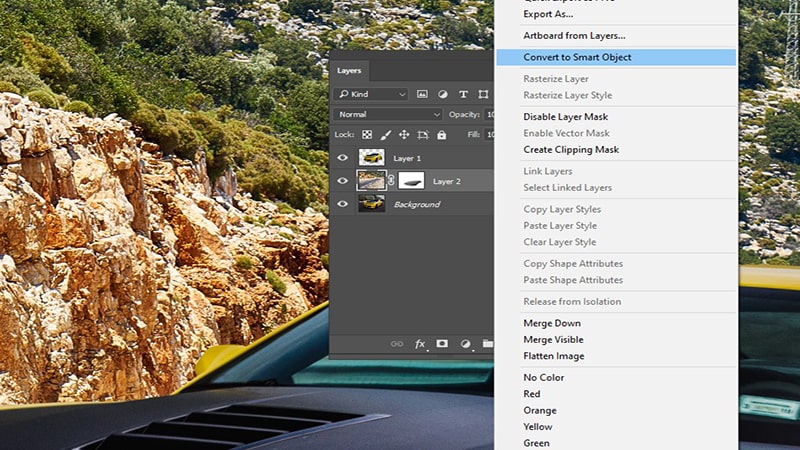 In automotive photos, sidewalks are very common & popular. It is wise to use it as a bridge while blending two backgrounds. You should adjust the brush size & enter the X key to swap the brush between black & white. It will help to restore the mask area.
Step 4: Fine-Tuning to Make Your Edits Realistic
Now it's time to polish your new background to make it realistic. Well, some little adjustments are enough to make your compositing more natural. First, keep your mouse pointer on the particular layer & right-click on it. Then choose Convert to Smart Object. It's essential to protect your valuable images. If you accidentally make any changes, it will help to restore the previous state back. Isn't it lucrative?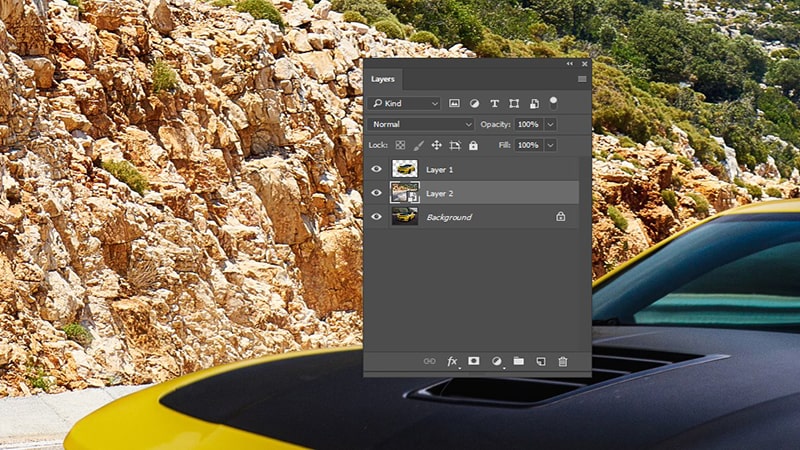 You need to compare the original background with the new one. Click on the eye sign from the new layer & disable it to get the differences.  In our case, the original background seems much blurry. If your one is blurry then follow the below steps.
Select Filter-Blur Gallery - Field Blur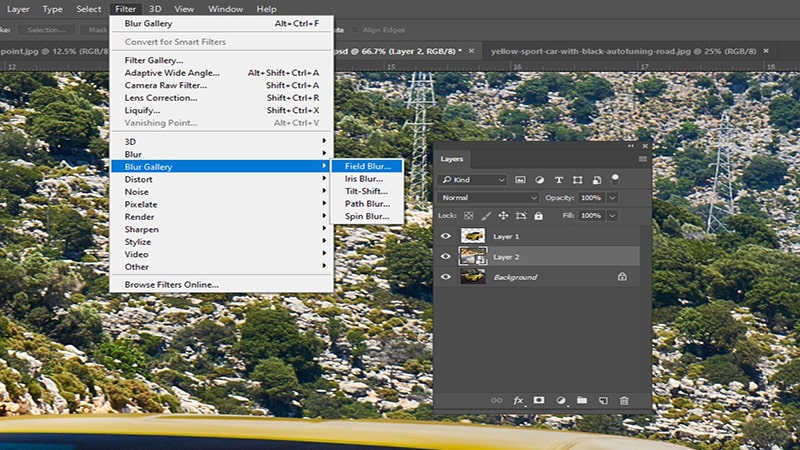 But before doing this task, you need to activate your layer.
Adjust Blur Tool
Here your target is to bring the original image effect, enhancing the blur value to get the exact output. I guess it will be a small value under 8 px.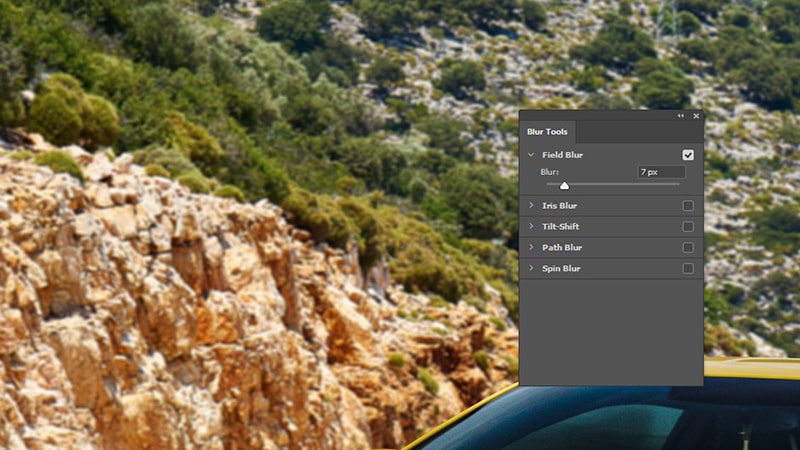 The blur tool also helps you to blend the two different backgrounds in your image. 
Adjust Noise
Your car may contain some ISO noise like the below pictures. But the new location is spotless. To match it, you should increase the Grain amount slider. It will generate a few noises in the background.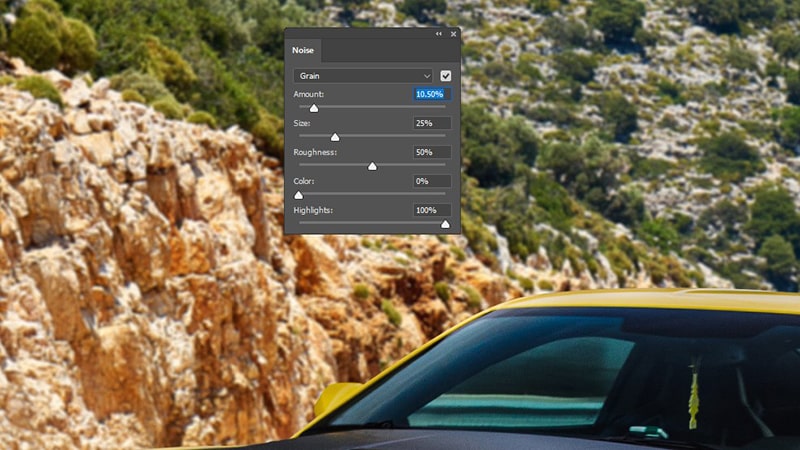 Remove Unwanted Reflection
While we clip the car from the background, we are using the out edges. As a result, the window contains the original reflection. It must mismatch with the new background. You need to create a new layer mask & choose the brush tool to remove the unwanted reflection to display an appealing background. Remember; don't do much polishing so that it looks artificial. It is wise to choose moderate hardness to avoid artificial edges.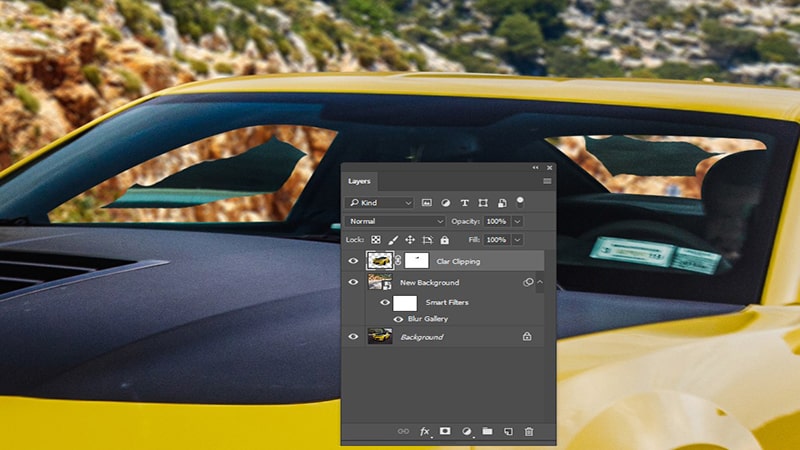 Draw a New path For the Glass and Make Selection
The glass should contain some reflection. It won't be good to keep it clean & bright. Let's start to draw a new path around the glass using a pen tool. Then make a selection & create a new layer.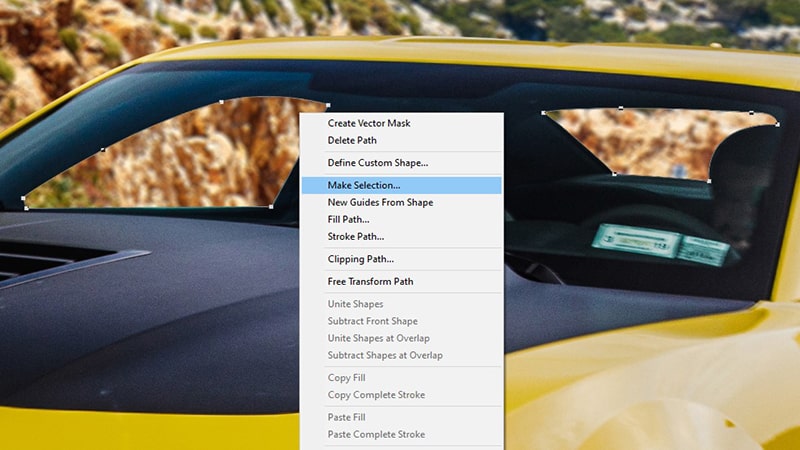 Switch Blending Mode to Multiply
Now, you can take a color sample from a nearby window & fill the selection. You should represent the new background through the window. So it is mandatory to switch the blending mode of the layer to multiply.
Decrease the Opacity
Next, you need to decrease the opacity of the window overlay layer. It is essential to make a realistic background view through the window. Unless it gives a natural view, keep reducing the opacity.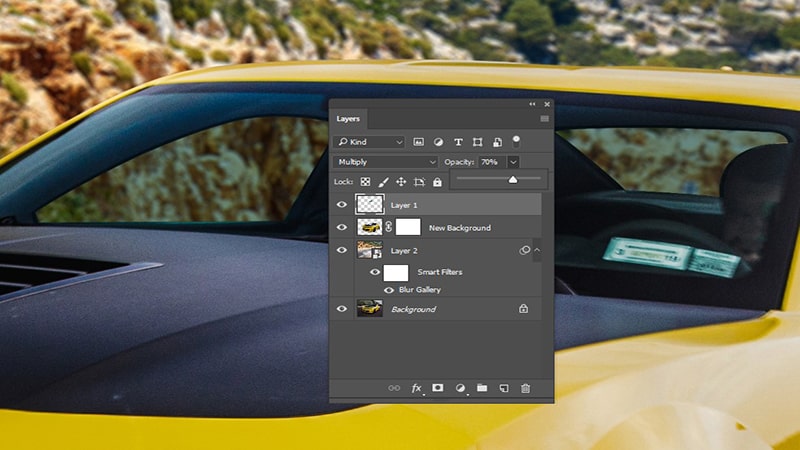 Fix Hard Edges Using Blur Tool
Earlier, I mentioned that we would fix the outline later. We are drawing a rough cut out. When we zoom-in on the photo, we will find out the hard edges. To fix those edges, choose the car layer & active Blur tool.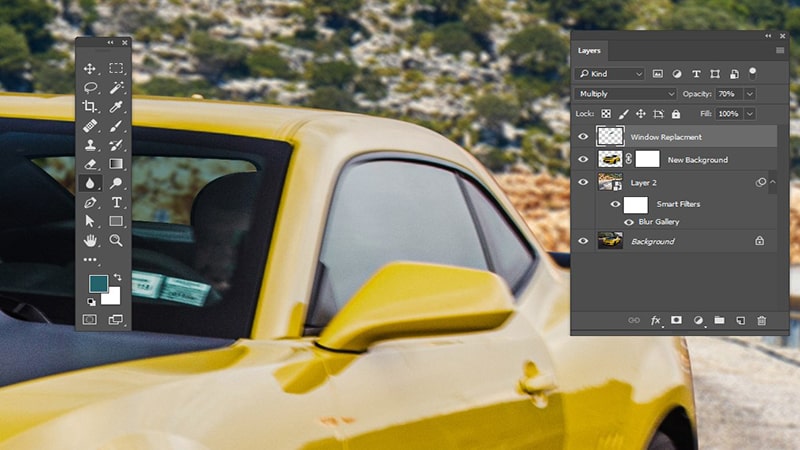 Now it needs to decrease the tool 50-60% from the top toolbar. You will get a small brush tool from the left toolbar. Pick the brush & paint over the hard edges to bring a realistic view.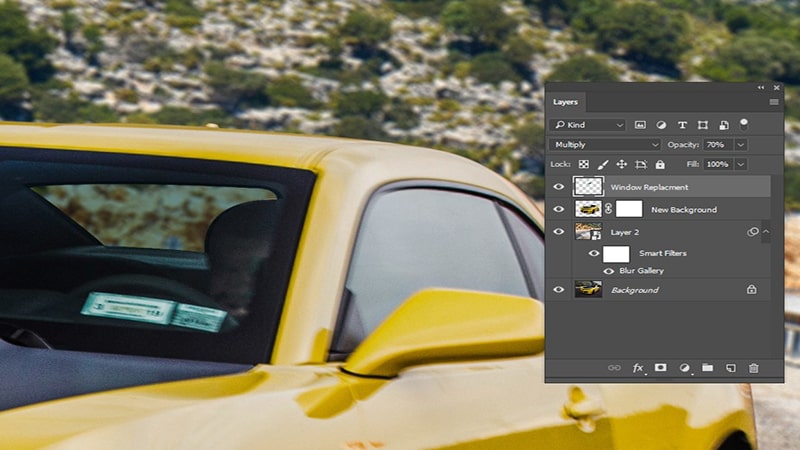 Step 5: Final Retouch Up
To give a final touch-up of car compositing, color grading & lighting is an excellent choice.  You can use any light overlays from the internet according to your choice. From photoshop open two or three files. Now copy it & paste it into a new document to do scaling. After that, you need to switch blending mode to Screen. It helps to hide the dark background & highlights the vibrant portion to focus the image.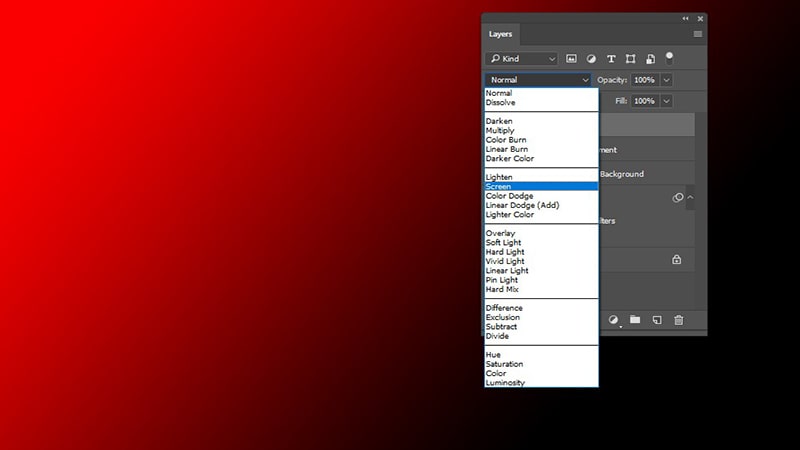 Finally, decrease the opacity of the lighting layer to modify the effect. This extra layer can magnify the car's beauty & represent some vibrant lighting across the image. It can grab the attention at first glance.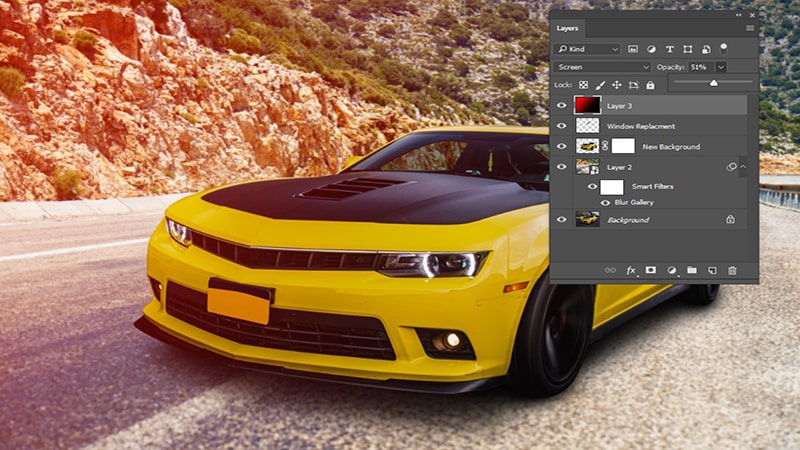 See the below final output.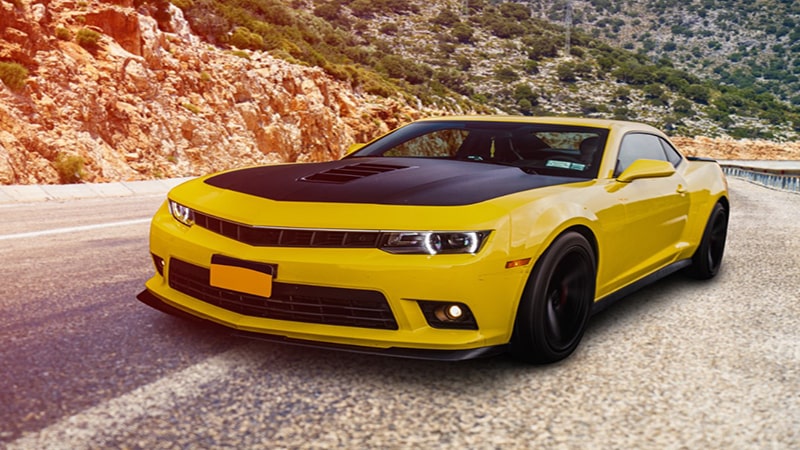 A little effort can change the whole outlook. An appealing background enhances the beauty of the image & makes it eye-grabbing. Including the original road also added a realistic vibe. Let's compare the two photos & see the difference. It will be a turning point for your automotive business. If you want to win the business competition, composite car photo into a stunning background.
Photo Shooting Tips to Take a Perfect Photo for Compositing Car Images into Background
Do you want to attach a different background with your car shots? It's wise to capture two photos with similar style & lighting. In the outdoors, you should keep it in mind. If you try to blend the car into a background with different angles & lighting that will result in an artificial view. So, it's essential to choose a similar angle background.
From my experience, I can suggest you use a green or vibrant solid contrast background for your automotive photos. This type of contrasting shots makes it easy to cut out the subject from the background. Low contrasting shots are really difficult to cut. It's not good to take risk of harming image quality. Precautions can give the best output. 
As you will do compositing you don't need to worry about the location. You just focus on angle, lighting & detailing. Then you can decide about the new background. You can take different shots for the background. Following the above process, you can easily replace the background & get an attractive car photo. It will make it possible to display your car beside the ocean or desert. 
You can do your Photoshoot with the Smartphone. Car composition saves you from buying expensive cameras or other gear. A simple tripod is enough. Now start your photoshoot. The next phase is compositing the car into a new background. That will fix all the imperfections & deliver perfect shots. 
Final Verdict
Composite Car Photos
Composite car images into a new background in Photoshop needs dedication & a creative mind. A wrong background transformation can waste your effort & time. Follow the steps carefully & do some practices.
An attractive background composition can change the whole story. It is enough to make your image eye-catchy & bring focus on the car. The best part is a perfect background that helps to highlight the cars & remove all distractions.  These simple steps help to create your brand value through millions of automotive photos.
FAQ on Composite Car Photos on A New Background
What is the Best Software for Composite Car Images?
The leading adobe photoshop is the best software for composite car images into a new background. It does allow depth controlling, fantastic tools & accurate editing. This software increases your image quality whereas other apps can reduce your image quality. You don't find robust editing opportunities in any other tools.
How to Select the Right Background for Cars?
It depends on your vehicle's color & angle. You can try a transparent solid color background to create a cool outlook. Besides, you can bring a live vibe by using a natural background. Here, blending is a must to combine the car with background nature. It will definitely enhance your car's beauty.  
How Backgrounds Affect the Main Subject?
In any shot, the background has the power to change the whole outlook, especially in automotive shots. You are trying to represent the car's beauty & special features. But an ugly background can make a bad impression. Ultimately, people won't be interested in your product. On the other hand, an appealing background brings engagements & focus on the subject. It helps to meet your purposes by reaching your target audience.
Is it Expensive to Take Professional Help for a Composite Car into a New Background?
Lots of people have this misconception that post-processing requires a lot of money. Fortunately, you can take professional editors' help at a reasonable price. Interestingly, this little investment helps you to make your sales double. Expert car editors have the power to bring appeal & make the image outstanding. They can fix any complex imperfections & provide perfect shots to grow your business. Try it once you will feel the power of high-quality images.
How to Choose the Best Car Photo Editor?
You need to choose the best car photo editor according to your requirements & budget. An expert wedding photo editor may not be suitable for editing automotive photos. So, your requirements are the main priority.
If you are looking for automotive Photo editors then choose an expert editor who has experience in editing automotive photos. The first steps are to make a primary list based on their portfolio. Then Try a free trial & share your requirements. The quality work will help you to select the best editors. 
Compare pricing with the work quality. Don't jump for a cheap price only. Some newbie editors offer cheap prices. But poor quality editing must spoil your fame in the market. So, while you are selecting a budget, you must compare the work quality. I hope you will get the best editors if you follow the above tips.
Can I composite the car into a new background?
Sure, it's really fun to composite a car into a new background. Follow the above steps carefully. Then start practicing. Practice & dedication is the key to make a perfect composition. If you have time & passion then you can do it. But if you are busy & need a shortcut then it better to take a professional editor's help.
When you are selling a used car on the market, pricing is the most important fact. Learn how to price used cars for sale.
Are you planning to sell your used car? Are you worried about getting the right price?
 Following a few secrets, you can get the right price for your used car. So want to learn these secrets?
This article will teach you how to price your car for sale. And obviously, with these secrets, you will get as much money from the sale as possible.
 However, I will discuss the process step by step.
 Hang with me until I finish the whole process. 
Step by Step Process to Price Used Car for Sale
Decide How to Sell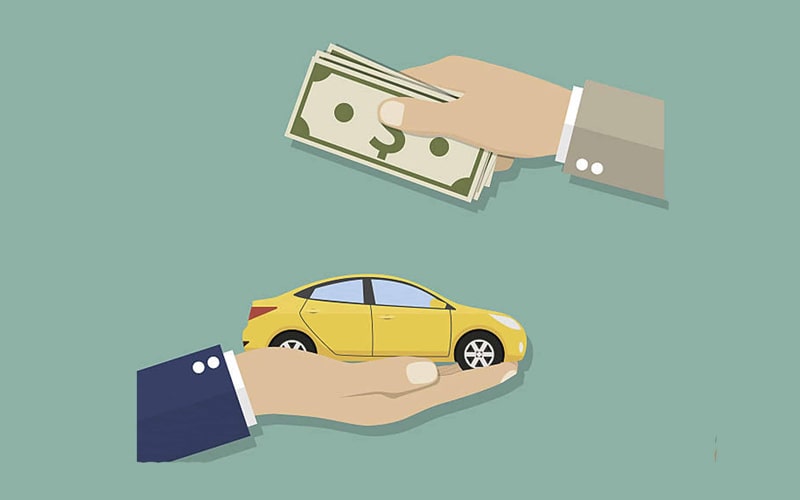 Many different ways are there to sell a car. They have advantages, disadvantages. 
Dealer Trade-In
 The simplest form of selling a car is to offer it as a business offer from the dealer you are buying your new car from. You may not get the maximum $ by selling the care following this way, but the car selling tax will be saved.
 You can't avoid becoming careful when you are trading a car. Salespeople will always try to make you confused. They will try to mix the car price, trade-in value, and offer you a total price. Instead of asking the total price, always ask for the separate cost of every section. And the most important thing is, don't forget to negotiate.
 However, because of many reasons, the dealer will not offer you the right price. First of all, they will save time by completing paper works for trade-in sales. Secondly, they will advertise in different media to sell the car. And both options will cost them $ to do.
 Besides, you can save a lot of car selling tax by trading your vehicle at a dealership. 
Instant Cash Offer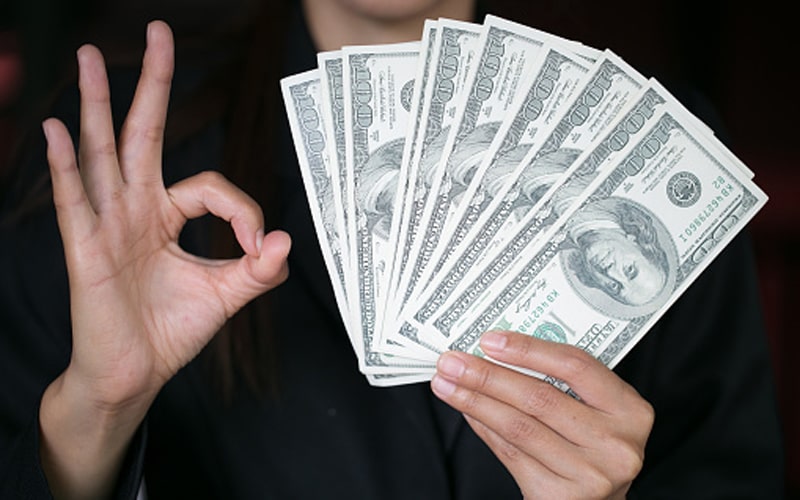 A new method is there to sell your used car, and a lot of hassle comes out of the process while giving you a reasonable price. The method is ICO (Instant Cash Offer).
In fact, you can get this offer online at the dealership or over the phone. While accepting an ICO, you will need to share a few information related to your car: VIN, mileage description, condition of the vehicle, etc.
Make sure you are providing accurate and detailed information to get the best offer.
Selling the Car Yourself
If you sell your car by yourself, the chance of getting the highest price gets increased. However, to do this, you have to have in-depth knowledge of cars and different car parts.
Also, you have to spend some quality time preparing the car for sale, gathering all papers related to the vehicle, and making conversation with the car sellers.
To get a clear idea, you can read our guide on How to Sell an Old Car.
Getting Ready to Sell Your Used Car
If you get an offer from a private party, be noted that you will get a higher price if you show well-prepared documents of your car's repair and service history. Don't forget to gather all the essential documents as much as possible, so that you can show them to possible buyers.
If your car has been repaired due to any collision, show proof of what was the collision and what repair had been done. Also, keep the initial purchase documents ready in your bag if you are a first-hand user of the car. This way, you can get some additional bucks.
However, when you are going to sell your car following trade-in or ICO, these documents will not play any vital role. But these documents will add value if someone wants to see them.
Prepare Your Vehicle for Sell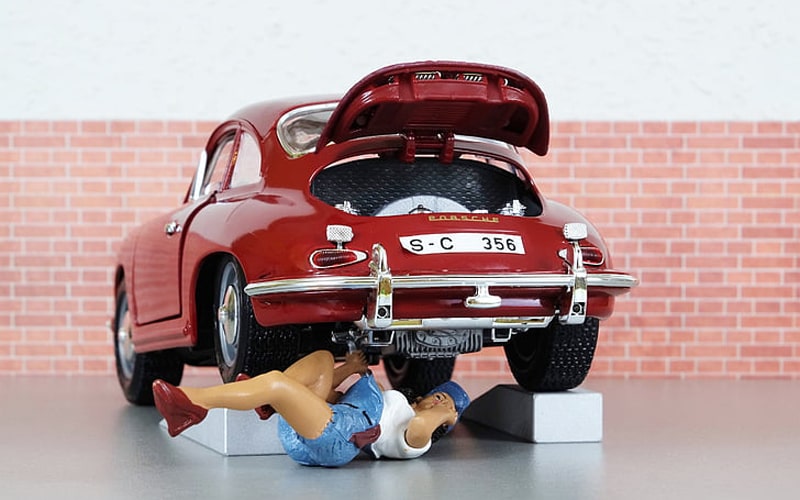 Before selling your used car, it is significantly essential to prepare your vehicle to sell.
But before you prepare your car for sale, it is crucial to know to whom you are selling the vehicle. Depending on the buyer, you will need to prepare your vehicle.
 The truth is, if you are not getting much $ by selling your vehicle, you will not like to invest valuable time and money behind it. On the other hand, doing some preparation will help you to sell your car quickly with the right amount of $.
Let's say you have a 20-year old car that already finished 200,000 miles, now if you plan to wash and wax your vehicle to get extra $, it will not help actually. On the other side, if you are planning to sell your 2-years old Sedan after re-polishing, washing, and waxing everything, you will get enough price for the car. Whether your vehicle is a 20-years old junk or 2-years old Sedan, you can't avoid fixing minor damages.
In a few states in the USA, you will need to show an updated car inspection and compliance certificate when you are going to sell a used car. In other states, you have to share a warranty saying that the car will pass all inspection tests, and there is no compliance issue in the vehicle.
 If the car doesn't show performance as per your statement, you may need to pay for the repairs or take it back. 
Pick an Ideal
Price Used Car for Sale
Well, this is an essential part of this guide. How will you pick an ideal price? Picking a perfect price is a combination of both science and art.
At the initial stage, the price should be high enough for you to negotiate with the client. At the same time, it has to be low enough that possible clients aren't run away.
Check the price range of a similar car available in the market. If your asking price is below a new car price, it will grab attention from many clients. You can sell your used car within a short period. On the other hand, if you pick a high price, it will take time to get the car sold.
You will find many vehicle valuation tools online. From there, you can get an idea of what vehicles are for in your state.
Remember, if you accurately describe your car's mileage, equipment, and condition, you will get the best price.
If you want to get some insight into car pieces, online valuation tools are the best way to get that. Also, give a close look at similar cars in your locality. Check how much price they asked for. If you find you are asking more or less price for your vehicle, be sure you have to justify why your car price is high or low. So, you need to keep the answers ready. Maybe, it is high because of the brand-new seat covers or may be due to collision damage; the price is low. 
Give Car Sales Ads to Sale Your Used Car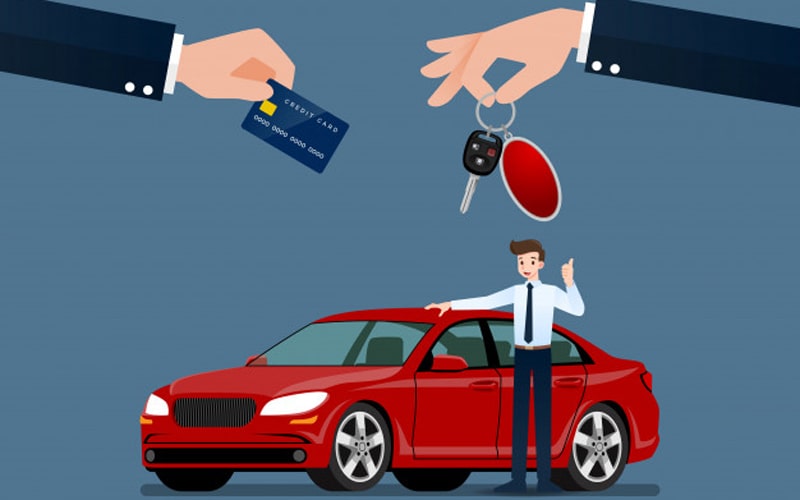 Are you thinking of placing car sales ads for your used car in your local newspaper? 
In fact, it is an idea of ancient times. Nowadays, advertising on paper for car selling is simply a waste of time. 
It would be best if you put an advertisement on online sites. Many online sites are available, assisting car sellers by providing ads at a low cost such as Craigslist.
Now, when you give an advertisement, you need to design a description of your used car. You need to share information like mileage, options, an image of documents, and so on.
 Make sure your shared images are clear and sharp. Just be careful not to mention your home address and license plate number in the image.
Now, if you are taking photos on your own, you probably need to know the Used Car Photography Guide For Sale. And, to make it eye-catchy you should hire a car photo editing service. 
Also, let your client know what payment method you accept and your visiting hours to show the car.
Moreover, it would be great if you open a separate email ID for the ad. Because after selling the car, you may not require the e-mail ID for any e-mailing purpose.
Show your willingness to negotiate the price by using different code words like "firm," "best offer," "best low offer." Show your interest to the possible buyers so that they understand you will be happy to sell the car to them. 
Securely Present Your Car to the Clients
 When you sell your car through a trade-in or ICO process, you don't need to present your vehicle to your clients. Once you hand over your used car keys to the dealership's appraiser, the balance will be taken care of by them. But when you decide to sell your used car on your own, you have to sweat a lot.
Don't assume that every possible client will respond with good intentions. So, you need to be careful while showing your car to the potential client.
Avoid showing your car at your home address. Ideally, you should choose a busy location where a lot of video surveillance is also available such as the parking lot of a shopping mall. Undoubtedly, the final client will see your home address on your vehicle papers, but it is unnecessary to reveal your home address to every possible client.
In some states, a "safe exchange zone" is available. The Police Department has introduced that. In this place, buyers and sellers meet safely. These zones are very near to police stations and under video coverage 24 hours a day.
While showing your car, you always need to be honest. Don't talk unnecessarily and provide as much information related to the vehicle your client asks. 
Get Ready for a Test Run
Generally, you have to go with a possible client when your vehicle is ready to give a test run.
At this point, you need to be careful about a few specific things for your safety. Share the below information with one of your friends.
Your possible client license number.

Where are you both heading to?

Possible time to return home.
Make an appointment with your possible buyer and make sure the client comes at the exact time. Thus, you will understand how to discipline your potential client is. Be noted; a disciplined person is good in all types of exchanges. Additionally, don't allow your possible client to go to an unfamiliar place.
Instruct your friend that you will text them once the test run is over. If not, let them call your phone just to make sure everything is Okay. Besides, if you feel uncomfortable going in the test run, don't make an appointment to go for it.
If you find your possible client is drunk or has taken drugs or alcohol, don't allow them to run your car. Moreover, if you find that they are trying to show their skills while driving by drinking alcohol or don't have any experience behind the wheel, you need to stop the test run without making it late. If you allow doing so, you are putting yourself at risk for sure.
Be Ready for a Pre-Purchase Inspection
Undoubtedly, your possible client will do an in-depth pre-purchase inspection with the help of a 3rd party mechanic.
Either you will have to take the vehicle to their nominated 3rd party mechanic's workplace. Also, you can schedule a time for the mechanic and your possible client to visit your home to inspect the vehicle.
If the 3rd party mechanic finds any issues in your car, don't pretend that it is the end of the world. In this case, your client will start negotiating more to reduce the vehicle price. It is good that if any issues are existing, you can repair the problems. This way, you can sell the vehicle without any problem in the future. You should not be forced to make any repairs or use their store by any potential buyer or mechanic.
It will be great if you can keep a copy of the 3rd party inspection report. Whether the inspection report is good or bad, you can keep the record with it to use while showing it to the next possible client. 
Price Negotiating Tips
Many sellers love to sell their cars through trade-in or ICO processes because they feel intimidated to negotiate their prices. While negotiating the price, you will need to believe you are doing a business negotiation, and emotion should not come while making a decision.
The thumb rule of negotiating price is, let the possible client state his/her buying price, and you indicate your selling price. Since your client will not be able to go less than his/her offered price and you also can't change your statement, so if you disagree with the price, simply reject it. Avoid talking further with the client regarding the price. The more you will speak, the more you will be weak.
Don't create a deadline to sell your car because this type of deadline will increase your blood pressure. Also, this kind of poor planning will lead you to sell your car for less price. 
Preparing all Necessary Papers
If you sell your car through trade-in or ICO, you don't need to sweat your forehead preparing all the necessary documents.
And when you are selling your car, it is mandatory to check your state's DMV so that you can understand what title and documents are required to sell the vehicle. Also, inform your client to check in his/her states if the client is from another state. An automotive bill of Sale form is also necessary, which can be downloaded from many websites. Make sure the form says, "vehicle is sold-as." It means no warranty is provided for the car by you and the sale is ending.
Remember to take a snapshot of every document or copy before you proceed with the papers. Also, discuss with your car insurance company regarding terminating your policy. 
Get the Payment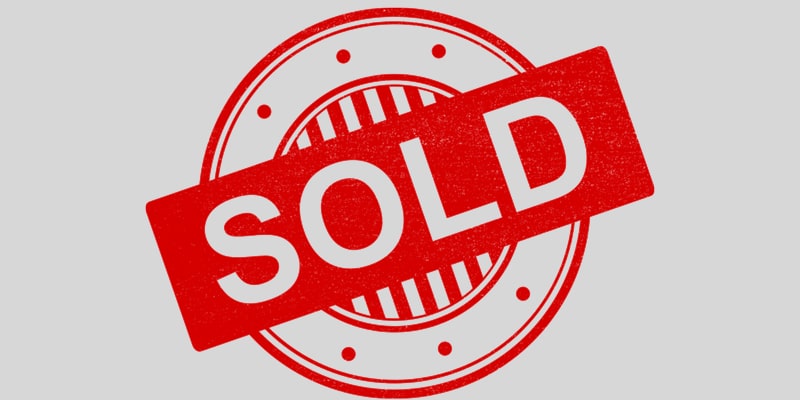 This is the last part of the topic "how to price your used car for sale."
Your trade-in value will automatically be applied to your new vehicle when you are selling your car through trade-in.
And when you receive an ICO, either they will apply it to your new car or provide you a check that needs to be submitted to the bank.
You will have to be more careful when you are selling the car by yourself.
The safest way to get the payment is to meet with the client in their bank, take the cashier's check, sign off at any papers if necessary, and leave the bank. Cashier's check has become easy to forget, so it is mandatory to inspect with the issuing bank whether the check is duplicate or original. If you receive a green signal, then only complete signing off everything.
Never get agreed with any other options except the process, as mentioned earlier, to receive the payment. Many scammers are out there who want to get a car without paying. So, keep closed eyes before you finalize everything. 
Final Thought
On Price Used Car for Sale
The truth is, the above processes are standard. But many sellers don't receive the right price due to not showing professionalism while selling a car. Emotion takes place when they are going to make a crucial decision. But you need to keep in mind; you are doing business here.
I believe you have already understood "how to price your used car for sale." Following the above procedures, no doubt that you will get the right price for your used car.
Are you looking for how to change the color of a car? Car Color Change in Photoshop is tricky but easy if you follow some strategy.
Here I am sharing the step by step guideline on how to change the color of your car in photoshop. Photoshop is the leading & giant photo editing software. So, I pick the best software to make the process easier but efficient.
Color changing is one of the essential tasks for advertising, marketing, or wedding photo editing. Automotive car dealers badly need color changing of a car for advertising.
When you come up with any automotive campaign ideas but don't have the eye-catchy color cars that match with the idea the best option for you is to change the color. That helps you to make the campaign fruitful & lucrative. Let's learn how you can change the color of a car in photoshop.
Why Do Car Color Change?
Changing car colors is time-consuming & a perfect color change needs labor & dedication. But there are thousands of reasons behind changing the color of your car. Here I mentioned all the major reasons for you needing to change your car's color.
Enhance the car's beauty
Color is the key to grab the audience's attention. It reflects your taste & choices. The taste can vary from person to person. So, as an automotive dealer, you need to change the color of your car is an easy way to cope-up with the latest style, taste & trends. Suppose the red color car is highly trendy in January but in September the trend can convert into having a black color.
So, you should modify the color to adjust to the latest color trends that are profitable for your business. If you are waiting to paint or import that trendy color you need to wait for days or months & at that time you can lose lots of customers. So, It is better to keep your collections up to date.
A cool color can enhance the car's beauty & brings a huge sale.
Transformation
When you are planning to arrange advertisements for your car but the vehicle is old or the color mismatch with the concepts you can transform the car's look by changing the color. It also helps you to hide scratches, dust, etc on your car.
Color change brings a new look to your vehicle. That increases the probability of making your advertisements successful & popular.
Money-Worthy Investments
The time or money you invest to change the car's color helps you to bring more profit than the investments.
You will be able to display various looks without changing the car's appearance. The various colors of car collection give you an opportunity to reach more people & bring more customers.
Personal Benefits
If your wedding car's color does not look marvelous or does not highlight your day you can simply change the color of your car & make your special day more special. Sometimes you love car photography but don't want to share your old car's pictures on the social platform. So, you can re-apply an eye-catchy color & share the fantastic photos to show your skill & creativity.
When You Need To Change Color
You need to change a car's color for marketing, advertising, promotional campaigns, beauty-enhancing, Google ads, e-commerce product photography, automotive dealer's photography & many more.
Besides, Color change brings uniqueness to your collection. It is a good way to offer multiple color choices to customers without availing themselves of physical cars. In this competitive car's business field color changing is an amazing way to grab customers.
Who Needs Color Change
Basically, an automotive dealer feels the urgency of changing the car's color. Because it helps them to grow their business without huge investments. They actually don't need to buy multiple colors vehicles but with this technique, they can represent all the colors on their website. According to customer choices, they can make their investments fruitful & secure.
It is also necessary for a car photographer, wedding photographer, marketing agency, E-commerce dealer, Ad agency & many more.
In short, lots of people need to change the color of their car for different purposes. Though the purpose is different the output is always positive. It is always beneficial.
How to Change Car Color in Photoshop
After opening your car's image in photoshop the first task is to make a perfect selection. There are so many methods to make a selection. Here I will go for the easier method but it gives a comparatively good output.
The most important thing is you will change the car's color without harming other elements of the car. The easiest way is to use the Quick Selection Tool to make your selection. Though it's easy, it will result in poor artificial looks. It can't crucially select the edges. Besides, It is time-consuming because you need to select each detail separately.
As this article is also for beginners to the pro designer I will go for the Color Range Method. It is easy & provides comparatively better output but not best.
Now, let's start our car color changing project.
Step1: Select the Area of the Car You Want to Change
From the menu bar choose Select> Color Range & you will get a pop-up window like the below images.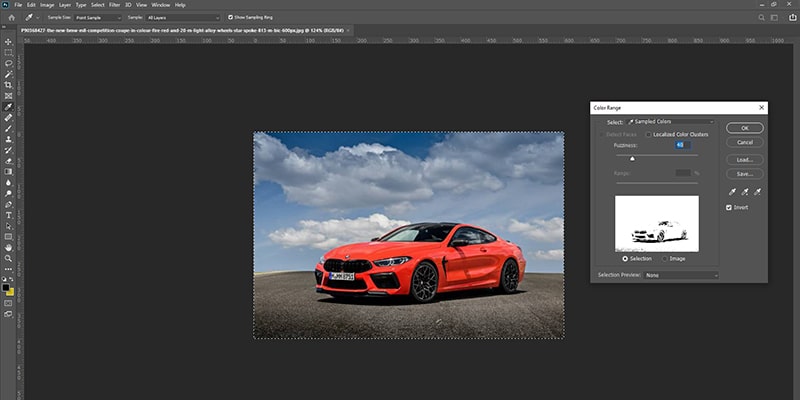 Now you need to select the base color to create a sample of your car. For that click on the base color & press shift to make a sample car in the preview window. Then click on the "Localized Color Clusters" so that you can strictly control the selected hue in the sample. Besides you can modify the sample size using Fuzziness. Now press OK.
Now you can see the selected areas on the monitor like the below images.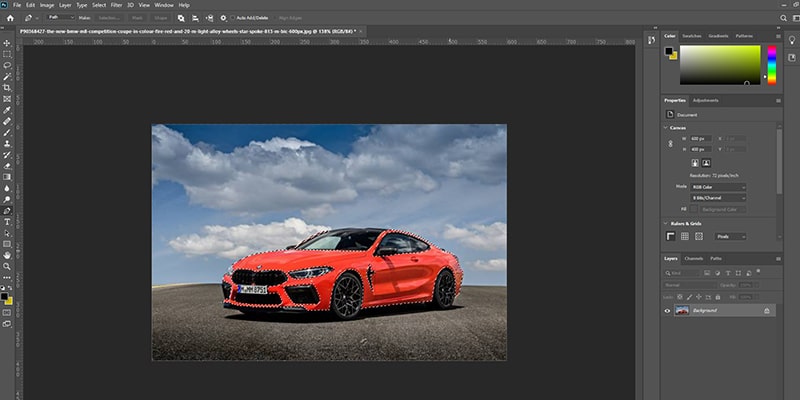 Step2: Replace the Original Color of Your Car
From the right side of your photoshop, you will get an Adjustments button. Click on adjustments then select Hue/Saturation, you will find a new pop-up window like the below images.
You need to make a Hue/Saturation layer to replace the original color of your car. Now choose the Hue & saturation slider color until your target color is achieved.
Step3: Select the Area of the Car You don't Want to Change
Now from the toolbar select the brush tool & set the foreground color as black & paint the portions where you don't want to apply the hues.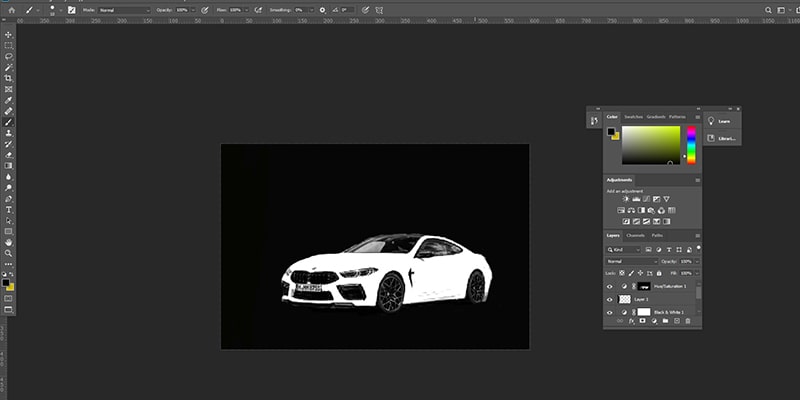 Step4: Final Output
Here is our Final Output.
The output is really cool & this method gains so much popularity for giving marvelous output within a few minutes. To do creative editing or remaining any portions with the previous color you can simply use the Marquee tool or lasso tool & make a selection of your desired area that doesn't need any change. Now brush the area with black color. You should keep the Opacity 100% otherwise It won't be able to reflect the original layer's hue. You can derive this stylish outlook like the below images.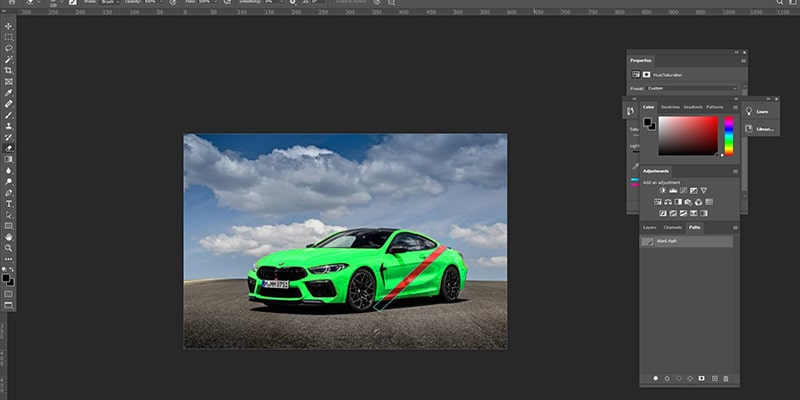 If you are still not happy with the output & want to improve the quality you need to follow the advanced method selection with the pen tool. The expert & pro designer uses the pen tool method to make a hand-drawn depth-control selection of your car. But this method needs practice & experience to draw the path crucially & efficiently. The target is to make the final output look 100% natural & real. So, work until you can gain perfection.
I don't start with the hard method because that can frustrate you. So, I bring an easy alternative that gives you similar results. The best photoshop services provider will go for the pen tool method to give highly professional & standard work. If you want highly professional efficient work & you don't know how to control the pen tool perfectly you should outsource a photoshop service provider to change the color.
Demand analysis of Color Changing
People always love variations. So, always try to apply more than 5 colors in your car. Selecting the color actually depending on competitors' analysis, customer demand research, trend analysis, analysis frequently selling cars.
When you do the above research & analysis you will find out some most demanding & lucrative colors that people love. Pick those demanding colors & try to add cool colors to make your collection unbeatable. I can assure you that if you follow this strategy to change your car's color it will create your own identity & make your brand stand out from the crowd.
You will be successful to grab the customer's emotions, demands, taste & choice sense. That is the key to increase your car's sales.
Final Verdict
This is a complete guideline to change your car's color in Photoshop. Here I mention all the methods you can apply in changing the car's color with its pros & cons. So, according to your needs & wishes, you can pick the best method for you. To derive the efficient color of your car you need dedication, practice & a keen eye. So, let's start your work & enjoy the transformation of your favorite cars. Color changing is one of the popular Photo Retouching services. So, if you can learn it efficiently you will be able to earn good money by giving this service.
You may read:
A photograph becomes much more loveable when it gets presented to the viewer following the right manner. If a picture is shown in the right manner, then it becomes very vivid and eye-catchy. There are many photographers out there who snaps outstanding photographs but can't present them in the correct ways. So they edit car photos in Photoshop.
Especially when it comes to car photography, the photos need some retouching for showing its best version. Many photographers and car dealers want to present their car beautifully, but they have no idea how to edit car photos in Photoshop this article is for them.
We'll discuss simple techniques to edit and retouch car photos. 
Edit or Retouch of Car Photos in Photoshop
To present the best version of the car, several processes need to be maintained. The widely used service to edit or retouch car photographs is a clipping path.
 Clipping path is a fundamental process to edit a picture. To show the best version, we need to remove the background of the photo and need to place it in a white background. As the images are in the white background, so only the subject will be focused on. Then we need to do color correction and give the car color, which matches the real-life color.
In a photo, sometimes comes objects that we do not want this in the image. So, we also need to remove unwanted objects as well. To give the photo a real look lastly, we have to add shadows. This process makes a car photo editing complete and gives it a new look. All these processes are straightforward to do.
 Let's know elaborately how to do edit car photos.
Car Image Background Changing Process
First, open the car image in Photoshop.

Now generate a

duplicate layer

of the photo.

Now stick on the duplicate layer and from the quick menu select

pen tool

.

Using the pen tool, select the area you want.

Now select the path by pressing

ctrl + Enter

.

Press

Shift+ Ctrl+ I

to inverse the image

Select the

brush tool

from the quick menu and brush the color on the background of the duplicate photo layer. Use white color to clean, and you'll have a white background car photo.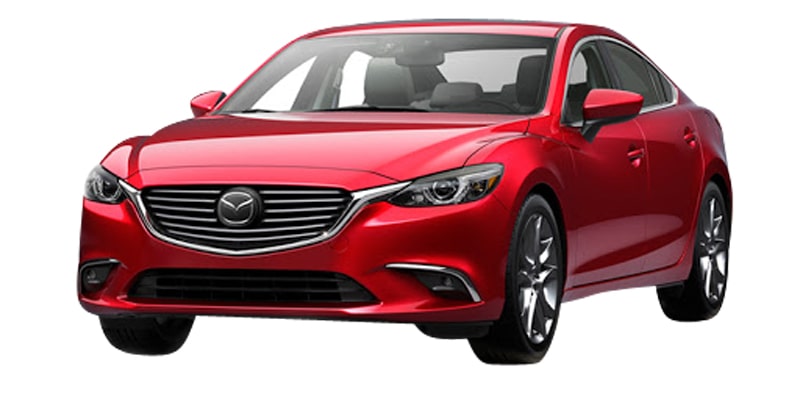 Car Image Transparent Background Making Process
Select and open the car image file in Photoshop.

Generate a

duplicate layer

of the photo.

Now stick on the duplicate layer and from the quick menu select

pen tool

.

Using the

pen tool

, select the area you want.

Now select the path by pressing

ctrl + Enter

.

Press

Ctrl+ J

to make the background transparent of the picture.
The transparent background shows in a checkerboard background in Photoshop.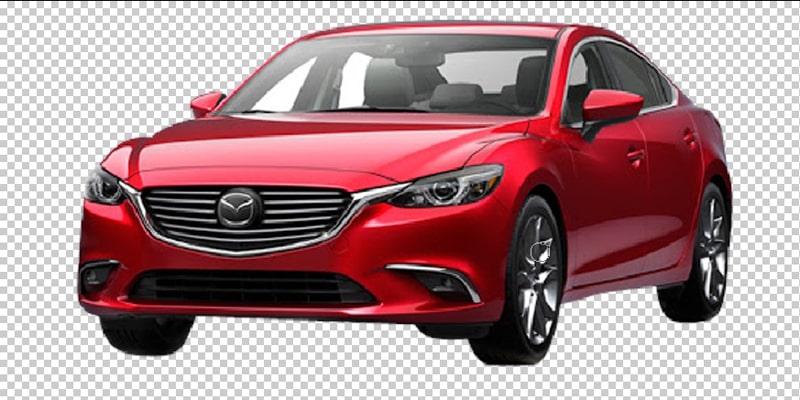 Creating of Car Shadow in Photoshop
Open the image file in which you want to create a shadow.

Make a duplicate layer of the photo and name it

Layer 1.

Using the

pen tool

, select the area of the subject.

Create another layer and name it

Layer 2

.

Now select the path by pressing

ctrl + Enter

.

Press

Ctrl+ J

to make the background transparent of the picture.

Now create another layer and name it Layer 3. Drag this layer and place it below the Layer 2.

Find and select the brush option form the quick menu and color black to create a shadow.

Use this

brush

where you want the shadow-like below the car. 

Now select the brush color white and brush it if anywhere there is excess black color. 

By using the capacity option, you can control the shadow depth. Set the capacity correctly to give it a good shadow effect.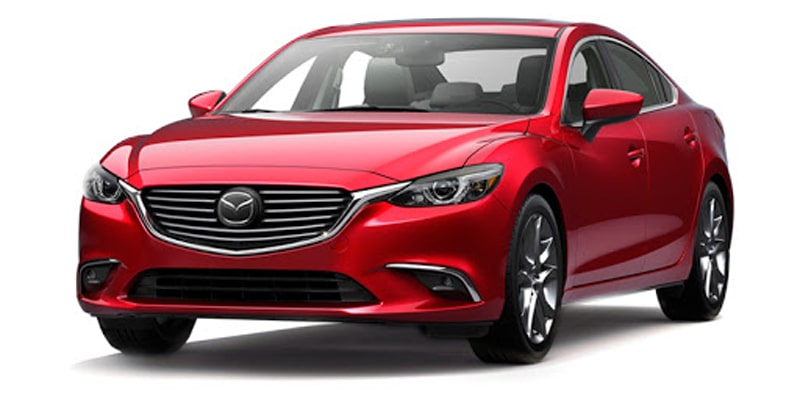 Process of Removing Car Window Reflection
Open the car image in Photoshop.

Now from the quick menu, select the

pen tool

.

Using the pen tool, select the area you want.

Now select the path by pressing

ctrl + Enter

.

Now click on the tool named brush and choose white color.

Change the capacity of the white color to

25%

.

Using the brush tool now paint over the reflection, and it will be white.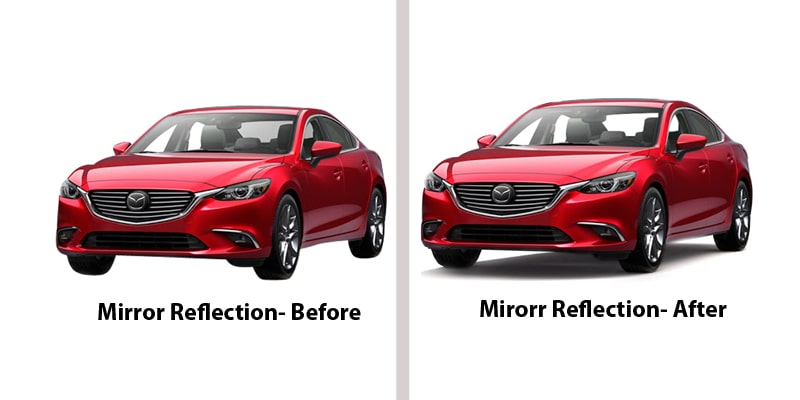 Process of Removing an Unwanted Object From a Car Photo
Open the car image in Photoshop.

Hit

S

on the keyboard for selecting the clone stamp option.

Press

Alt

and use let key to choosing the color to substitute the object.

After picking the color brush it over the object and the purpose will be gone.
You can do these editing in another way. In photoshop there are a lot of tools to edit the car photos in different ways. You just need small patience and more practice. So, try to learn the uses of all photoshop tools.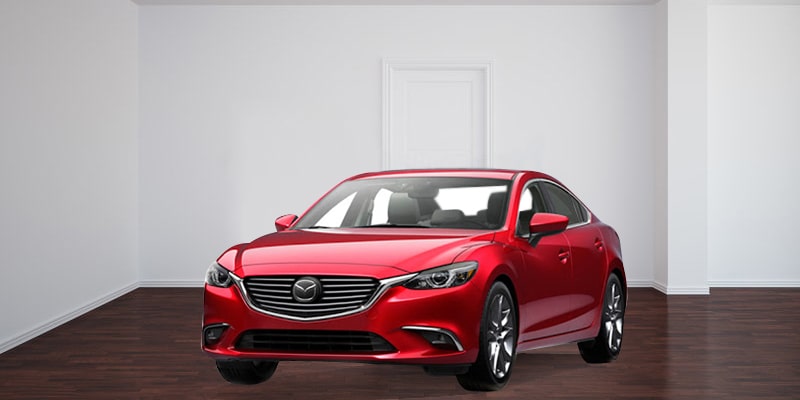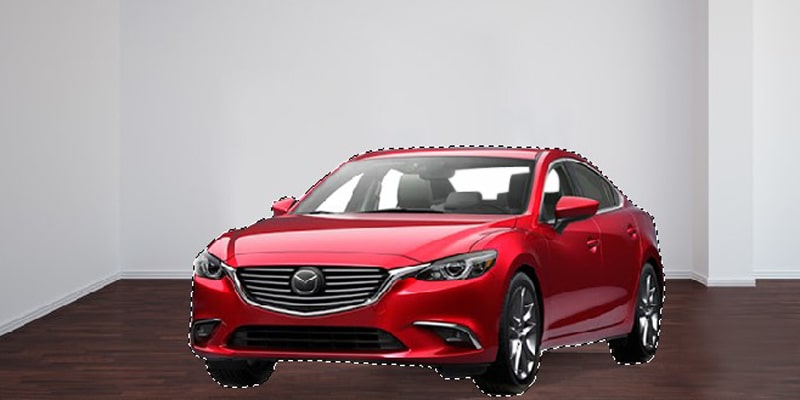 Which Software Should I Use- Photoshop or Lightroom?:
You can use both Software to edit your car photos. But I will recommend you to use Adobe Photoshop. Because photoshop has many advanced tools that make the images more beautiful. And photoshop is easy to learn. Most of the Graphic designer use photoshop to edit their car photos. If you want to learn how to edit your car photos in lightroom, you can visit "How to edit car photos in Lightroom."
Importance of Edit Car Photos in Photoshop for Ecommerce
Nowadays, the importance of eye-catchy photos is very high. Day by day, every eCommerce sector is getting more challenging, and customers are very concerned about the quality. If you are a professional car dealer, you should showcase the stunning and Beautiful car photos on your website. So, the customer will be impressed in the first look, and we know that "the first impression is the last impression." If you want to be a professional car dealer or car seller, you should make your photos more beautiful by using a car photo editing service. Otherwise, you will lose your valuable customers, and it helps to decrease your sales.
If you upload your car images without any kind of editing, it will decrease your brand reputation. All established car dealer's/sellers are using car photo editing service to make their photos more attractive. Some popular car photo editing services are car clipping path, Car photo Retouching, car photo color correction, etc. 
You can use a car photo retouching service because it will make car photos stunning and eye-catchy.
Car photo editing is more important for those who are dealing with their car business with old cars. You can do it in the house, or you can do outsource. I will recommend you to outsource to edit all of your car photos. Because it will save you valuable time. Car photo editing is also very essential for car photographers. You should know how to edit car photos in Photoshop when you are a professional Car photographer.
Wrap Up
Using the clipping path service, it is possible to present a car photographed in the best way.
 Many car dealers and photographers suffer from adequately presenting the photograph.
 We have discussed how to edit car photos in Photoshop in detail. Using these tips can make the photograph eye-catchy and the best version of the car. Hopefully, you will find the article useful. To get more tutorial about car photo editing, just keep 
In this era of competitive marketing attracting a client with RAW images can be an Immature decision. When you snap a car photo and if it seems dull and poor be sure you have captured it with wrong settings. Means, there is no color and emotions available in your picture. Now the question is how to edit car photos in Lightroom to add vibe in the image?
 Using a number of editing tools, you can accomplish this task. Either you can do it by yourself, or if you are a professional photographer, you can hire Photoshop services.
 This tutorial will allow you to learn how efficiently you can edit car photos in Lightroom.
 Below is the image which I am going to use.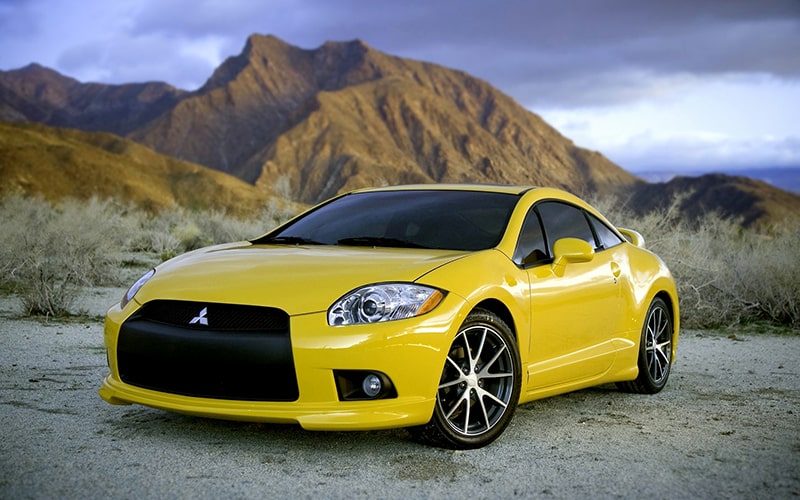 So, let's start the tutorial.
Step by Step Car Photo Editing Tutorial 
 If you are a beginner or a pro in the photo shooting niche then you must experiment with different car photography tips and ideas to get the best outcome possible.
Well, note that the process is not much complicated but the experience can differentiate the final outcome. 
However, These are straightforward steps, and in the end, you will be able to get an impressive car photo that everyone will start praising about your creative work.
Step 01: Follow the basics
 I follow these basic rules to edit car photos in Lightroom to do these types of professional works. Although I use photoshop or Lightroom for car editing. But, This section is similar to "vegetables in the roll." Because the basic exposure will be taken care of in this section, which will give the final look of the image.
 Go to the "Basic" Panel first from the top, and we will start with adjusting the white balance. If you look at the original image, you will find it a bit warm and greenish. At this point, I will reduce the temperature and will set it to 5,600. Then we will set the level of the tint to 10.
 You will find a lot of sliders below these 2 options, and you can adjust them as per your requirement. Simply make sure you have not increased the level of exposure and highlight options too much. If you do so, you will lose some essential details such as color along with texture.
 The thumb rule is, keep the clarity level less than 30 and more than 0. If you don't follow the thumb rule, you will end up with a dramatic image, which will look like unprofessional editing.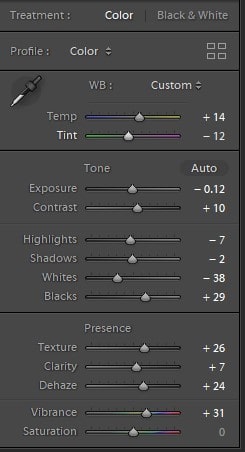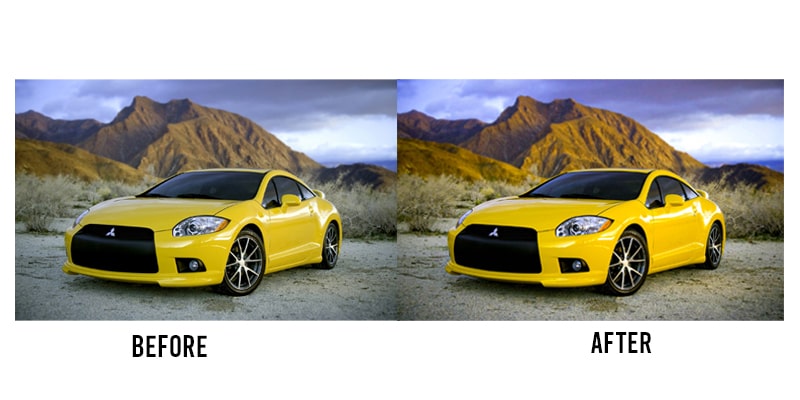 Step 02: Adjusting the Color
 In this step, I will make a detailed adjustment of every color present in the image. You will find an icon named "HSL/Color/B&W" and click on it. And then select "All" so that you can see all colors. So, let's begin adjusting the colors.
Red: I will increase the saturation to give a vibrant look in the image.
Orange: This image doesn't contain any orange color, so I will not do anything with this color adjustment.
 Yellow: A lot of things need to be done with yellow color as the car itself is yellow-colored. I will increase the saturation to make the paint color fresh. And then reduce a little bit in the luminance, which is actually brightness. Reducing the luminance will store the integrity of the image.
Green: The grass looks dull in the image. So I will add life to them. For this, I need to remove the saturation from the image. So, drag the slider to the left to eradicate the saturation. Continue the same to the Hue slider to remove it entirely by dragging the slider to the left side. And in the Luminance option, I will pull the slider to the right and set the level to 50 so that the grass looks greener than before.
 Aqua: The window has a teal ting view. To reduce the view, I will increase the Hue level to 50.
There are some other color adjustments also which I am not doing anything for this image.
Now it's time to change the emotion of the image, and to do this; I will work in the Split Toning Panel.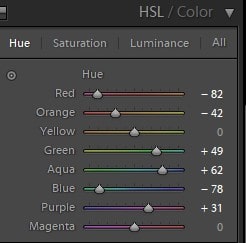 Adjusting the Hue slider first and set it to 50 and then drag the slider to the left side to set the Saturation to 20. But, I will not make any adjustments in the Balance Slider because the image color will become more complicated if I do this.
 In the Shadow option, I put the Hue and Saturation level to 205 and 10, respectively. This way, the highlights will get the yellow or orange look, and the shadows will get a bluish look.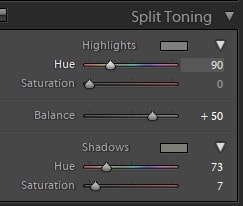 Look at the below image comparison where the image receives a much-refined look as the exposure along with the color has changed than before.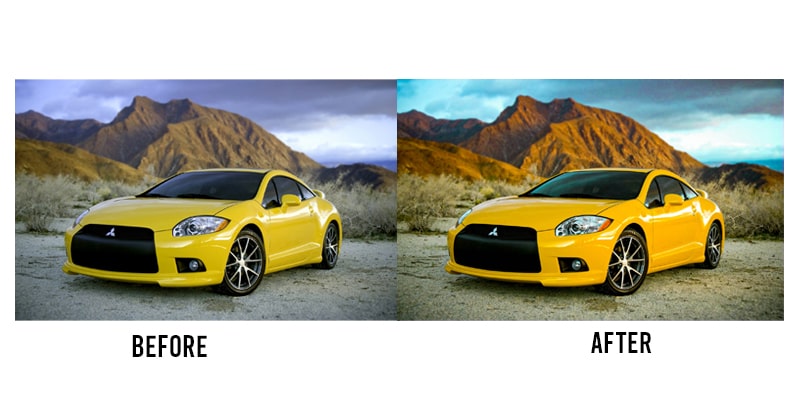 Now it is time to start working with the Graduated Filter.
Step 03: Graduated Filter Utilization
 The truth is, the image will become more amazing if the subject gets a beautiful look.
If you look at maximum car images, you will find the car is on the road, and the sky also gets focus from the photographer. And you can add a vibe to the image if you give a bit of a dark look to both road and sky. In Lightroom, you can do it using the Graduated Filter.

Well, hover your cursor at the rectangle, which is placed on the upper portion of the image. Then drag the car from the bottom of the picture. Now, you will get 3 horizontal lines with a black dot placed in the middle.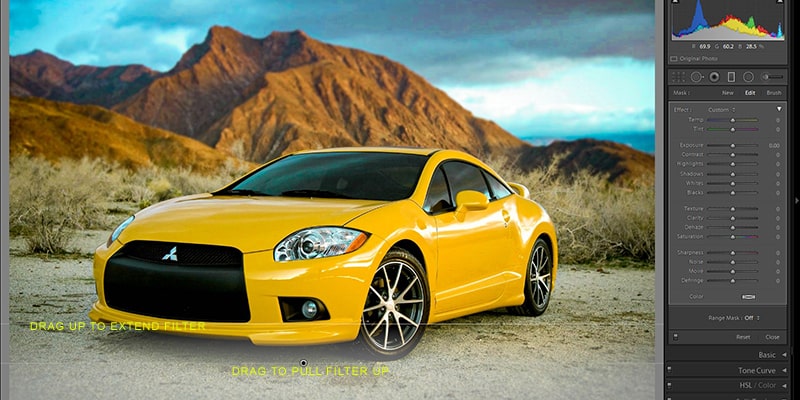 If you want to remove the filter, drag the middle line. And dragging the top line will allow you to make the length adjustment of the filter.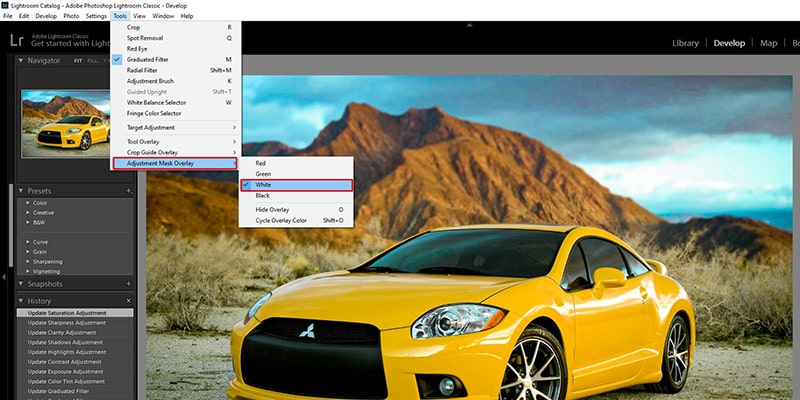 To see the elected overlay of the filter that you have made, press shortcut key "O" from the keyboard – you can see the arrow by ticking "Show Selected Mask Overlay." To give the road a dark look, I will reduce the exposure and set it to -1.50.
 Changing the overlay color in Lightroom is also not a big deal. To do this, follow below.
 Tools > Adjustment Mask Overlay > Select any of the colors from the list.
 So, the process of Graduated filters is complete for the road. Now, I will create another Graduated Filter, and this time it is for the sky.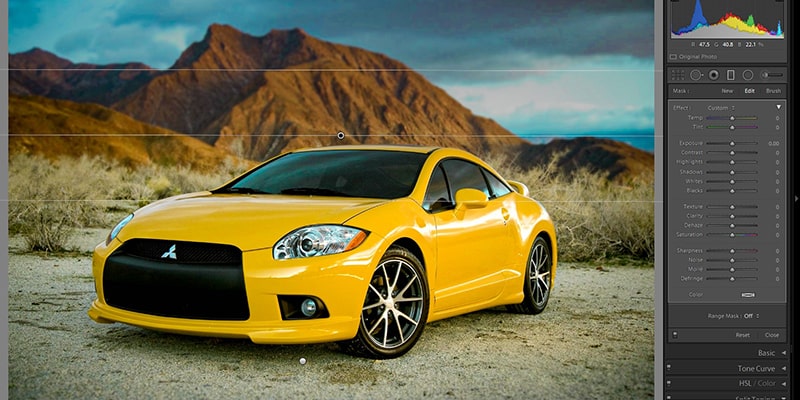 The cloud looks dull in the image; I want to give a darker view of the cloud. Thus, the image will get a more dramatic look, and the car will also become more focused.
 In this Graduated filter, the highlights will be wholly lowered, exposure will be pulled down, removing the haziness and adding some warmth to the image.
 The main trick is to give the full focus to the car so that the viewer directly looks at the car. But while doing this, I keep a close eye not to lose the natural look of the image as well as the environment.
Step 04: Final Touch Up
 Although the editing is over, I want to add more vibe in the side windows and enhance the wheel contrast. Adjustment Brush will allow us to do all these workings.
The 2 icons of the Adjustment Brush are placed at the right side of the Graduated Filter icon. In this image, I followed Flow: 100, Density: 100, and Feather:20. And the size I kept on 17. However, changing the size is depending on you.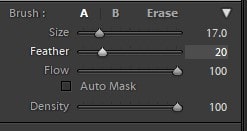 To enhance the wheel contrast, I increased contrast, clarity, and saturation to 30, 30, and 20, respectively. Don't worry about making the selection as strongly round. But be careful not to select any portion of the car or the road.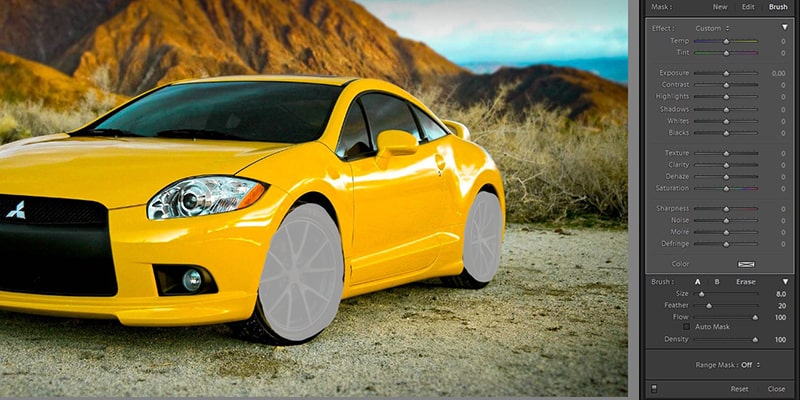 The process of making the side windows dark is pretty straightforward. Simply select the area of the side windows and set the Dehaze option to 40. Just confirm you have selected all the portions of the side window accurately. While doing this process, don't rush. Otherwise, you will end up in a mess.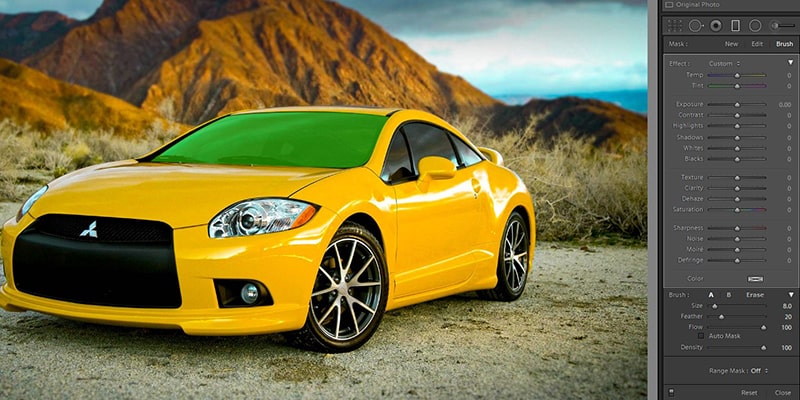 Hence, hand if you have more images than you can handle or need batch car photo editing and retouching services providers.
Conclusion
 Following the above simple 4 steps, you will be able to change the full view of the image. The good news is that you can follow this process for any automobile photo. Whether the image is an action or static, you can add a new vibe to any automobile image as per your requirement.
 We all know Lightroom follows nondestructive features, so if you need, you can redo any of the processes if you don't like it.
 Overall, I believe this tutorial will help you a lot to edit car photos in Lightroom.
 Find the below comparison of the image.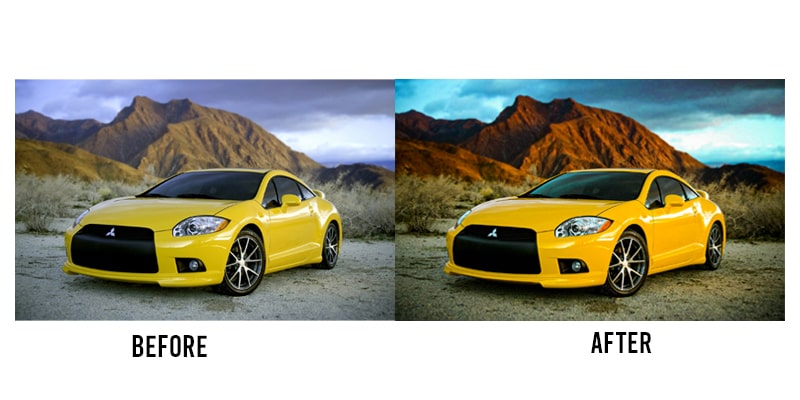 Do you need car photography tips and ideas? Graphic Expert International presents the best tips and ideas from pros that can ease your photography carrier.
Car photography is a trendy, stylish & exciting session of photography. Photography needs passion, optimism to be successful. The practice is the principal to gain the ultimate goal.
Sometimes it is challenging to enlighten the car's personality in a static image. Here, I attach some furtive tips &   photoshoot ideas that ensure you get an accurate professional shoot of the car. Photography tips will be effective if & only if you keep practicing.
Car photography is essential for vichele dealers for business purposes or it can be a hobby with your luxury product. In every case, people ask efficiency for the luxury car shoot. If you follow my car Photography tips & idea. It will definitely help you to improve your automotive photography tips.
10 Car Photography Tips and  Photoshoot Ideas for Professionals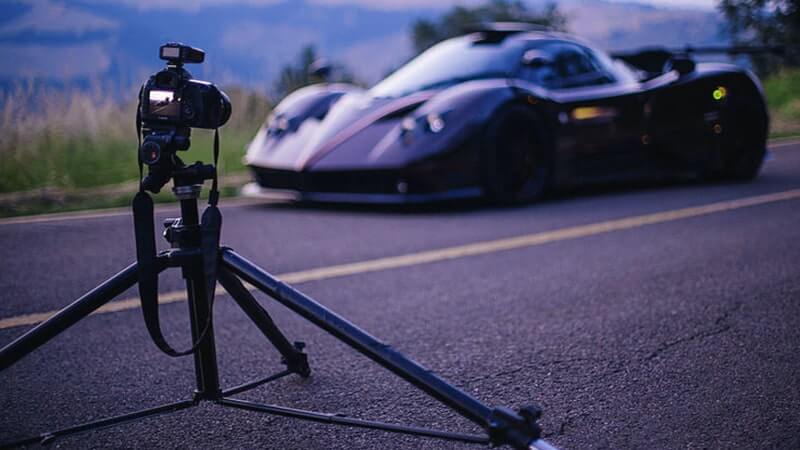 1. Picking Right Gadgets For Car Photoshoot
For professional car photography, you must need a DSLR to get the best snap. The camera & lances are very intense to get the perfect shot. You can pick canon EOS Rebel T6 or Nikon d3400 or according to your choices.
If you are looking for an affordable lens to snap the car radiant you can try a wide lens around 24 mm.
To capture eye-catching, unique pictures each detailing of the car is a must. You can try a macro lens like Canon 100 mm.
A tripod is the best helpful thing to protect your camera. It also helps to avoid handshaking. Moreover, the tripod helps to get more light in the night shoot.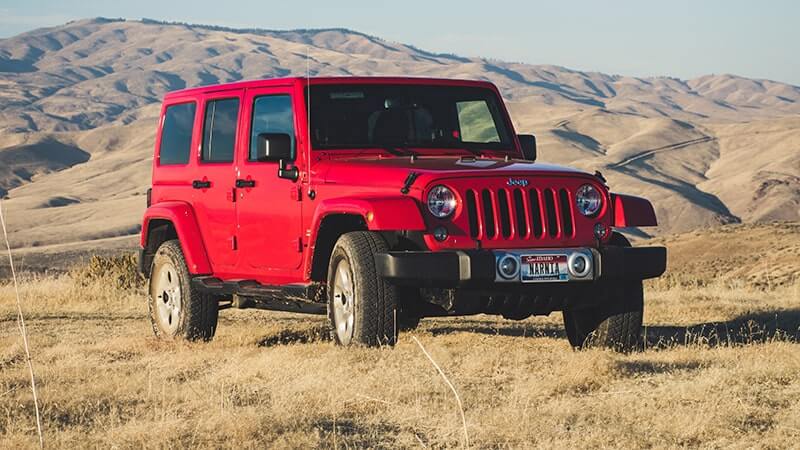 2.Select the Perfect Time for Car Photoshoot
Lighting affects the car photo shoot. Golden hour is important to get the glamour image of the car. One hour before sunset & one hour after sunrises consider the golden hour for car photography lighting.
If you select the proper time of the day that light helps to enhance the car's actual color & beauty.
Some colors can't represent their beauty in direct sunlight but some are exactly beautiful in the sunlight. So depending on the color of the car time can vary.
3. Choosing The Location
Photography means telling the car's personality in a fairy tale. A photographer knows the secret location where the vehicle can attract focus to itself. Try to avoid background that grabs the appeal from the car to itself.
Professional car photography can be held on the road, near the forest or beside the sea, or in the garden.
Pick the location base on the focusing of the car photo shoot. Make sure the locations are adjusted with your car & glorify it'd inner beauty. Let the background interact with the car.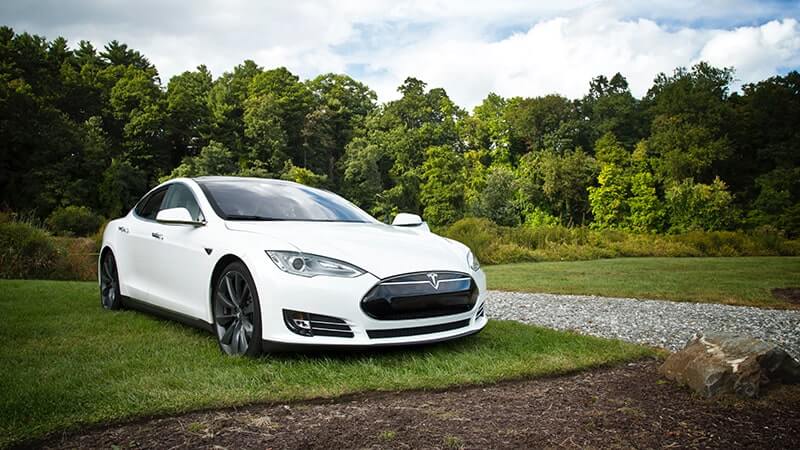 4. Natural Beauty
An exclusive car photography ideas are to take the car closest to the beauty of nature. Let the car interact with the surroundings of nature. If there is sand in the road the car can make some dust. Focus on that moment to show the dust.
Try to fill the frame with natural beauty. Including nature is the best thinking to get wonderful car images.
5. Choose Perfect Reflections
To get ideal realistic images exact reflections on the car's window is very important. Take some important car dealership photography tips.
Use a tripod to avoid your own reflection. Try to focus the natural horizontal reflection and the sky's reflection on the window. This is one of the best car photoshoot ideas.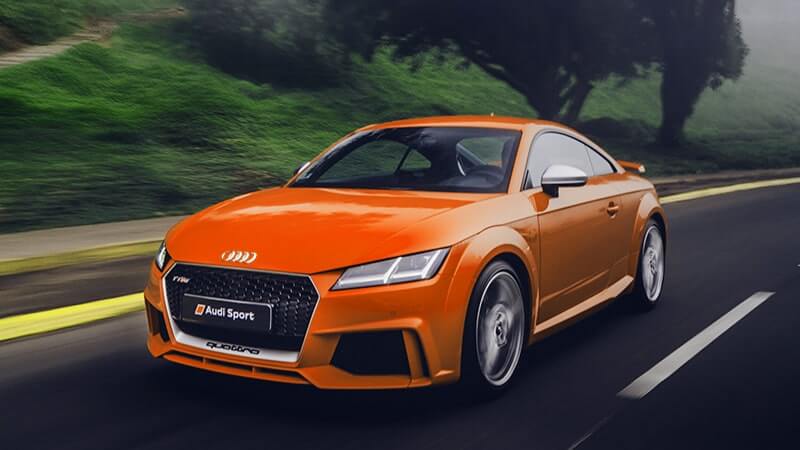 6. Driving Shots
Driving shots is one of the challenging car's photoshoot ideas. In a static image, you need to rectify dynamic speeds.
You can use another car's window to capture that motion car's photo & use a blurry background to represent the motion. The speed speaks to the car's personality. Use high shutter speed to capture the speed. In addition, the Photographer must be conscious of safety as they are work on the road.
7. Shadow And Reflection Guide
The major car dealership photography tips are shadow creation. Without shadow, the car looks unattractive & totally appeals to less.
Proper timing also helps to get the accurate shadow of the car. When you capture images beside the sea or river make sure the shadow in the water. Instead of roadside photography, you must try to focus on the accurate shadow. Shadow brings alive vibe in your car.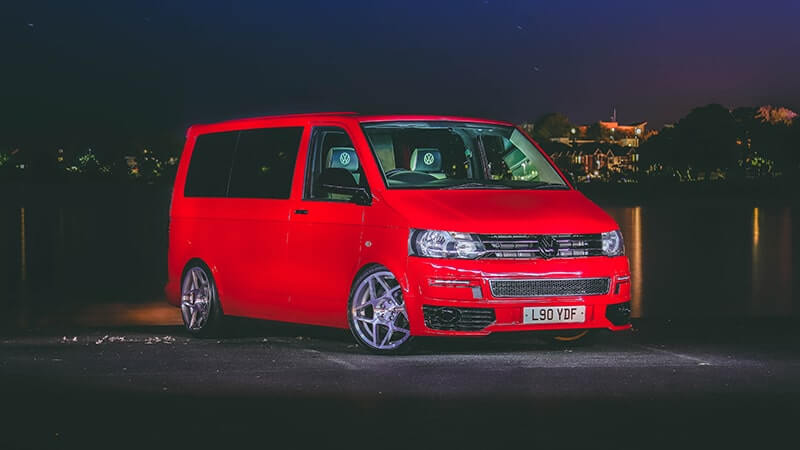 8. Nighttime Photo Shoot
The nighttime photoshoot can give some amazing clicks. Find a street or home where there is no light at all. Set the camera on a tripod & ready with the shutter speed of 30 seconds.
Use an LED light to cover the car & reflect some portion of the background like home or street. The magic of the Nighttime photo is all the appeal engulf in the car.
There are no specific rules for nighttime photography. It is easy & fun. You can play with a dark background which ensures a classy look.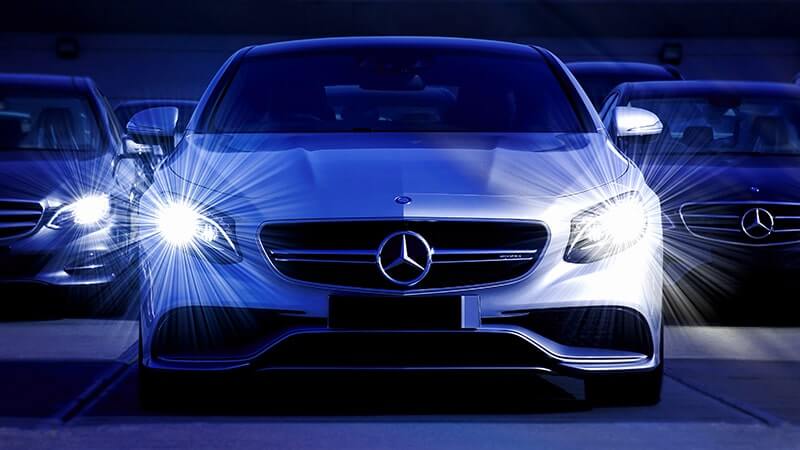 9. Amazed With the Light
Turn on the headlights to grab the client's eye. To the surprise, the people on the street focus the extra light on the evening during vacation.
Also, try a blurry background to represent the car's motion. In a dark mood, light beautifies the car's image.
10. Tips For Detailing Photoshoot
Each part of the car has a different beauty & personality. You need to focus on each part. Some car has some exclusive feature that you need to emphasize.
Inside of the car must be shown on your snap. Each gear reflection everything you need to capture separately.
The most essential thing to focus on the car's curve. Which enlightens the shapes of the car.
Try to avoid eye-level photography.
Try different angles to represent the exact beauty of the vehicle. Close shot, Front view, back shot, the side view is the different ideal tips for the automotive photographer.
Keep the camera as high as possible & try to capture the beauty of the car from upward. The frame should be filled with the car's beauty.
Hence, you can use an online car photo editing service to clean up and fix any imperfections.
Let nature play with your car which ensures an amazing shoot. Remember it won't be what you expect but it gives you something worth beyond the expectation.
Final Words:
As a profession Car Photography is a smart job and produces a handsome salary. Follow these secret 10 tips & ideas for car photography which help to heighten your photography career. If you give complete effort you must be victorious in challenging vehicle photography.
Adobe Photoshop Tools and its Uses
Adobe Photoshop CS is launched and developed by Adobe Systems. It's design software. So, as design software, its uses and tools are not so easy to use. Every beginner needs to learn Photoshop tools. Today I will introduce Photoshop tools.   I shared a tool's image. For a quick understanding, I will give a description from top to bottom of these images.

Move Tool: 
Move Tool is to move an object in a layer. Click this icon and then click on objects, and then move it anywhere.
Rectangular Tool:
By rectangular tool, you will be able to make a selection of rectangular shapes in your objects or layers.
Lasso Tool:
Use Lasso Tool to draw or select any shape from objects. It will not give you an accurate size by you can select a large area from this tool.
Quick Selection Tool:
By quick selection tool, you can select the same color area from any object.
Crop Tool:
With this crop tool, you can crop any photos from objects in the shape of a rectangle.
Slice Tool:
You can slice a photo on many parts with this slice tool.
Spot Healing Brush Tool:
Use spot healing brush tool to remove any dust or unnecessary points from images or photos.  Press this tool and you will 4 different tools for use.
Brush Tool:
You can paint by this brush tool on your images. You can choose different colors and brush sizes. It has also three tools inside.
Clone Stamp Tool:
Clone stamp tool is the same as the Spot Healing Brush Tool. It's creating a direct copy from first objects to second objects.
History Brush Tool:
History brush tool is the same as the brush tool. It is just painted all history selected area.
Background Erase Tool:
You can remove background from objects with background erase tool.
Gradient Tool:
With this gradient tool, you can make different gradient colors.
Blur Tool:
Blur tool makes blurry images.
Dodge Tool:
Dodge tool is used for more lighten on your images.
Pen Tool:
The pen tool is used to make whatever selection on images. This tool is the most uses tool in Photoshop.
Type Tool:
Use type tool to write ant text to your objects. You can choose any size and any font.
Select Tool:
Select tool is to select any parts of objects.
Ellipse tool:
To make an ellipse shape use ellipse tool.
Notes Tool:
Make a note of the necessary things and store them here.
Eyedropper Tool:
Eyedropper tool is used to change the background color on your select colors.
Hand Tool:
Hand tool is used for moving objects in layers.
Zoom Tool:
Use zoom tool to zoom a photo.
Color Picker:
Use color picker tool to change the background color and stock color on a layer.
Quick Mask Tool:
Select any area by rectangle or ellipse then click quick mask. You can see the changes.
Conclusion on Adobe Photoshop Tools and its Uses
I hope you can learn some help from this article. If you any business owner, we give this service at very low cost. Graphic Experts International is an offshore graphic House that provides background removal, Photoshop clipping path, photo retouching, neck joinery or ghost mannequin, and many other photo editing services. To know more visit our website and get up to two completed images free of cost.